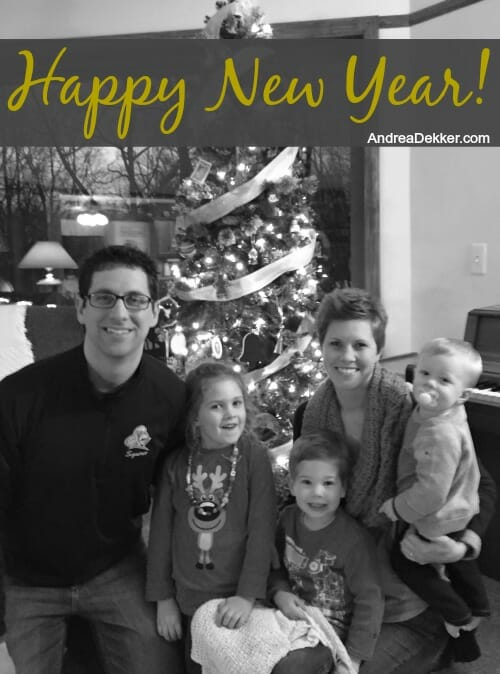 Happy New Year!
I feel like the first thing I want to do it let out a big huge sigh….ahhhhhhhhhhhh.
It was SO nice to take a week off from my blog, from responding to comments, from emails, from social media, even from my computer. There were at least 3 or 4 days when I left my computer off the entire day and only responded to 1 or 2 emails from my phone. Glorious!
I always forget how freeing it is to have no work or Virtual Assistant obligations after the kids go to bed (especially when Dave has a break from grading and lesson planning). I read THREE 350-page books, watched a few episodes of The Crown on Netflix, finished up our family's 2016 photo book, and even went to a fun girls-only class reunion with several girls from my high school class!
.
Dave and I are both very grateful to be able to make an income doing something we enjoy and something we feel passionate about, but since both our jobs require lots of "behind the scenes work", we easily fall into the trap of doing "just one more thing" — writing one more blog post, responding to one more comment, making one more website tweak, grading one more set of quizzes, planning one more lesson, sending one more email, etc. etc.
Having this multi-day break right in the middle of our "normal" working routine is such a treat, and one we look forward to every single year!
As I mentioned earlier, we worked hard to simplify Christmas for our family this year — and our efforts paid off! Our break was VERY slow, relaxing, and enjoyable. In fact, we were able to spend both Christmas Day and New Years Day at home with absolutely no obligations, parties, or to-dos!
We said "no" to several things and enjoyed so much time together at home with our own family and with Dave and my immediate families (this is one of only 2 or 3 times each year when our kids get to see their cousins).
Our kids amassed an impressive amount of gifts from doting aunts, uncles, and grandparents — but we managed to find a place to store them all (and I'm sure we'll be purging even more of our older toys in the coming month).
Nora said she couldn't pick a favorite gift, but some of her favorites were:
Nutcracker ornament
Hair chalk
Frozen fleece nightgown, slippers, and fuzzy socks
New earrings
Multiple games
Simon and James have been in car/truck heaven this past week. I think we got over 30 different trucks, fire engines, police cars, matchbox cars, trains, planes, boats, etc. (no, I'm not joking!)
I'm thankful we now have a whole room devoted to trucks and cars because they really do play with them every day.
James got an automatic bubble blower and has been thoroughly enjoying the massive amount of bubbles!
We enjoyed COLD snowy weather the first part of our break, and then much warmer weather later in the break — so the kids got to play in the snow AND ride their bikes and scooters!
All of that aside though… it's great to be back!
We're enjoying one more day with Dave home today, and then it's back to school, back to work, and back to reality tomorrow again!
I love routine, and I'm excited for a New Year and to be able to find our "new normal"!
I have several more blog post ideas for the next few weeks (including another planner giveaway later this week!) but I'm always looking for more ideas if you want to leave them in the comments or shoot me an email!