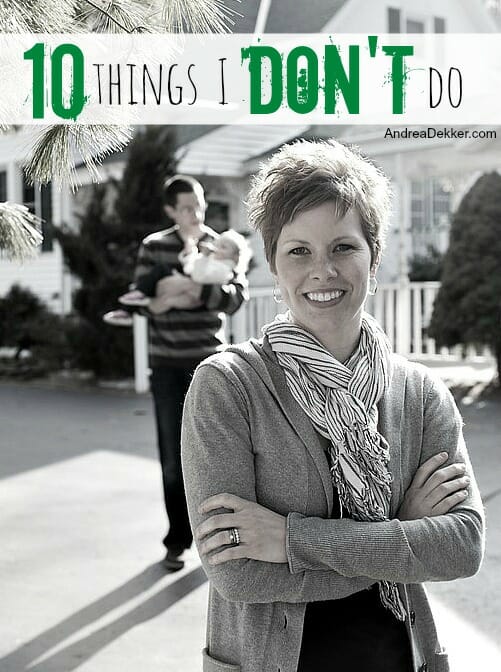 The purpose of my blog is to share what I DO do — the organizing projects I tackle, the recipes I make, the home renovations we do, the gardening projects I work on, the craft projects my kids do, etc. etc.
Because of this, I get many emails from people saying "I don't know how you do everything you do." However, what they often fail to consider are ALLLLLLLL the things I DON'T do.
So if you've ever felt bad about yourself because you don't think you accomplish as much as someone else you know, take 5 seconds to stop and consider the many things that person doesn't do.
In case you're wondering here are a few things that I personally DON'T do at this point in my life 🙂
1. Volunteer.
While I'm not proud to admit this, Dave and I do almost ZERO volunteer work anymore. Not only do we have no desire to make time for any of the groups and organizations we used to volunteer for, it would also be almost impossible to be gone volunteering at nights and on weekends with 3 little kids at home (you know I'm not going to pay a babysitter so I can go volunteer!)
We've also cut WAY back on our involvement in church and school activities and functions (for basically the same reasons I stated above). Before kids, it was not uncommon for Dave and I to be gone almost every single night doing something for church or school — and we loved it! Now, Dave is a deacon, I am on the Nursery committee, and Nora is in the children's choir — that's it!
We try to attend a few sporting events and musical concerts for his school — but even then, Dave often ends up going by himself or with a few other teachers as it's just not worth finding childcare.
Eventually, I'm sure we will start to incorporate more volunteering into our weekly and monthly routines — probably WITH our kids. But for now, this is one of many things we DON'T do.
2. Get the best deals all the time.
When Dave was home over Christmas break, I had the opportunity to leave the kids home with him and do a little thrift-store shopping. Some of the shopping was for last-minute Christmas gifts, and some was just to browse and see what was available.
Although I wasn't gone long, and I only went to 2 different thrift stores, I had SO much fun scouring the racks for bargain items. I found 3 pairs of my most favorite Ann Taylor Modern Fit Skinny Jeans in the exact right size (for only $3 each pair)! I also found Christmas gifts for the kids, birthday gifts for Simon, and a couple kitchen items I had been looking for.
Then 2 weeks ago, when Dave was home a bit more during exams, I made an extra huge grocery list (including several Health and Beauty items, baby items, general merchandise items, etc.) and headed to the store without kids. I was gone for almost 2 hours and came home with a FULL trunk… and for the first time in a very long time, I saved almost twice what I spent!
It was so much fun to shop like that again — but unfortunately, those fun bargain shopping sprees are almost non-existent these days.
I rarely use any coupons (except digital ones), I don't do any rebates, I don't play the drugstore game, and I order almost anything I possibly can online. I even broke down a few weeks ago and actually paid for shipping (something I almost never do) because the thought of driving all the way to the store and unloading all 3 kids was just not worth it for me!
I have confidence that I will return to my bargain-shopping ways in due time… maybe when all the kids are in school full time!
3. Decorate my home.
I realize those of you who follow along here regularly might be wondering what the heck I'm talking about — since I often share various renovation projects and before/after posts.
Yes, we DO do a lot of renovations, and I DO enjoy decorating the various rooms and spaces in our house so they fit our farmhouse theme.
However, once the spaces are decorated the first time, there's a very good chance I will not touch them for many months — potentially many years.
For example, our master bedroom has looked EXACTLY the same since the day we moved our furniture into the room 5 years ago. I haven't changed anything, except adding new pictures of the kids as they were born.
Also, our kitchen decor is almost identical to how I first did it 3 years ago during our massive kitchen renovation.
I used to love scouring thrift stores and antique shops to fine odd pieces that I could then paint, distress, and find a new home for in my house. I would move furniture around monthly and swap out decorations in all my rooms based on the season or my mood. It was something I really enjoyed — but it also took up a fair amount of my time.
So for now, I get the room the way I like it to look, and then I plan on keeping it that way for the next several years! I also don't do any holiday or seasonal decorating (besides putting up a Christmas tree in December).
4. Eat as healthy as I could.
As I mentioned last week, I am NOT a health nut. I do enjoy many healthy and nutritious food choices — and I certainly don't eat junk food all day long.
However, I don't eat nearly as healthy as I could… because for me, it's not worth the time and effort I'd have to spend shopping for food, preparing the food, and cooking the food.
5. Do much with friends.
This is another one I feel slightly embarrassed to admit, but since Dave and I are both more introverted than extroverted, it is really difficult for us to get super excited about lots of extra outings with friends at this point in our lives.
We do spend quite a bit of time with our parents and siblings (which is also really fun for our kids) but when it comes to functions with friends, neighbors, coworkers, or various church groups, we often find ourselves saying "maybe next time".
It's just too much work to load up the kids (or leave them home with a sitter). Plus, Dave and I are both quite busy during the weekdays that once we finally get our kids to bed, we'd rather just relax ourselves, finish a couple to-dos, and maybe watch a Netflix show.
I know SO many people who probably think we are very boring, but I promise you that we do not feel like our lives our boring right now 🙂
6. Do lots of extra fun things with our kids.
We have LOTS of friends with very young children who are constantly doing fun things like going to the zoo, visiting water parks and splash pads, going to the farm, picking apples or berries, planning picnics, going camping, going to Disney, joining clubs and teams, visiting museums, taking swimming lessons, etc. etc.
It all sounds like fun when they tell us about it, but most of the time, we feel like our kids are just too young to enjoy (or really even understand) many of these activities, so we don't do any of them!
Nora is getting old enough that she would have fun doing some of these things — but Simon and James are way too young to appreciate the amount of time, effort, and money we'd have to spend to do some of these activities.
Instead, we play outside, swim in the kiddie pool, play in the sandbox, go for walks and bike rides, blow bubbles, play with sidewalk chalk, make forts inside, etc. etc.
Someday, when our kids are a little older, we'll do more of these things… someday!
7. Exercise
I don't know what's worse, the fact that I never EVER exercise, or the fact that I could care less that I never ever exercise.
As a 3-sport high school athlete and 2-sport college athlete, you would think my body would be trained to need regular exercise, but interestingly enough, it has absolutely no problems sitting around all day 🙂
Yes, I chase little people around, and probably walk up and down our stairs 87 times every single day… but I don't think any of that can truly be considered exercise.
I realize that exercise is one of those things where "every little bit helps" (and you all know how much I preach my "just 15 minutes a day" spiel for getting organized) but I really have no motivation or desire to spend any amount of time exercising.
Maybe this summer when Dave is home, I'll be able to take 1 or 2 kids out on walks or bike rides during the day… but until the weather warms up, "exercise" will remain on the list of things I definitely DON'T do.
8. Travel.
This past fall, Dave and I "traveled" 1.5 hours away (with my parents) for Dave's teacher convention. We were gone for a whopping 72 hours… and it felt like SOOOOOOOO much work!
It was fun, but it sure required a lot of time and energy to pull off (and I know that if we traveled more, it wouldn't be as much work).
We have plans to visit my sister and brother-in-law in Indiana for 2 days over Spring Break, and we will potentially be visiting some of Dave's relatives in Wisconsin this summer… but I'm positive we will both be ready to come back home and get back to "normal life" once again.
Dave is definitely more interested in travel than I am, but even he doesn't enjoy doing much traveling with 3 little kids. I told him that after he retires and all our kids are grown up, he can plan fun vacations for us in Europe, Alaska, out West, etc.
9. Grow my business.
I thought I might feel sad about putting this one on the list of things I DON'T do — but I really don't feel sad at all.
Although I truly haven't done anything to actively grow my blog or promote my business in over 3 years, I am very happy and content with where it stands right now. I have a good balance and a manageable workload. I enjoy what I do and don't feel stressed by extra pressure from work-related to-dos.
This certainly doesn't meant that I have a lack of ideas and ways to grow my business and my blog — it just means that I have a lack of desire to put forth the effort those ideas would take to successfully implement.
10. Speak for events.
One of the most favorite parts of my business was speaking for various women's groups, church groups, mother's groups, school groups, and community groups. I taught classes, led workshops, hosted day-long training events, and shared more tips and tricks to simplify and organize than I can even count.
I met so many wonderful people, had so many fabulous experiences, and learned a lot about myself as well.
However, after kids came along, my speaking "career" plummeted quickly. In fact, I've probably only spoken for 3 or 4 events since Nora was born.
Eventually I would LOVE to get back into this (once my kids are in school), and based on the number of speaking requests I still get on a regular basis, I think it will be relatively easy to get back into the speaking circuit. In the meantime, I have an email template that graciously declines all speaking offers for the time being.
.
I'm sure I'm leaving several things off the list of things I currently DON'T do — but these are the biggies for now.
The point is not that you all should have the same "don't dos" as me — but rather that you shouldn't feel bad for the things that make YOUR list of dont's.
Maybe some of the things on your list include:
keeping a neat and orderly home
meal planning
freezer cooking
gardening
canning and preserving
working outside the home (or from home)
throwing big birthday parties for your kids
hosting holiday parties
It's not necessarily good or bad if you do or don't do any of those things, it's just life.
We all have different skills, different resources, different goals, different energy levels, and different interests.

I think the important thing is for each of us to realize what our skills and goals and interests are, and then focus on putting our time, energy, resources towards activities that align with our skills, goals, and interests.

If we can do that on a regular basis, our lives will feel simpler, more organized, less chaotic, and less stressed!
What are some of the things you DON'T do?