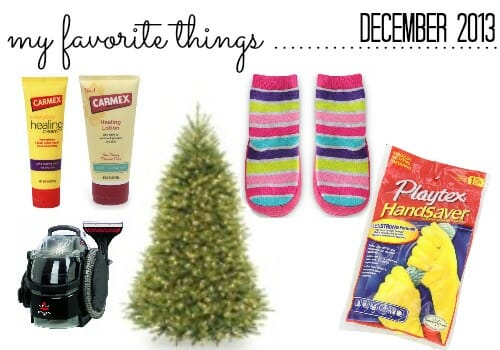 I'm back with more of my favorite things for December… a few of which would be excellent stocking stuffers! And as always, be sure to check out some of my favorite things from past months.
DISCLOSURE: None of these products are sponsored in any way; however, some of the links below are affiliate links — which means I may get a VERY small percentage of the sale if you make a purchase through my links. However, I hope you know that I'm only promoting the products below because I use them EVERY SINGLE DAY in my own home and life! Read my full disclosure policy for more information.
Toddler Slipper Socks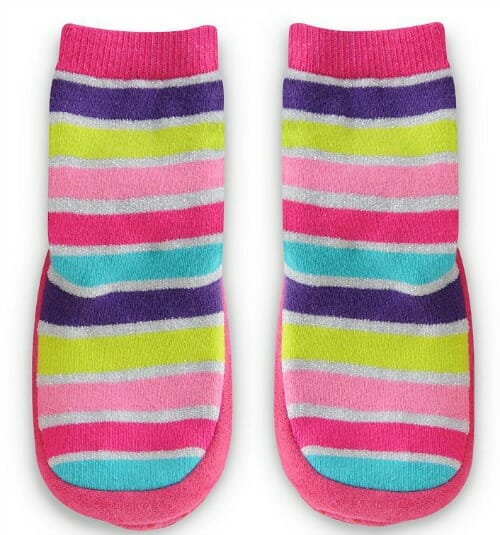 I first got slipper socks for Nora when she was about 8 months old and already trying to walk. She was fully walking by 9 months old and these grippy slipper socks helped her navigate her way across all our semi-slippery hardwood floors.
I found the slipper socks on sale at Kohl's (brand name is "Jumping Beans" but I can't find the same ones anywhere on Khols.com or Amazon.com), and once I realized how much she and I both loved these slipper socks, I went back and purchased 4 more pairs (in various sizes) for the rest of last year and this year.
I was fortunate enough to find mine on clearance at Kohl's for $0.90 a pair — but based on how much I love them, I'd be willing to pay more 🙂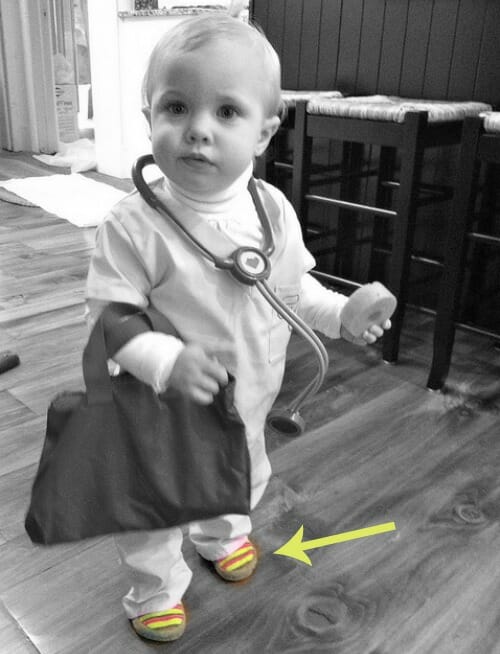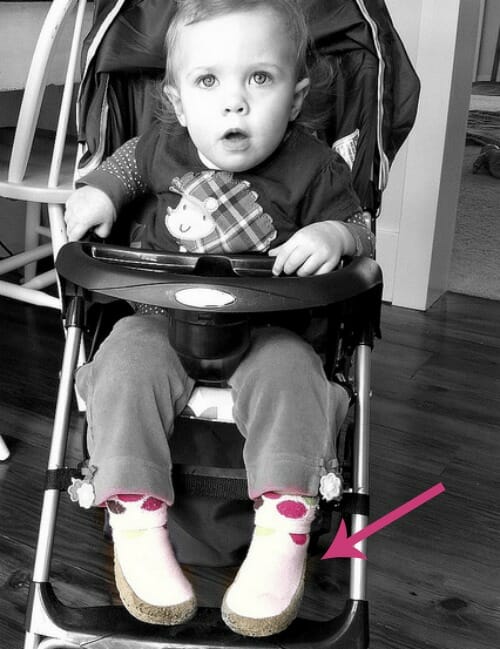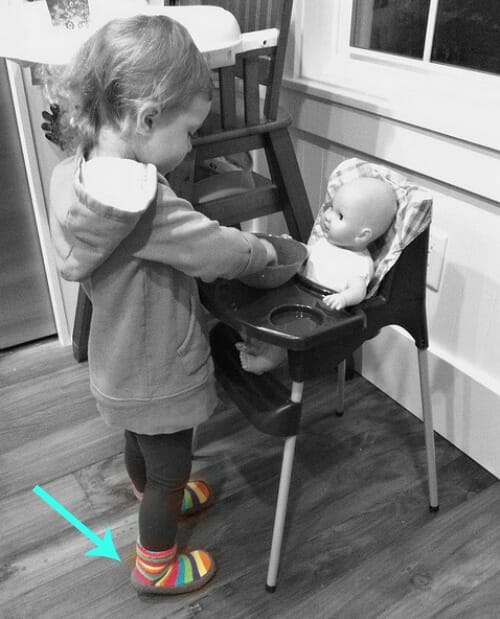 Artificial Christmas Trees
I ALWAYS said that once we had hardwood floors, I would get a real tree to decorate at Christmas. Then we got hardwood floors and I realized how expensive and messy real trees were — and that an artificial tree would be so much more practical.
We sold our artificial trees when we moved from our first house, but 2 Christmases ago, I found an awesome tree for our new house. It's a 7 foot slimline tree that fits our "Christmas tree space" perfectly. And best of all, it was only $30 from a local thrift store!!
It folds up into a pretty small box that we store in our basement — unless I'm feeling especially "lazy" and just bring the whole stinkin' tree (with lights and ornaments) downstairs and put a tarp over it 🙂
We get tons of compliments on our tree each year, and although I love the nostalgic idea of getting a real tree, I just can't seem to make the plunge.
Oh, and I'm also a HUGE fan of the tall skinny Alpine Christmas Trees. I usually put 3 of them in the corner of our dining area — all of which were purchased from various garage sales over the years.
I may be pairing down my decorations but the Alpine trees will stay… for a LONG time!
Carpet Cleaning Service
OK, so this isn't really a tangible thing — and to be perfectly honest, I'm not usually one to pay someone else to do something for me. However, when it comes to carpet, I'm SUPER grossed out by the thought of all the junk and debris that gets trapped in carpet fibers (which is why we put hardwood in almost our entire house) so paying for our carpets to be professionally cleaned is definitely one of my favorite things.
I honestly don't think that home carpet cleaners (or for-rent carpet cleaners) do a great job — plus they require tons of extra effort on my part (I know because I've tried a few before to review for companies). I can pay a professional around $150 to use their commercial cleaners and equipment (plus do all the work) and have spotlessly clean carpeting within an hour.
Keep in mind we only need to clean the carpet in our living room, the stairs, and the small play area upstairs — so if you have more carpeting, the cost would obviously be a lot more 🙂
And since I know I'll get asked, we always use TLC cleaning. They are my parent's neighbors, I've known them most of my life, and they have NO idea I'm mentioning them in this post.
Dish Washing Gloves: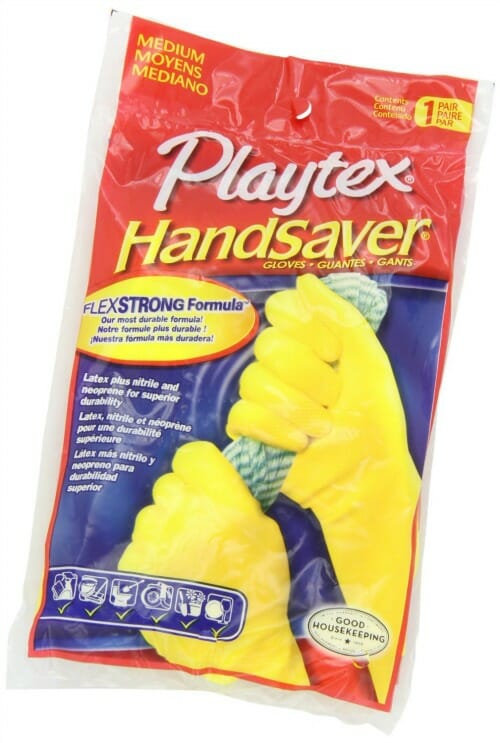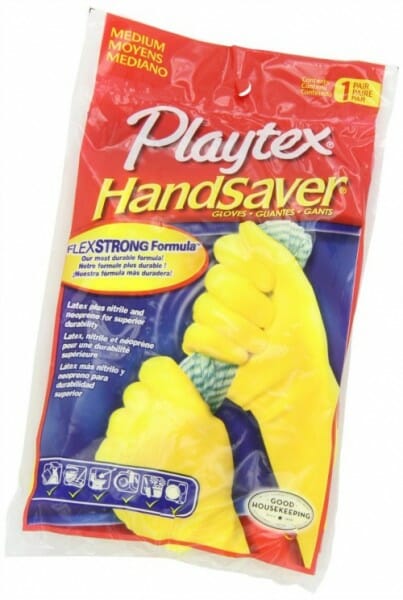 Several weeks ago, I wrote a post about how I organize the area under our sink. I was so surprised by the number of questions I got about our dishwashing gloves. A lot of people wondered if we actually used them or if I just put them in the picture.
First of all, I don't stage pictures 🙂
Second of all, yes, Dave and I BOTH use rubber dish washing gloves EVERY time we wash dishes.
We use the super cheapy Playtex gloves we can find at Meijer (or any other grocery store). I think they are $2.99 for 2 pairs — and they actually hold up really well.
They make it easier for me (and I'm assuming Dave too) to use super hot water, and they keep our hands from totally drying out (we both have pretty dry skin).
Carmex Healing Hand Cream: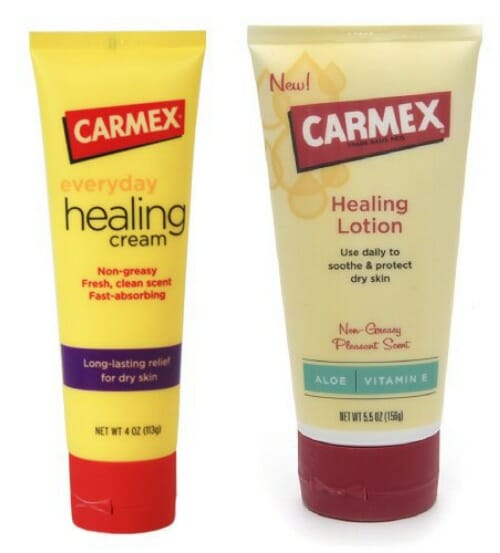 Since we're already talking about dry hands, I should mention that my all-time favorite hand cream is the Carmex brand healing cream (I buy mine from Menards of all places!)
It doesn't have a super strong smell, but it really works. I put it on whenever my hands are especially dry — and almost always before bed.
This stuff is amazing!
.
That's all for me this month.
Make sure you check out my previous months' favorite things — and feel free to share some of YOUR favorite things in the comments below!