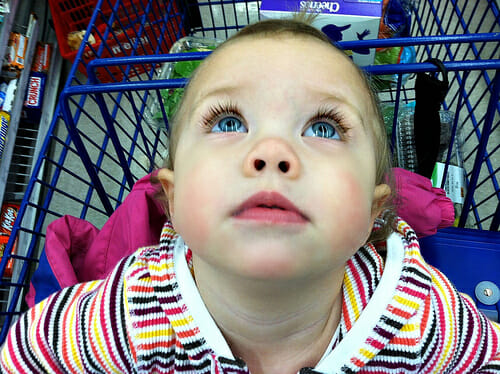 It's Black Friday — which means many of you woke up at the crack of dawn (or were up all night) shopping for all the latest deals and steals.
Good for you! I hope you're having lots of fun — say 'hi' to my sister and my mom for me!
I, on the other hand, will be hiding under the covers with Nora until the holiday traffic dies down 🙂
Have I mentioned that I hate shopping?
Only about 57 times! Well, guess what… I hate it even more when the stores are crowded, when I need to wait in long lines, and when the one thing I'm looking for is out of stock.
So yes, I'll be enjoying Black Friday from the comfort of my own home — and I'm guessing that I'll save even more NOT shopping than I would if had gone out and found a bunch of amazing deals.
In fact, this is my thought-process all year long. I save SOOOOO much more by simply not shopping than I would if I ever tried to get all those fabulous deals at 15 different store each week.
Just for fun, I went back and looked through our last 6 credit card statements online, and would you believe that from the beginning of June through November, I've hardly stepped foot in any other store beside the grocery store and the hardware store.
It's true — and I'll prove it!
Here are all my shopping trips (outside of my weekly grocery run) for the last 6 months:
Aldi's = 1 trip:
As I mentioned in this post, I rarely ever go to Aldi's — just once in a great while to stock up on canned goods, chips, and a few other non-perishable items.
Hobby Lobby = 1 trip:
#1 = To purchase a few things for Nora's play kitchen (with a 40% off coupon).
Carter's = 2 trips:
#1 = To use up a $10 off any purchase coupon I got in the mail (my bill for 3 items came to $10.60 BEFORE the coupon!)
#2 = To exchange a wrong-sized item Nora got for a gift. Nothing else was purchased.
Kohl's = 3 trips:
#1= To purchase a wedding and shower gift for my cousin this summer (with a 30% off coupon and gift cards)
#2 = To return some gifted items we got via the mail. Nothing was purchased.
#3 = To replace Dave's "holey" wardrobe (with a 20% off coupon, a $5 off coupon, and gift cards). Here is the dialog between Dave and I after that quick shopping trip (posted that night via Facebook)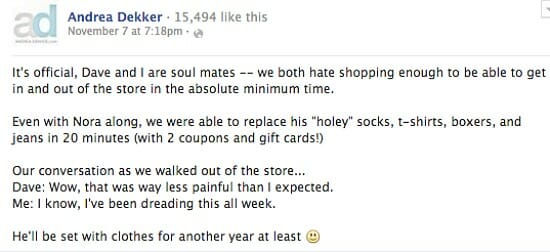 Target = 3 trips:
#1 = To purchase a baby shower gift for a friend (with a gift card)
#2 = A quick grocery run (milk, eggs, bananas) when I was already in that parking lot getting gas.
#3 = To look at their maternity clothing — unfortunately I didn't find anything I liked.
Thrift Stores = 4-6 trips:
These are not on my credit card because I usually only spend a couple bucks each time and I pay cash. Also, this number is probably a little higher than normal because I was scouting out items for Nora's play kitchen
Home Depot / Lowe's = 12-15 trips:
We frequent our local hardware stores because of all the home projects we do. Between all our landscaping this summer and our current renovations upstairs, we have an on-going list for Home Depot and/or Lowe's.
There have been times when we are in the middle of a project and go to the hardware store 3 or 4 times in one week — but then we might not go again for 4 or 5 weeks. However, we're really good about sticking to our list and only buying the materials we absolutely need for that specific project.
So while I realize this still might seem like a lot of shopping to some of you — I have a feeling that it's A LOT less shopping than the average American — especially considering 3 of the trips above were for returning or exchanging, and I used gift cards and freebie coupons for many of the other transactions.
For the record, I have NOTHING against any of you who are having a grand time shopping until you drop. If you enjoy shopping — then go shop and have tons of fun finding all those fabulous deals! I realize there are lots of you who just love the act of shopping and socializing with friends even if you don't actually buy anything. That's great.
The only point I want to make is that sometimes, it's even MORE cost-effective to not shop versus spending all day shopping for spectacular bargains.
Happy Black Friday!