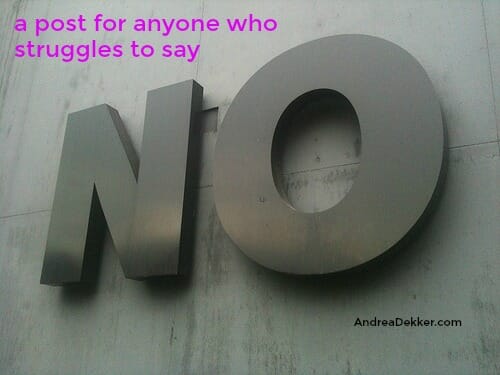 Saying 'no' is rarely ever fun or enjoyable — it's not something we anxiously anticipate doing (at least I don't!)
However, I think the whole concept of saying 'no' has a bad reputation and is viewed as unnecessarily negative by so many people. It's like we feel saying 'no' is the absolute last resort and requires some sort of excuse and apology to go along with it.
I understand why it's so difficult to say no — after all, we naturally want to make others happy as often as possible. However, for our own sanity and our own well-being, we do have to say 'no' to something (or someone) at some point.
If you are the type of person who struggles to say 'no' I hope today's post will be encouraging for you!
Saying 'no for now' does not necessarily mean 'no forever'.
This was the hardest one for me to grasp — I felt like saying "no" meant I would NEVER EVER do that activity, participate in that committee, or see those people ever again.
Once I realized that I was saying "no" because I had so many responsibilities with my young children at home — and that my young children wouldn't always be so young and needy, I felt much better saying "not right now, but maybe in a few more years".
Maybe you too are in a very full season of life and you need to let a few things go… good for you! However, don't forget that you can always change your mind later and come back to those activities and events once your life slows down again.
There will most likely be another point in your life when you will be able to get back to volunteering, exercising, eating a certain diet, getting back into the corporate world, traveling, spending more time with friends, entertaining, etc.
You might have to say 'no for now' but it doesn't mean 'no forever'.
Saying 'no' to one thing means you are actually saying 'yes' to something else.
So often, when we say 'no', we ONLY think about what we are saying 'no' to — not what we are also saying 'yes' to as a result of our 'no'.
For example, if you say 'no' to a girl's weekend away because you just want to be home, you're saying 'yes' to more relaxation at home, more sleep, less busyness, less expense, more time with your family, etc.
If you say 'no' to attending an out-of-town event for extended family you really aren't that connected to, you're saying 'yes' to less travel, less stress, more down-time to do what YOU want to do, more low-key family time, less rushing.
It's true that in these 2 examples you might be letting some of your friends or family members down by saying 'no', but you are also allowing yourself to say 'yes' to so many other things.
When I have a hard decision to make, I try to consider what I'm saying 'no' to and what I'm saying 'yes' to — and then think about the pros and cons of each option. After doing some thinking, it's usually fairly clear what decision I should make.
Saying 'no' doesn't make you a bad person.
I was once told that I was lazy because I stepped down from a committee I had volunteered for over the course of several years.
Me… lazy!
I hope that anyone who knows me in real life (and anyone who has read my blog for more than a few months) knows that lazy is not an adjective I would ever use to describe myself. I am a go-getter, I am productive, I am ambitious, I am a hard-work. I am NOT lazy!
I simply know my limits and I'm not going to needlessly stress myself out or work myself to the bone just so I don't ever disappoint someone else. Sorry!
However, I'm convinced that saying 'no' does NOT make me lazy, irresponsible, or a bad person. If anything, I think it shows respect (see next point below).
Saying 'no' shows respect.
I've already written an entire blog post on this point (read it here)… but I truly do feel that being honest and saying 'no' upfront actually shows quite a bit of respect — both for yourself and the person requesting your time or services.
For example, if you say 'yes' to help plan an upcoming party at work just because you don't want to disappoint anyone (and even though you know you won't be able to make it to the meetings or the party) you will only end up looking extremely incompetent to your fellow employees when you make all sorts of excuses as to why you can't be at the meetings or do your fair share of the work. It would have been less awkward to simply say 'no' upfront and let them find another person to be on their party-planning committee.
Another example — you agree to watch a friend's children on a day when you're already busy, and then end up canceling on your friend at the last minute. Not only do you look bad to your friend, but your friend is in a bind now that she needs to find new childcare at the very last-minute. It would have shown so much more respect for your friend if you had simply said you were too busy to watch her children that day the first time she asked you.
Like I mentioned above, saying no right now doesn't mean you will never help out on a party planning committee at work or that you will never watch your friend's children ever again, it just means 'no for now' because you are too busy this time.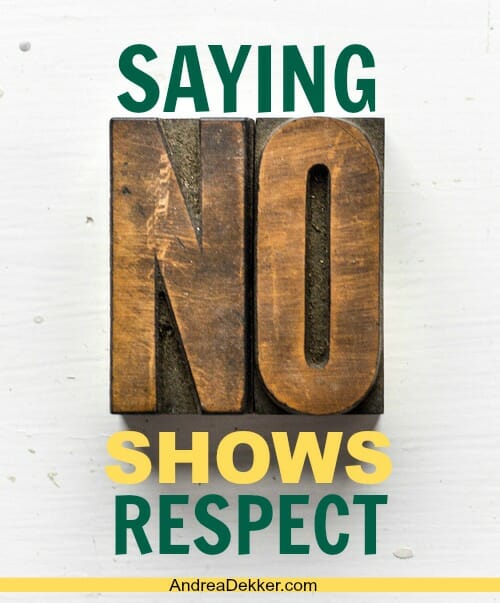 .
Of course, I don't think we should always say 'no' all the time — I'm a huge advocate for using our gifts and talents to help our families, friends, churches, schools, workplaces, and communities. But I'm also a huge advocate for knowing our own limits, not pushing too hard, and not causing unnecessary stress and hardship on our lives (and the lives of others around us) just because we're too afraid or nervous to say 'no'.
Then next time you feel bad saying 'no', just remember — it's not "no forever", you're most likely saying "yes" to lots of other great things, you are not a bad person, and you are showing respect.
See… it's not that difficult now!