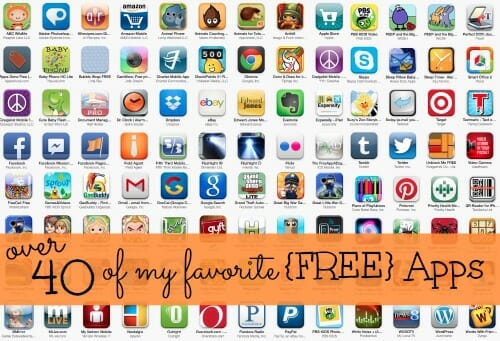 I am often asked what my favorite Apps are — either to help me be more productive, to help me better manage my home and life, or even just for fun.
So while I used lots of different Apps — both on my iPhone and iPad, I found it surprisingly easy to pick my favorites in each of the categories listed below.
Also, I should mention that while I personally downloaded all these Apps for free, I'm not positive that they are all still free.
My Favorite Home & Life-Management Apps:
Allrecipes.com Dinner Spinner — thousands of recipes at my fingertips instantly. Plus, I can search by ingredient, by meal, by cooking method, by time, and much more.
MacBank — our small-town bank's brand new app! I've been waiting for this to be released and am SO happy!
MapQuest — we don't have a GPS system in our car, and so far, MapQuest is still my favorite (FREE) way to find where I need to go.
Kindle — so many free eBook available these days, plus, we can us this to read eBooks from our local libraries
Pandora Radio — we mostly listed to children's music — but it's certainly nice to have music with us wherever we go
Text+ — since we rarely ever send text messages, we use Text+ as our free text messaging service
My Verizon / Charter Mobile / DTE Energy — these are our utility companies and the Apps are awesome. If we ever have an issue with our service, we can just press a button to "report an outage". We can also request someone to call/email us back so we don't have to stay on hold. Of course, we can also view our statements and check our balance, etc.
My Favorite Work/Productivity Apps:

Chrome — Dave and I are both addicted to Chrome! We have all our bookmarks and settings saved and love that all we have to do is download the Chrome App and those settings will automatically transfer over to any new device. SO handy!
Gmail — since Gmail pairs so nicely with Chrome, we've found that it's just easier to manage all our email with the Gmail App versus using the mail App that comes with all Apple devices.
iCalendar — I'm still a pretty hard-core pen and paper girl, but Dave and I also know that it would probably make our lives so much easier if we both use at least some form of digital calendar. So since we have shared calendars via iCloud, we can both see what the other person is up to (and make sure someone is always around to watch Nora!)
WordPress — I honestly don't do a ton of blogging from my phone or iPad, but I do moderate comments and tweak a few things here and there so the WordPress App is a must for me.
Facebook Pages — Seriously, I love this App. It has made managing many different Facebook pages so much easier and less time-consuming.
Dropbox — Dave and I store all our documents on Dropbox, and love that we can then access those documents from any device connected to the internet.
CamScanner Free — This App basically turns the camera on your phone into a scanner. I've used it many times to scan and send documents — especially when I'm not home by our printer/scanner/copier.
CamCard Lite — This is very similar to the CamScanner, but it's specifically for business cards. Just take a photo of any business card and this app will save all the contact information.
Outright — this is how I manage all my business income so it's nice to be able to access when I'm on the go. You can read more about how I use Outright.com here.
Pocket Note — As a blogger, I'm always interested in what other bloggers are saying, so when I have a website or article I want to read but either don't have the time (or don't want to read it on my phone), I add it to Pocket Note. Then when I have more time, I simply login from my computer or iPad, and the articles are ready and waiting.
My Favorite Money-Saving Apps:
Ibotta — This is a cool new App that actually PAYS you for buying groceries 🙂
Gas Buddy — If you ever want to know what price gas is in your area, this App will tell you.
Meijer Find-It — Meijer is the grocery store I buy almost everything from, and this App helps me manage the weekly sales, make a grocery list, and even clip MPerks (online coupons just for Meijer). This is a relatively new App, but it's already saved me tons of time and money!
Gyft — This App keeps track of all your gift cards in one place, and it also periodically sends you free gift cards. I've already gotten about $20 in free gift cards to places like Gap and Children's Place. You can enter your gift card balances and even take pictures of the bar codes in case you misplace the card. It's pretty neat.
Craigslist — I wasn't sure where to put this App (either money-saving or just-for-fun). I settled on money-saving because I really do use Craigslist to save money on items we would need to purchase anyway (and a few fun things too!)
Apps Gone Free — I try to remember to check out this App every night before I go to bed, because every day, it has a new list of paid-for Apps that are free for one day. I've gotten a bunch of fabulous Apps for free!
My Favorite Children's Apps:

PBS Kids — if you have children, you NEED this App. It has several episodes of all the PBS cartoons. They are all around 12 minutes long which is just enough time to calm Nora down before bedtime. This App also has lots of little video clips, musical numbers, etc. that are about 2 minutes long. We use these when Nora wants to dance.
Piano of Playfulness — it's a fun colorful piano that has little animals pop out of each key when they are pressed.
Bubble Wrap — think it's fun to pop bubble wrap but don't want the plastic choking hazard? Try this App!
Cute Baby Flash Cards — another educational App that focuses on numbers, letters, words, and objects. So far, Nora knows "BALL" and "DOG"
Animal Phone — I honestly think Dave and I have more fun with this App than Nora does right now. It's a Gorilla that you can call on the phone, but then it repeats everything you say in a really weird voice. You can also tickle it and feed it — both of which Nora loves doing!
Animals for Tots — This App shows all sorts of different animals and then makes the appropriate sound for those animals. Nora can currently make the sounds for Dog, Cow, Horse, Pig, Snake, and Duck… not bad 🙂
Color & Draw for Kids — I noticed this App is now $0.99…however it's still probably worth it because it allows your kids to color with their finger tips and has tons of different coloring pages to choose from — no paper, markers, or crayons required.
Sleep Pillow Baby Lullaby — Soothing music and sounds for infants, toddlers… and moms!
Sprout — lots of games and activities for toddlers and preschoolers
iPhotos / iMovie — Nora just LOVES looking at pictures of herself and watching herself on film. She even knows how to flip through pictures and take pictures of herself from the "inside camera" (see pictures below!)
Here are 30 more apps for kids (not necessarily free) from Life.YourWay.net
My Favorite "Just for Fun" Apps:
Amazon Mobile — I don't shop a lot, but if I have to buy something (and I can't find it on Craigslist) I turn to Amazon.com. The Amazon App makes it really easy to shop right from my phone.
Martha Stewart Living Magazine — I got a free subscription to the print magazine, which came with a code for the free iPad App subscription. It's awesome! There are so many "extras" in the iPad version!
Dimmer — I use this App every single day… or should I say "night". It's basically just a dimmer switch that automatically dims my iPhone screen during set hours (in the middle of the night) so that when I'm up with Nora every night (yes, EVERY night) I can scroll through emails, or catch up on some blog reading without squinting from the bright light.
Flashlight — This light is insanely bright and I use it often to find my way through our house when the lights are off or when we're outside. It's actually way brighter than most of our real flashlights.
Pinterest — I only allow myself to visit Pinterest from my phone or iPad and only when I'm riding in the car, siting up with Nora in the middle of the night, etc. Otherwise I waste too much time!
Spider Solitaire — My favorite card game ever
FreeCell — My second favorite card game ever
Unblock Me — Totally addicting (but I tell myself it's challenging my mind)
I'm sure I'm leaving something out — but these are the apps I use on a very regular basis.
What are your favorite Apps?