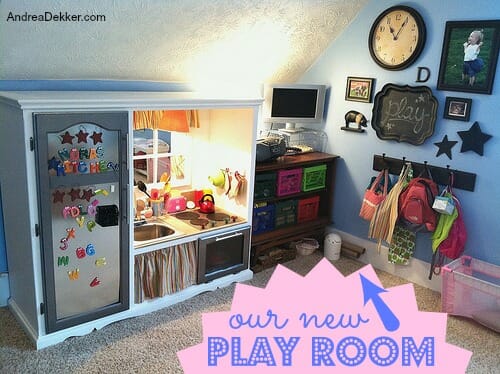 When we first purchased our home (almost exactly 3 years ago) one of the areas I was most excited about was the large landing area at the top of the stairs.
It was (and still is) big, bright, open… and full of potential for our future family.
I pictured it first as a den area for Dave and I — or even a hobby/craft area. Then I had plans to turn it into a fun play area for our little kiddos. And eventually, I think it would make a great study "loft" area for older kids with built-in desks, book cases, etc.
Here are a few "before" pictures from the day we moved in.
Nothing super special, but I could see the potential!
The usable space is actually not overly huge (only about 12′ x 11′) but it's open to the living room below, and is conveniently located in the center of the bedroom/bathroom area upstairs. This means the kids will all have easy access to this space — making it the perfect bonus space for toys, crafts, homework, etc.
So since we're in the process of renovating one of the bedrooms upstairs as Nora's new "big-girl bedroom", we decided that it was also a good time to transform this landing area into the playroom we envisioned when we first moved in.
Here's what we ended up with!
This is what you see when you walk up the stairs from the living room. I've always wanted to do a big collage on this wall, but never took the time to put it together until now.
I'm really happy with how it turned out — and that I was able to use things we already had in the house. The only thing I needed to purchase was the clock.
I used some leftover black spray paint to make everything look uniform. And I was super excited to be able to incorporate some family heirlooms (the large military picture on the lower right side), some newer family pictures, a set of black hooks for all of Nora's bags, a fun platter painted with chalkboard paint, and even an ultrasound picture of our little baby boy.
Nora loves the wall too — especially the hooks and the pig 🙂
Believe it or not, we actually had to search our house high and low to come up with all the toys we found here. We also purchased several new-to-us items via Craigslist, and left plenty of empty space for future Christmas toys that will inevitably be coming our way in a couple more weeks.
We put Nora's baby crib, changing table, and other baby supplies under the window — and also right next to the stairs as we sometimes bring these items down to the living room to play.
As you can see by the photos below, we took out the (illegally spaced) spindles and put in a solid half-wall instead. This was actually all Dave's idea and I LOVE IT!
The spindles were so far apart that Nora could EASILY fit completely through them (we know this for a fact, in case you're wondering!) And I'm sure numerous toys would have gotten shoved through the spindles as well.
Eventually, we'd like to put a built-in bench or a built-in book case along the half-wall, but for now (until we know exactly what we want to do) we just put an extra chair and tiny book case against the wall.
The chair was actually a REALLY good idea since I end up sitting up there a lot reading books with Nora or working on my laptop while she plays. Plus, since it's a rocking chair, it will be a nice place to sit with a new baby while Nora plays.
.
The largest open wall is actually a walk-way between bedrooms, bathroom, and a large storage closet we have upstairs — so since we didn't want to totally block all traffic flow, we couldn't put anything too bulky against that wall.
I thought this would make a nice "gallery wall" for Nora's artwork and some of her favorite pictures. We put her toy box, desk, and tool bench along this wall as well (all of which were recent Craigslist purchases specifically for the new play area).
These things can all be easily moved if need be, but they really aren't in the way right now.
.
Rotating around to the far wall, we have Nora's play kitchen (which JUST fits!)
And next to the kitchen, we have a freebie hand-me-down cabinet from my great aunt. I'm planning to paint that cabinet white to match the kitchen — but I wanted to make sure we like it up there before I waste my time.
We have a small TV and Nora's "boombox" on top of the cabinet and then 6 small crates of toys on the shelves. I also have a basket of puzzles under the cabinet.
The crates have pretty much ALL our toys that used to be in the living room and in Nora's special closet in our office. We just have one small basket of toys left in the living room and one shelf of books, since we like reading on the couch best.
This brings us back to the first wall you see when you walk up the stairs.
A few more Before/After pictures:
I couldn't get the same angle because of the new half wall — but I think you get the idea.
So that's it.
Nothing super special — just a new wall, some new carpet, paint, trim, and a bunch of toys — but Nora LOVES it up there!
I have a feeling she'll love it even more once she's more willing to play by herself and once we fully transition her to the bedroom upstairs.