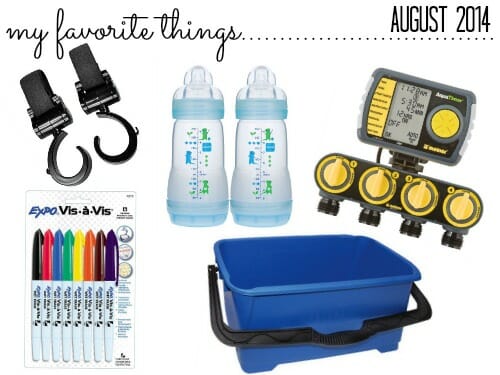 Here are a few of my favorite things for the month of August… and as always, be sure to check out some of my favorite things from past months.
DISCLOSURE:None of these products are sponsored in any way; however, some of the links below are affiliate links — which means I may get a VERY small percentage of the sale if you make a purchase through my links. However, I hope you know that I'm only promoting the products below because I use them EVERY SINGLE DAY in my own home and life! Read my full disclosure policy for more information.
Unger 'Big Blue Bucket'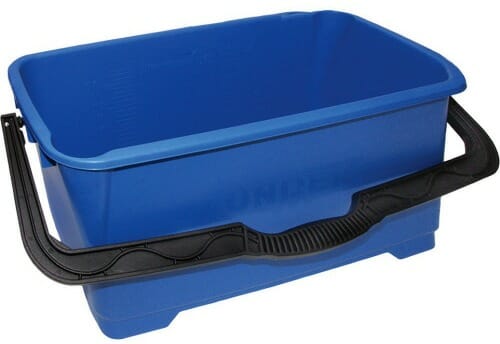 We got our "big blue bucket" (as we call it) a few years ago — and honestly, we had NO idea how useful it would be after having kids!
We originally planned to use this massive 6+gallon rectangular bucket to wash our cars, to take camping (if we ever go camping), and various other odd jobs around the house. It works amazingly well for those tasks — but little did we know, it would become one of Nora's all-time favorite "toys".
She uses it to "wash" everything from her sand toys, her bike, the driveway, and bugs. It's big enough that she can play and splash for a long time without running out of water, but small enough that the water heats up quickly if we put it out in the sun on our asphalt driveway.
We've used this heavy-duty bucket for all sorts of tasks over the years… and most recently, we realized it's the perfect size for a 2.5 year old to take a bath outside 🙂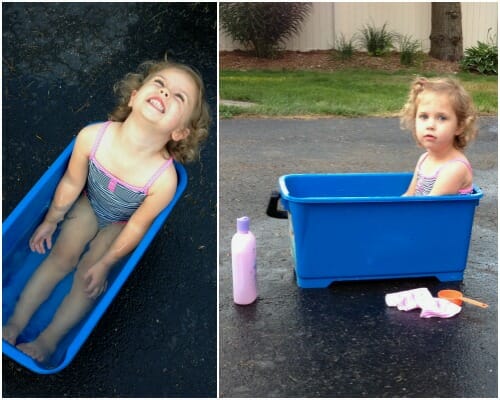 NOTE: I've seen this Unger bucket at Home Depot as well as on Amazon.com
.
MAM Bottles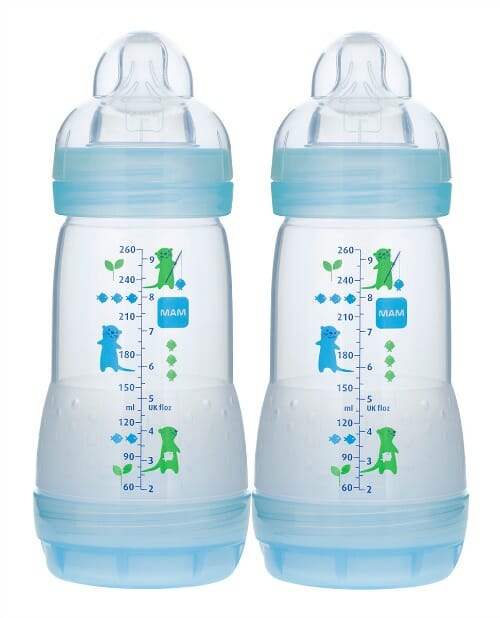 I'm not sure I will ever be able to sing enough praises for how awesome the MAM bottles (and all MAM products) have been for our family these past 5 months since Simon was born. We were never able to get Nora to take a bottle, so when Simon was born, I was bound and determined to find a bottle he would take.
Fortunately, the very first bottles I tried were the MAM bottles — and he loved them!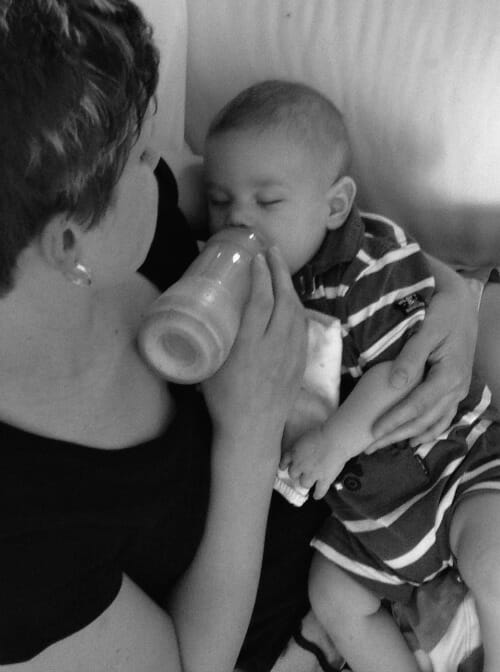 The MAM bottles are anti-colic bottles thanks to vents in the bottom that almost completely eliminate the problem of babies swallowing so much air. Simon often won't even need to burp after chugging 6 or more ounces!
Also, there are various nipple sizes that all fit the same bottle — so you can gradually increase the milk flow as the baby grows.
There are so many other fabulous features I could list here, but my favorite is that these bottles are self-sanitizing (they come with instructions on how to do this via the microwave) which makes cleaning them on-the-go SO simple. Of course, the bottle are also extremely easy to clean in the sink or dishwasher because the bottom of the bottle screws off so you never need to try to squeeze your hand or the dish cloth down to the bottom (yes, they thought of everything when making these bottles!)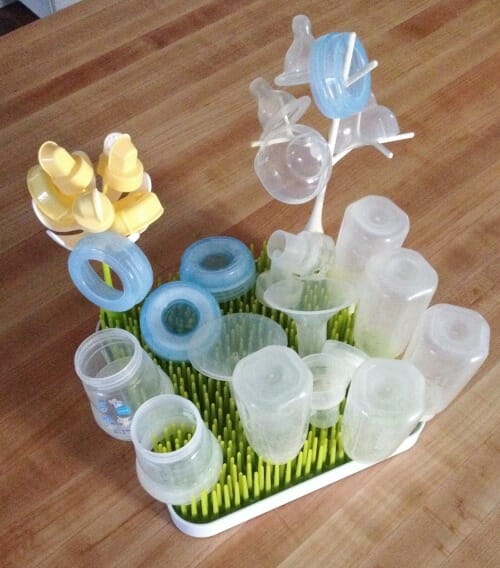 If you are ever considering using bottles "full-time" or part of the time, I would HIGHLY recommend trying the MAM bottles.
We also love the MAM pacifiers, teethers, sippy cups, toothbrushes, cleaning products… and basically all of the MAM baby products!
.
Wet Erase Markers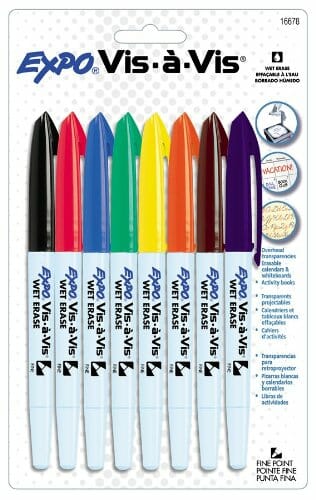 If you've never tried WET erase markers, you have no idea what you're missing. They work exactly like DRY erase markers… but are SO much nicer because you can't accidentally erase your important message or that special phone number by rubbing up against it (or when your child decides it's time to draw pretty pictures).
Wet erase markers write much finer and clearer than dry erase markers… and as you might expect, WET erase markers require a wet rag to erase them 🙂
I first came across wet erase markers about a year ago, and I've never looked back.
One note of caution, I would not give wet erase markers to a small child as you could have a water mess on your hands!
.
"Hook 'n Stroll" Stroller Hooks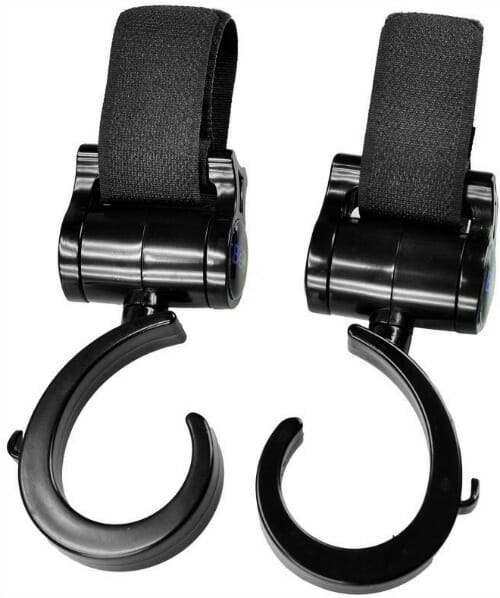 I've shared my favorite single strollers before — and (more recently) my favorite double stroller — but no matter what stroller we take, we always make sure to strap one of these Hook n' Stroll hooks on before we leave the house.
These hooks can hold just about anything, from water bottles, keys, and my wallet to larger shopping bags, buckets, lawn chairs, and so much more.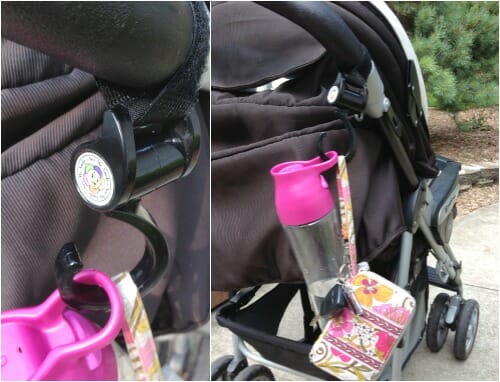 These hooks have saved my butt many times when I thought I could fit something in the basket under the stroller. They are also really nice if you're transporting lots of gear to and from your car, your house, the beach, etc.
Of course, these hooks aren't JUST for strollers, they could also work with bike handle bars, or almost anything with a small enough bar to velcro these hooks onto.
.
Melnor AquaTimer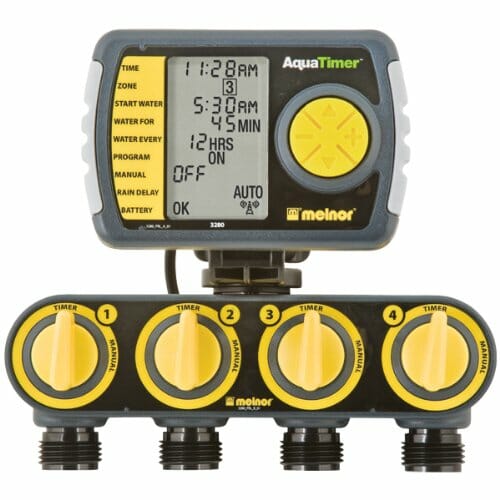 We have done A LOT of landscaping work and have planted A LOT of grass seed over the past 2 summers — and although we have underground sprinkling, there have been many times when it's much more economical to use hoses and sprinklers to water small areas more frequently than our underground sprinklers would run.
However, with 2 little kids, it can be a huge pain to constantly be running in and out, moving sprinklers and hoses all over our 1 acre yard — and I can't even tell you how many times I've forgotten to turn the hose off! Sigh…
Well, last summer, Dave invested in the Melnor AquaTimer and solved all our grass-seed watering problems!
It was about $50 from our local home improvement store (so not exactly cheap) but I can't tell you how much time, energy, and water this little device has saved us over the past year.
We can set up to 4 different programs to automatically turn on and off at various times throughout the day — and then run multiple hoses from each slot with sprinklers set to different areas around our yard.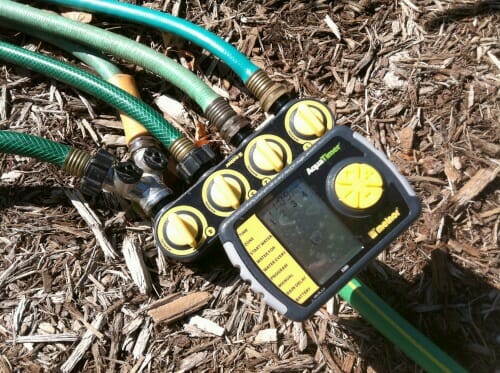 Last year, when we were growing multiple patches of grass all over our yard (and watering each patch about 4 times a day) we borrowed a few hoses from from my parents and sister and had hoses ALL over the place. But, it worked, our grass grew in beautifully, and I never had to move a hose or a sprinkler!
This timer could also be a huge asset for you if you don't have underground sprinkling and hate moving hoses like me 🙂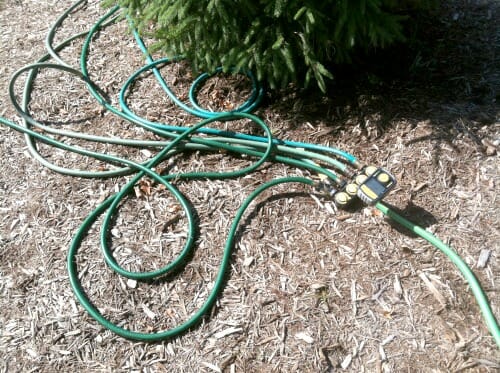 That's all for me this month.
Make sure you check out my previous months' favorite things — and feel free to share some of YOUR favorite things in the comments below!