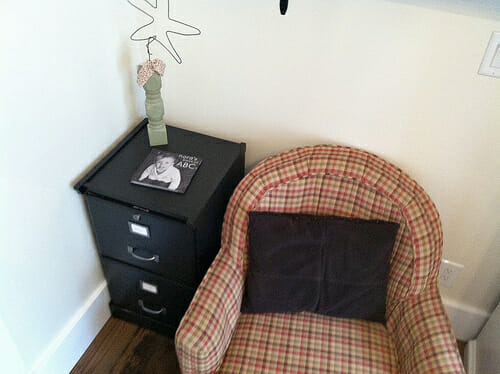 Over the past few years, I've been on a mission to "go paperless". However, since I realize it's probably impossible to "go paperless" 100%, my more do-able goal is just to use and store less paper on an ongoing basis.
Anything I can digitize; I do.
Any bills I can automate, pay online, and receive e-statements for; I do.
Any papers I don't absolutely need; I purge.
Any documents I can store in my email, on my computer, or on my portable hard drive instead of in paper format; I do.
There are definitely still plenty of papers, files, documents, etc. that I will always feel the need to keep hard copies of (sometimes for legal reasons, sometimes just for convenience reasons) so I know I'll most likely always have some sort of filing cabinet easily accessible.
However, I'm happy to announce that we recently switched from a MASSIVE 4 drawer, super deep, big, bulky filing cabinet, to a much smaller, shallower, 2-drawer filing cabinet… with room to spare!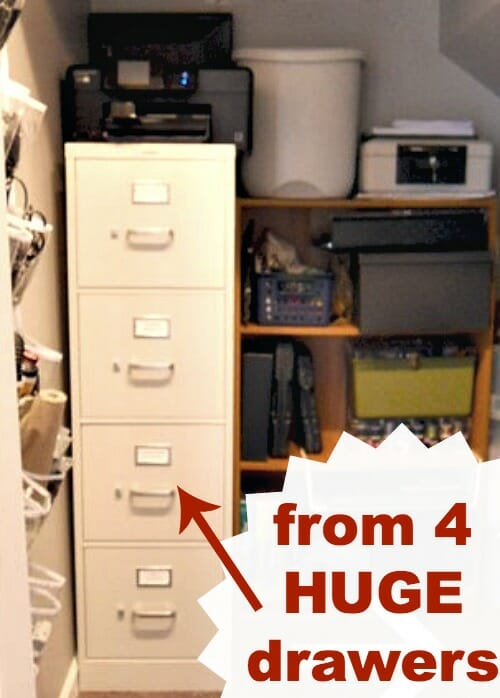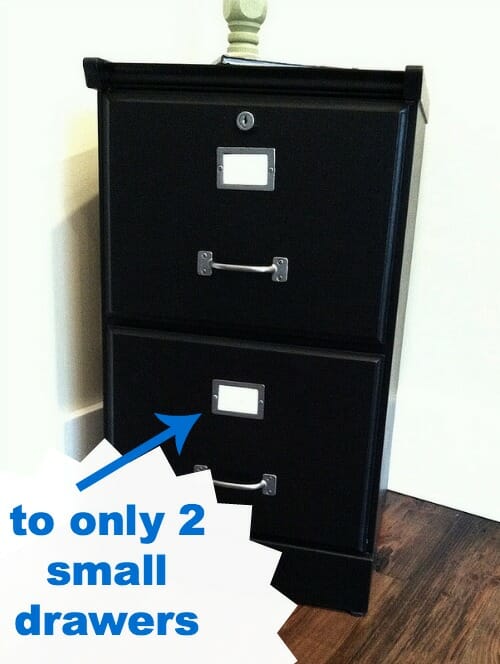 I have a love/hate relationship with paper….
There are few things that give me more pleasure than an immaculately organized filing cabinet… but at the same time, I absolutely detest paper clutter and hate storing (or filing) any paper that I don't absolutely need.
Our Filing Cabinet Downsize:
I've been pretty ruthless about the amount of papers I'm willing to keep in our house, simply because I know for a fact that paper is one of the WORST types of clutter — and also the most difficult to get rid of. Once you file something, it stays there for 20 years, taking up space, until you realize you really didn't need or use it the entire time.
One piece of paper isn't that big of a deal, but when you multiply it and add a few new papers every day, every week, every month… all of a sudden, you have a big paper problem.
And since I'm guessing most of you don't share my over-the-top love of paper organization, let me just assure you that it's much easier to purge your paper now than later 🙂
Our filing cabinet downsize all started a couple months ago when we decided that I really wanted to move our huge filing cabinet out of the closet under our stairs — in order to make more room for Nora to play in that closet.
I started going through a few of our personal files every night, purging anything and everything we no longer needed. It was amazing all the useless paper we had — expired warranties, old receipts, manuals for items we had already sold or trashed, etc.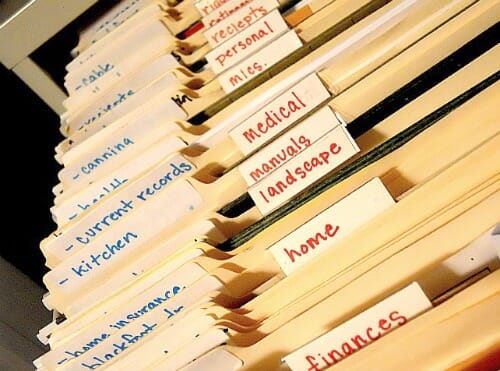 I reorganized a few of the files and consolidated a few more. Then I did the same thing for all my business files (which had also gotten out of control!)
When I was finally finished, I had recycled or shredded over 60% of the paper in our filing cabinet!
Also, by consolidating many of our filing categories and sub-categories, I drastically reduced the number of files I used.
Yes, that felt good!!
Our Filing Cabinet Upgrade:
When I started the process of purging our papers, my goal was to be able to fit everything into a 2-drawer filing cabinet — and both Dave and I really wanted a wooden filing cabinet as opposed to the metal one we had.
I honestly didn't care what it looked like because I knew I was just going to paint it black. I just wanted it to be relatively small, 2-drawers, wood, and in fairly good condition (a.k.a sturdy).
Of course, I immediately turned to Craigslist as my shopping destination of choice — but I was a bit leery since I know wooden filing cabinets can be quite pricey.
Well, imagine my surprise when the VERY FIRST time I logged on to do a search for "wooden filing cabinet" I found a cute little 2-drawer cabinet just about 2 miles down the road from our house.
The best part — they were only asking $15!!! SCORE!
I immediately emailed the seller and went to pick it up that night.
It definitely needed a little TLC, but it was perfect for what we wanted and so much nicer than our previous metal cabinet.
Our Filing Cabinet Makeover:
Once we had the cabinet, I quickly got to work cleaning it, removing the hardware, and painting it with a fresh coat of black paint. Then I spray painted the hardware using the same stainless steel spray paint I used on Nora's Kitchen.
I did two coats of both the black and the stainless in one day and the cabinet was fully dry and ready for papers the next day.
It fits perfectly in the corner of our office and also doubles as a cute little end table.
Definitely a massive improvement, and totally worth $15 and about 2 hours of hands-on work!
I honestly feel SO much lighter after purging all that paper — and I love that I now have a more confined space to store future papers. No more filling drawers and drawers with paper — just because we have the space.
I still have plenty of room for additional papers in this small cabinet, but at the same time, I'll be forced to purge on a more regular basis.
Also, since I did such a huge paper purge now, I was able to spend a few minutes gathering the things we'll eventually need for tax season (which is coming up in just a few weeks!)
My goal is to get our taxes done ASAP this year to make sure everything is squared away before Baby #2 arrives.
So this little filing project not only helped me clear our closet under the stairs, it also helped me get a jump start on our tax prep AND get my annual paper purge out of the way a few months early. Win, win win!!
What are your biggest paper pet peeves?
Oh, and if you're interested, here are a bunch more posts about paper clutter!