A few years ago, I shared our recipe for homemade Gak.
Since then, we've made countless batched of Gak for ourselves and for gifts, and the process of making it is almost as much fun for the kids as actually playing with the finished product.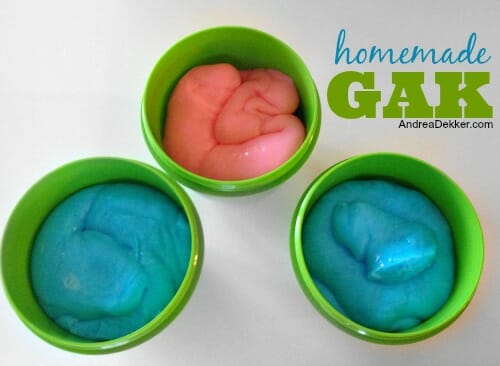 Recently, though, Nora has been obsessed with slime (a.k.a. a grosser, messier version of Gak).
She made some at school this past spring and has been begging to make more at home — however, it's SO messy, slimy, sticky, etc. that I really didn't want to make 3 batches of it (and then deal with the mess every time they played with it).
Fortunately, I found a recipe for Fluffy Slime that was fairly quick and simple to make, creates virtually no mess when the kids play with it, and is just "slimy" enough to appease Nora's desire for slime at home!
If you're looking for a fun summer craft project, a cute homemade gift idea, or a new "toy" to entertain your kiddos for a while, this slime should fit the bill! Thankfully, it's super easy to make!
Recipe for Fluffy Slime
This recipe makes 1 batch (we make 3 batches at a time – 1 for each child)
INGREDIENTS:
one 4oz. bottle Elmer's School glue – roughly 1/2 cup (I've tried other brands and Elmer's is the ONLY brand that works)
several drops of food coloring (optional)
4 c. shaving cream
1 T. saline solution
1/4 tsp. baking soda
a few drops of baby oil
DIRECTIONS:
Squeeze glue into large container or mixing bowl
Add food coloring if desired; mix well.
Spray in roughly 4 c. shaving cream; mix well (add more food coloring for a darker color if desired)
Add saline solution and baking soda and stir well (this is when the mixture turns into slime)
Dump mixture onto table and add several drops of baby oil to prevent it from being so sticky
Knead the slime like bread dough, adding more baby oil as necessary, until desired consistency is reached
Store in an air-tight container
The ONLY messy part is when you need initially dump the slime onto the table (before you add the baby oil). The slime is VERY sticky at that point, but in my experience, everything wipes up VERY easily.
My kids absolutely LOVE playing with slime — and for the record, they do play with it inside too, we just happened to take pictures on a day they were playing with it outside.
I'm certain we'll be making a few more batches of fluffy slime this summer (especially since glue will be crazy cheap in the upcoming back-to-school sales!)
NOTE: I want to reiterate that Elmer's School Glue is the ONLY type of glue you'll want to use. I've tried this recipe with other types of glue, just to see what would happen, and it doesn't work.

I have no idea what makes Elmer's School Glue better, but it's the only one that works for our Gak recipe and so far, it's the only one that works for this slime recipe as well!
Have you ever made fluffy slime?
Do you have any other similar recipes you love?