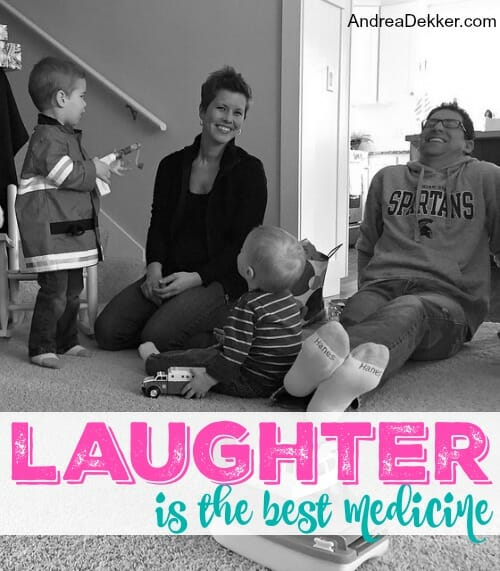 As I mentioned last week, Dave and I will celebrate our 12 year anniversary tomorrow.
We don't have big plans (we never do) and we won't do gifts (we never do that either). We will simply carry on with our normal day-to-day activities, we'll probably pull out the wedding album to show our kids, I'll make us a nicer dinner after the kids are in bed, and we'll silently cherish the fact that the last 12 years have been mostly happy, positive, lighthearted, and untroubled.
Truly, we have been very blessed… and we know it.
Although it's often easy to take things like our health, our home, our family, and our finances for granted with thoughts like, "we work hard and we are good people, so we should be happy and blessed", we know too many good people who work hard and still struggle with health issues, relationship troubles, financial problems, and more. It seems like they pick the "short straw" every single time and just can't catch a break.
Of course, we all have our own trials, big and small, and the last 12 years definitely haven't always been perfect and peaceful… but Dave and I certainly don't have much to complain about.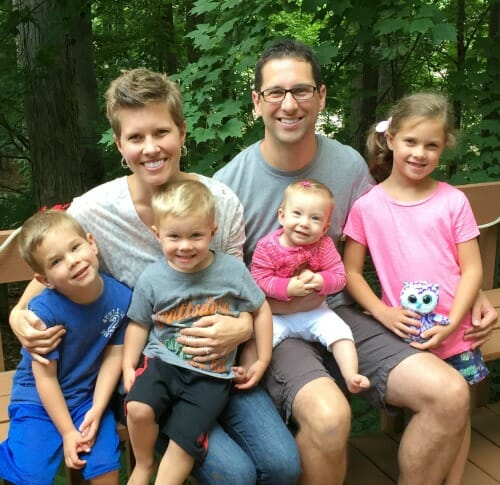 As I was thinking back over the past 12 years, wondering what I might share with you all today, I kept coming back to the old cliché saying, "Laughter Is The Best Medicine" because I feel like so many of our family's "problems" have been resolved with laughter.
A well-timed joke, making light of a difficult situation, sharing a silly memory, or laughing over something instead of crying or yelling — it's amazing how quickly tension is resolved when you're laughing (or even just smiling)!
Dave, Simon, and James are SO good at this — they make it almost impossible to really be angry with any of them because the minute they know they are in "trouble" they crack a joke, give me a silly smile, or find something humorous to focus on instead.
Nora and I aren't as good at laughing off a bad or difficult situation — but we're taking notes and getting better! 🙂
Of course, humor doesn't always solve all issues — and there have been plenty of times we've had to discipline our children or hash out an argument between the two of us, but that's just real life (and I don't expect real life to be silly or fun all the time!)
.
I know time does NOT heal all pain, and "relational baggage" is definitely a challenge in so many families — but my encouragement for you today, this weekend, this summer, and moving forward is to look for ways to bring laughter and humor into your days.
If your child spills something (and it's legitimately an accident) search for a humorous response instead of anger or disgust.

If your spouse forgets something (again), make a joke out of it and move on.

If your friend says something hurtful, brush it off, change the subject to something more positive, and assume they were having a bad day.

If another driver cuts you off on your way to work, let it go and be thankful you have a job to drive to in the first place!
And yes, I definitely know how difficult (often impossible) it feels to choose those types of reactions instead of the more common anger, annoyance, resentment, etc.
But I promise, YOU will benefit from a more positive reaction – as will the other person/people involved.
Laughter is so often the best medicine… I've witnessed it time and time again in my own life and with my own family.
I am forever grateful to Dave and his ability to effortlessly bring laughter and lightheartedness into our home, for his calm and patient demeanor, and for his never-ending love and devotion to our family.
It is the best gift he could give me this anniversary.
Cheers to 12 years… and counting!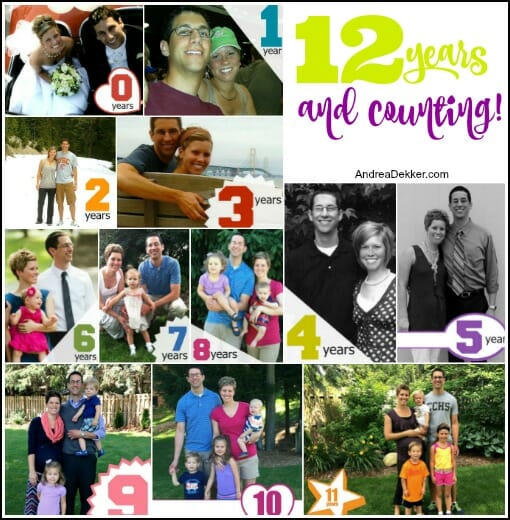 More Anniversary Posts:
5 Years — With a recap of years 1-4
6 Years — We celebrated at his brother's wedding!
7 Years — A hilarious family photo shoot where Nora would not cooperate (shocking!)
8 Years — Also, 8 of our favorite free or frugal date ideas
9 Years — Why the quest for "fair" can ruin relationships
10 Years — My thoughts on dream weddings, date nights, and a decade with Dave
11 Years — An explanation of why we waited to go on our honeymoon