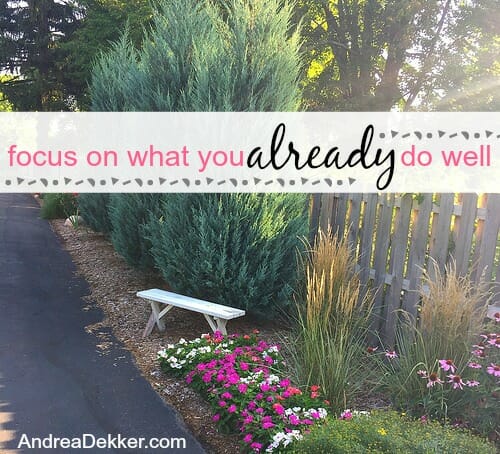 Something I've been thinking quite a bit about over the past few months is how we (essentially all humans) naturally tend to focus on all the things others do better than us, instead of feeling satisfied with what we already do well.
No matter how successful we are, there is always someone more successful.
No matter how wealthy we are, there is always someone with more money and possessions.
No matter how talented we are, there is always someone more talented.
No matter how thin or fit or muscular we are, there is always someone more thin, fit, and muscular.
No matter how many charities we support or organizations we volunteer for, there is always someone who does more.
No matter how clean and organized our homes are, there is always someone with a neater, more organized home.
No matter how well-behaved our children are or how loving our spouses are, there are always other families who seem to have things even more "together" than we do.
Even for people who don't necessarily want what others have, it's almost impossible NOT to at least notice when others seemingly have more, better, or different of something than we do. And when we notice, it's very easy to feel just a little bit envious (we want what they have) or guilty (we should be doing what they do.)
However, we rarely have access to the "big picture" when it comes to the lives of other people (even close friends and relatives).
We see the things they excel at, their new promotions at work, their children behaving so marvelously, their perfectly clean kitchen, and their never-ending supply of time and energy for every volunteer opportunity that comes their way. BUT we might not see how stressful their job is, how little time they have for themselves, how grumpy their spouse is at home, or how they wish they could say "no" but just can't.
We tend to glaze over any negative situations and focus on everything they do or have that is "better" or "more" than we do or have.
These thoughts cause us to feel like we aren't doing enough… and the "I'm not doing enough" thought process is often one of the biggest hindrances to the quest for a simpler more organized life.
.
As I've mentioned before, I would consider myself a fairly confident person — I always have been. I am not easily swayed by the opinions of others, nor do I care all that much what others think of me. I have thick skin, I make decisions easily, and I rarely feel insecure about myself or the decisions I make.
Even still, there have been several times, just in the past few months, when I catch myself thinking "I should do more…" or "I really need to do that too…" or "If they can do it, I should too…"
Let me give you a few real-life examples:
Composting:
Dave and I have talked about setting up a composting station somewhere in our yard for YEARS. Every spring the topic gets brought up again… and every fall we say, "maybe next year".
While we do have yard waste service to handle all the plant material we get rid of each week, we don't have anywhere to go with ALLLLLLL our peelings, egg shells, coffee grounds, pits, husks, rinds, etc. etc. Honestly, we throw out a TON of compostable items every day… and it's all going into a landfill.
A couple weeks ago we were talking with friends who recently built a nice composting area in their backyard. They did it solely to cut back on the amount of trash they throw out — and the whole process was so simple.
I sighed and said, "we definitely need to set up a composting area"… to which the friend responded, "don't worry, we didn't get ours set up until our last baby was out of diapers."
It seemed like a silly response to me in the moment, but the more I thought about it, the more I realized that what she meant was, "you have a lot going on right now with all your little kids, just give yourself a couple more years and you'll have more time and energy to devote to extra projects like composting".
I know it wouldn't be a huge project to build a composting area somewhere in our yard… and it wouldn't be that much extra work to put my food scraps in a bin on the counter instead of into the trash, but it's just ONE MORE THING on top of several other things we want to (or need to) accomplish first.
We have a vegetable garden (our friends don't). We have a huge amount of yard work we do each week (they don't). We have house projects to tackle (they don't). We have a baby and younger children who require more attention (they don't).
These differences certainly don't prevent us from being able to start composting (I'm honestly not making excuses). They simply show that we don't see the full picture. We just see that our friends have a composting bin and we don't — and we assume we SHOULD have one too, even if we don't have the time or energy to add one more thing.
.
Family Vacations:
We have SOOOOOOO many friends and family members who go on numerous summer vacations — many of them taking multiple young children (and babies) along for the ride!
They seem to have so much fun, they enjoy getting out and about, and they love giving their children so many new experiences. Every time I see their fun pictures on Facebook or hear them retelling stories of what they do on their trips, I silently feel a twinge of guilt as we almost never take our kids anywhere!
However, most of these friends and relatives who do all the traveling also work "regular" jobs during the rest of the year. So while Dave and I might not travel with our kids right now, we are both home with our children ALL day, EVERY day in the summer; and we do lots of fun things at home and in our local community throughout the year.
While I think there is something to be said for fun family traveling experiences (we do hope to travel more once the kids are a bit older) I also feel like there must be benefits for our children due to the fact that they get so much time and attention from both their parents on a very regular basis.
It's easy for me to say "we should travel more", "we should do more extra things", "we should give our children more experiences" but for now, I just need to sit back and realize that our time will come.
Eventually we'll be diaper-free, crib-free, stroller-free, and we can get out and about more at that time!
.
Physical Fitness:
I recently had my yearly physical and had to fill out a bunch of paperwork. My doctor laughed when she saw that I checked the box "never" next to how often I exercised. She said the majority of people will just lie and say "sometimes" instead of "never"… but I really never exercise.
I'm not necessarily proud of this, nor do I think it's the best choice for every person, but right now, I don't care to make time for formal exercise on any sort of regular basis.
However, I still struggle with the thoughts of "I should exercise more" every time I drive past someone running down the street, any time friends or relatives talk about their latest form of exercise, or any time Dave wakes up early to go for a run.
I certainly COULD do more… and I honestly SHOULD try to do more… but I don't. At least not right now.
On the flip side, I eat more nutritiously now than I ever have before, I consciously try to move a lot, I get good rest every day, I drink tons of water, and I have adopted so many healthier habits over the years… just not exercise!
.
I could go on and on with different examples:
kids who are much more involved in extra curricular activities
peers who volunteer more than we do
family members with the perfect house, lawn, car, wardrobe, etc.
other moms who always seem to dress so cute and fashionable
neighbors who are always out and about, doing fun things with their family
coworkers who seemingly have the perfect family and home life
other people's children who eat super healthy foods and brush their teeth without a struggle!
babies who are super scheduled and sleep through the night almost immediately
other bloggers who are 'everywhere' and who do 'everything'
friends who go on fun date nights or girls' nights every week
acquaintances who always seem so put together
However, what I need to continually remind myself of are all the things I currently do really well:
I keep 4 children fed, dressed, bathed, and alive every day
I run a business from home (and actually enjoy it!)
I maintain thousands of flowers, trees, shrubs, and other plants/veggies in our garden
I keep our house relatively neat and clutter-free on a daily basis
I arrive most places on time (even with 4 kids along for the ride)
I prepare 3 full meals every day, and we all eat together at the table
I am on 2 different committees at church, I direct the children's choir, and Dave and I will be the Sunday School leaders starting this fall
I bring meals to people and invite guests into our home for meals on a regular basis
I read to my kids every day
I come up with crafts for them to do on a very regular basis
I wake up early so I can start my day off on the right foot — complete with a hot breakfast for the entire family
I keep up with my digital photo books every month
I make time for things that are enjoyable to me and say "no" when I feel I have too much on my plate
Unfortunately, I know that my list above will naturally cause some of you to think, "she does it… I should too", but I'd caution you to take a step back and list out all of the things you currently do really well.
I'm certain that for every item I list under things I SHOULD do, I can list something else under the things I ALREADY do — I have a feeling you could say the same.
It's very easy to focus on the specific things others do better than us or have more of than us… even though there are most likely plenty of things we do better and have more of compared to other people in our lives.
Stop comparing, and just start acknowledging and enjoying the things you already do well — you'll be a lot happier!
I'd love to know, what do you currently do really well?
I promise, I won't think you're bragging!