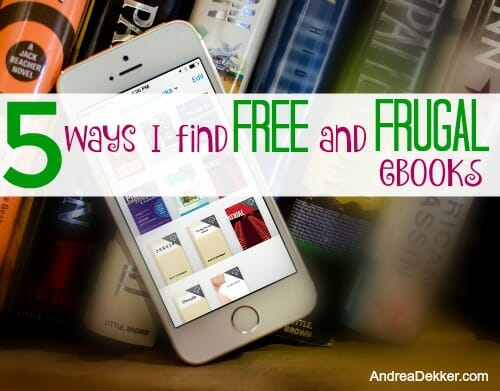 As I've mentioned before, my kids and I are very avid patrons of our local library; however, 99% of the books we checkout from the library are for the kids. In fact, a quick scan through our library reading history shows only 3-5 adult books checked out in the past 3 years!
That said, I am still reading… but I've been doing it almost exclusively via my phone.
I know — the phone screen is so small you wouldn't think it would be conducive to reading (believe me, I thought the same thing up until about 5-6 months ago when Dave finally convinced me to give it a try).
He has been a phone reader for a couple years already and I will admit, I mocked him on more than one occasion. But he has officially won me over to reading from my phone due to the how ridiculously convenient it is since I almost always have my phone with me!
I still think there is a time and a place for reading paper books (I only read paper books to my kids) but in my current stage of life, eBooks from my phone are by-far the best, easiest, simplest, fastest, most enjoyable way for me to read.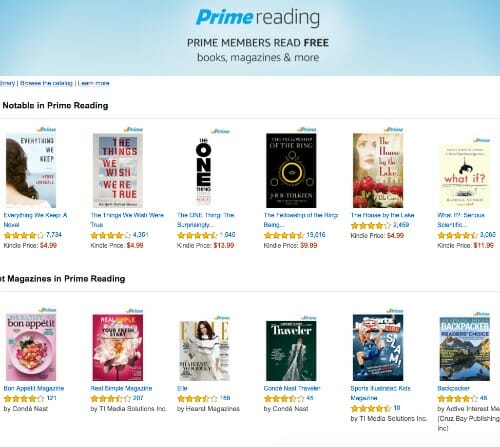 That said, I'm still very frugal and am not willing to pay much (if anything) for my eBooks.
So far, Dave and I have managed to find almost all our eBooks completely free… and today, I'm sharing a few resources we use for our free (and very frugal) eBooks and other eResources.
I do realize there are literally hundreds and hundreds of online resources for free eBooks, but since I like to keep things super simple, I'm sharing my Top 5 Resources today!
1. Amazon Prime Reading:
Yes, we pay $99 for our Amazon Prime membership, but we've had a Prime membership for a couple years already and use Amazon for the majority of our shopping, so the free shipping, plus free music and free movies seems to be worth the membership price for us (at least right now).
However, the new "Prime Reading" feature significantly adds to our enjoyment.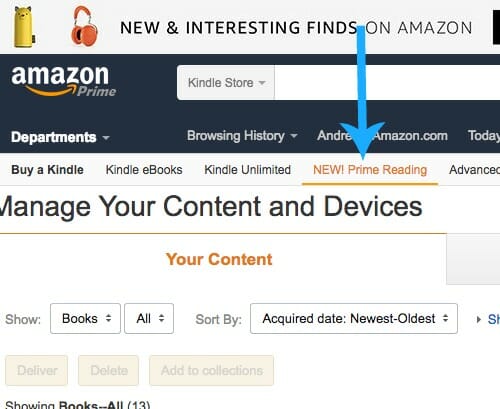 There are a boatload of eBooks, audiobooks, and even eMagazines we can get completely free thanks to our Prime membership. All I have to do is click on the "New Prime Reading" link and then scroll through a huge selection of available options.
Also, if you are an extremely avid reader, you might consider using Kindle Unlimited. You can get a Free 30-day trial to see if it's worth the $9.99 monthly fee — but I have a feeling if you regularly pay for eBooks, that monthly fee would easily pay for itself. (NOTE: I currently don't use Kindle Unlimited, but just wanted to mention it due to the nature of this post).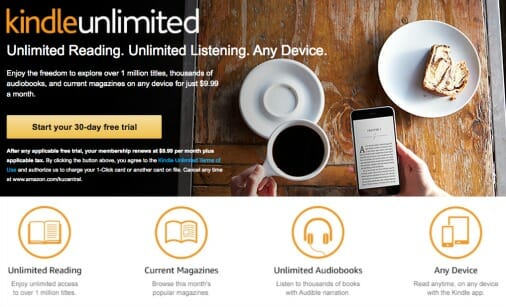 2. The Local Library / Overdrive:
Our library has a good selection of eBooks and audiobooks we can download (or put on hold) just like we would check out any paper book.
Our library downloads run through Overdrive, but we can send them to our phone or tablet via the Kindle App — so it's a pretty slick system (and of course, always free). The best part is I never have to worry about late fees because the books are automatically removed from my Kindle App once the 2 weeks are up!
We can borrow an unlimited number of digital titles, as long as we don't have more than 5 items borrowed at one time. Since I'm definitely a 1-book-at-a-time girl, a 5-book limit is no problem for me!
Of course, we can use these digital downloads for our kids as well, but I really feel our kids are way too young to enjoy digital books yet. I have gotten a couple audio books for Nora to listen to (books we've already read in print) but that's about it. I could see using this feature for longer car trips or once the kids are a bit older, but right now, I stick with paper books for the kids.
Oh, and one super cool feature I noticed within our Overdrive App (for any of you who actually read your books with Overdrive) they have a "Dyslexic Font" option under settings. I've never actually used it, but figured it might be helpful for anyone who suffers from Dyslexia — things like this really make me appreciate technology so much!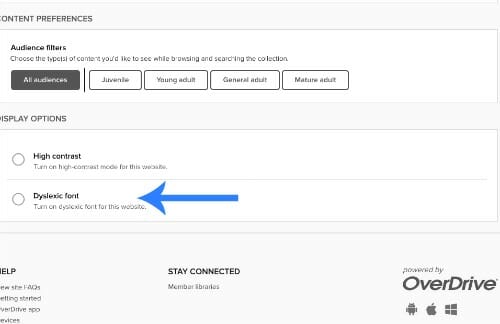 3. Hoopla:
And speaking of the Library, we get access to 9 free downloads from Hoopla every month via our library card. We often use Hoopla to download movies or shows for the kids, but I try to "save" 1 per month to get a free ebook for myself.
I get the book for 21 days, and this website is SO easy to search for something interesting. They make it very simple to narrow down categories, genres, authors, etc.
Also, for those of you who like keeping track of the books you read and the movies you watch, Hoopla has a "History" section that keeps record of everything you download. They also have a "Favorites" section where you can store your favorites until you have more credits to download.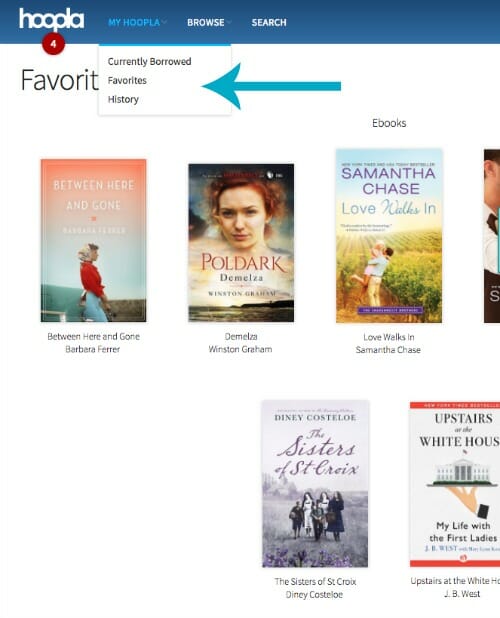 4. Apple iBooks:
The Apple iBooks App is AWESOME!
My most favorite feature (which is really simple) is the Auto-Night theme, where it automatically turns the screen black and the words white when the lighting is low — perfect for reading in bed or while rocking a child to sleep at night. It's SO much easier on my eyes… and although my Kindle App has this option too, I have to manually change it over every time. I usually forget until I'm almost ready to turn my phone off, so I appreciate that the iBooks App does it automatically.
Another great feature — since it's an Apple App, it easily syncs across all our Apple devices so I can read my eBooks from my phone, from the iPad, or even from my computer.
I have noticed that most of the books in iBooks are $0.99 or more — however, I've gotten a few freebies.
The iBooks App is also great for reading PDFs. I had a rough time trying to figure out how to actually get my PDFs into iBooks, but after watching a few YouTube tutorials, I finally figured it out!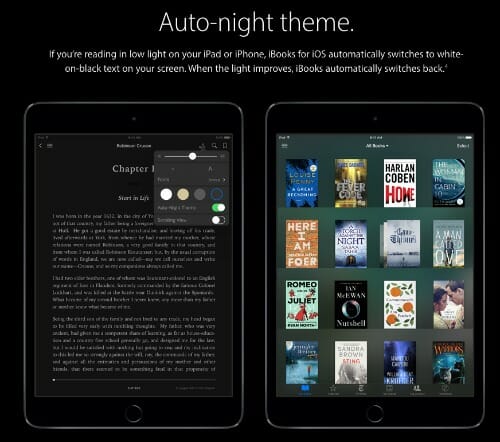 5. eBook Bundle Sales:
And speaking of PDF books, there have been some really fantastic eBook bundles floating around the web these past few years (usually offering PDF copies of eBooks). I've promoted a few of them on my blog before, and I've enjoyed growing my eBook collection for low bargain prices.
There is currently a pretty fantastic Clutter Busting eBook bundle that went on sale this morning! It offers 18 ebooks, 5 ecourses, 15 printable packs, and 2 bonus offers for only $29.97.
I've already read a handful of the eBooks in this bundle, but I have my eye set on a couple other pricier resources this time:
1. How to Create Your Own Printables by Laura Smith ($49 when sold separately)
2. Routine Cards by Rachel Norman & Lauren Tamm ($6 when sold separately)
3. The Ultimate Unofficial Dropbox Guide by Jason Glaspey ($47 when sold separately)
4. Wanderlist: Your Travel Planning Toolkit by Kimberly Tate ($12.99 when sold separately)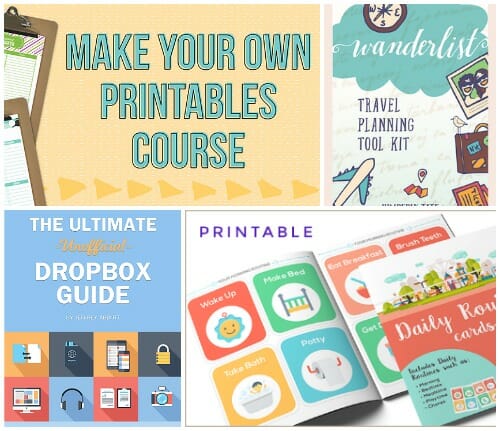 Individually, these 4 items would cost over $120 — and to be perfectly honest, I probably wouldn't ever buy them for that price. But knowing I can get them all for only $29.97 (with a whole bunch of other great resources as well) makes it a little easier to justify these fabulous finds!
If you'd like to grow your eBook and eResource collection for a very nominal fee, this week's eBook bundle might be a great place to start!


.
As I mentioned above, these are just a few of the ways I enjoy reading free (or very frugal) eBooks.
I'd love to know what your best and favorite resources are!