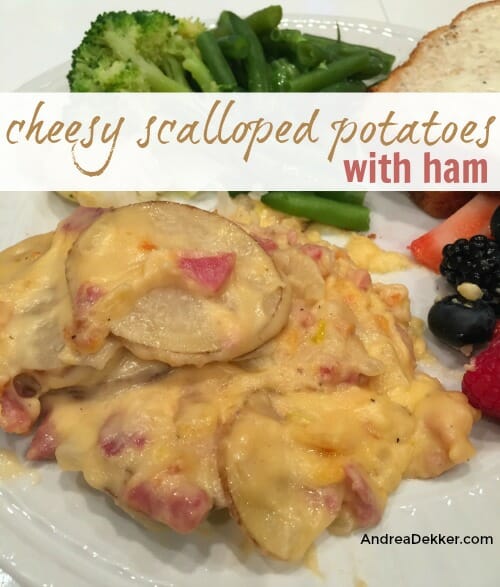 I always buy a nice big spiral ham when they are extremely discounted at Christmas time and at Easter. I cook up the whole ham for our little family and put boatloads of sliced and chopped ham in the freezer for soups, casseroles, sandwiches, and egg dishes later in the year.
Two weeks ago, I finally made our "Christmas ham" and we are currently enjoying many of our favorite ham recipes.
It's been years since I made scalloped potatoes with ham, but it was always one of my favorite meals growing up — and our whole family is big on potatoes and cheese, so I had a feeling this meal would be a big hit with the kids!
I served this meal with several vegetables, fresh fruit, applesauce, and crusty bread.
It's such a delicious wintertime meal… and quite easy to make from scratch. Plus, it's extremely frugal and uses very simple ingredients.
Win, win, win, win!
Recipe for Cheesy Scalloped Potatoes and Ham
serves 6-8 (depending on if it's the main dish or a side dish)
INGREDIENTS:
4 T butter

1 c. diced onion

2 t. minced garlic (about 2 cloves worth)

1/3 c. all-purpose flour

3 c. milk

2 c. shredded cheese (I used Colby Jack and Sharp Cheddar)

salt and pepper to taste

2 lbs. russet potatoes; scrubbed and thinly sliced (I use roughly 1 per person for a main dish)

1 lb. diced ham (about 4 cups)
DIRECTIONS:
Preheat oven to 350ºF. Grease a 3 quart baking dish and set aside.
Melt butter in a large frying pan and sautée onions and garlic until soft.
Whisk the flour into the onion mixture and then quickly add the milk before the mixture thickens too much. Continue whisking mixture until thickened and bubbly.
Add cheese and stir until fully melted. Add salt and pepper to taste, then remove sauce from heat and set aside.
Once the sauce is finished, slice the potatoes and layer half in the bottom of the casserole dish. Top with half the ham and half the sauce.
Repeat all layers once more, ending with the sauce.
Cover the dish with foil or an oven-safe lid and bake in preheated oven for 45 minutes. (If you take the potatoes right from the refrigerator, it should probably bake for 60 minutes).
Remove the foil covering and bake for another 20-30 minutes (or until potatoes are very tender).
You may want to let this dish sit on the counter for 10-15 minutes before serving so the cheesy sauce has a chance to thicken up a bit.
Alternate Slow Cooker Method:
If you're away from your kitchen and don't have time to put it in the oven over an hour before you want to eat, you can EASILY make this exact same recipe in a slow cooker.
Simply layer the potatoes, ham, and cheesy sauce in your slow cooker and cook on low for 5 hours (or until potatoes are fork-tender).
.
One of the things I love most about scalloped potatoes is that it's a delicious MAKE-AHEAD side dish that can instantly be transformed into a MAKE-AHEAD main dish with the addition of some chopped ham. Either way, I love that I can make this well ahead of when we need to eat!
If you're looking for a hearty winter meal (or yummy potato side dish) this is the recipe for you!
Are you a potato fan? If so, what's your favorite way to eat them?
Visit my virtual recipe box for more simple, delicious, family friendly recipes!