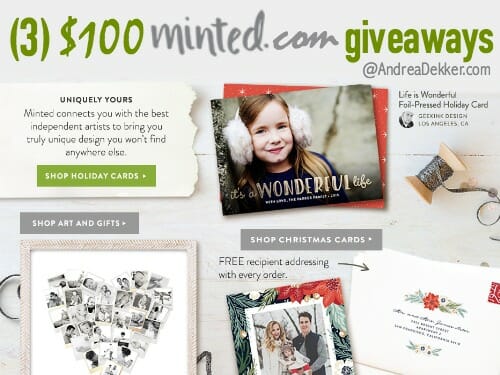 Yesterday, I shared a few of my favorite things; and today, I get to GIVE AWAY a bunch of my favorite things…
Christmas Cards from Minted.com!!
.
Although I greatly appreciate the fast-paced digital world and the ease of communicating online, there is just something so extra-special and fun about getting cards, letters, or packages delivered to our home.
Dave is a good man and always, ALWAYS lets me open everything (unless it's specifically addressed to just him)… and yes, even at 31 years old, I still excitedly rip open the mail every day 🙂
Of course, mail time during the holiday season is even more fun since we often get a handful of letters, pictures, and Christmas cards!
We have a special spot to hang any pictures and cards we get this time of year (on the post in the middle of our kitchen) and the kids love looking through the pictures and naming all our friends, neighbors, and relatives on a daily basis.
You might not believe it, but even with my overly-eccentric love of giving and receiving Christmas cards, I had a short period a few weeks ago when I almost talked myself out of sending Christmas cards this year as it just sounded like too much work.
I realize sending a holiday card can seem like just one more thing to add to your to-do list during an already busy time of year (and I know it's not for everyone) but if you enjoy sending cards, I would encourage you to make the time to do it again this year… I know I'm so glad I ordered ours.
We ordered our cards from Minted.com again this year (we've ordered from them many times in the past and are always so happy with the cards.)
It literally took me less than 30 minutes to design my card, and since Minted prints all the recipient addresses on the envelopes for FREE, I saved a bunch of time hand-addressing envelopes!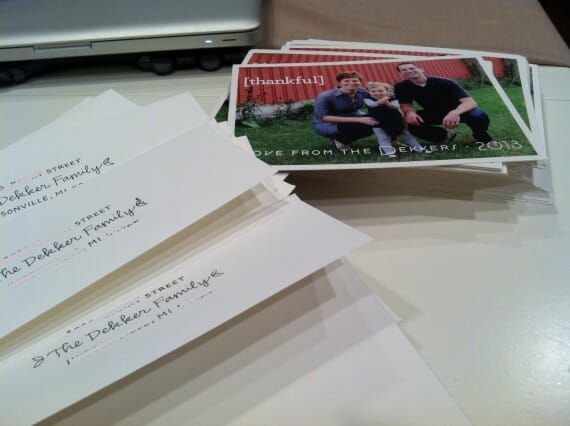 (I utilized the free printed envelopes in previous years too!)
I'll share our 2016 family Christmas Card in another couple weeks… but today, I want to give 3 lucky readers a chance to win $100 towards their holiday cards or other fabulous photo gifts from Minted (I've already ordered a few photo gifts for the grandparents, and Nora requested that I get her a photo calendar again!)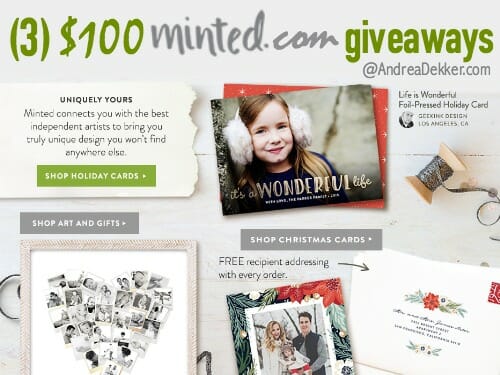 Enter To Win This Giveaway!
To enter, simply type your name and email address into the corresponding blanks via this link (the giveaway page should look like the image below).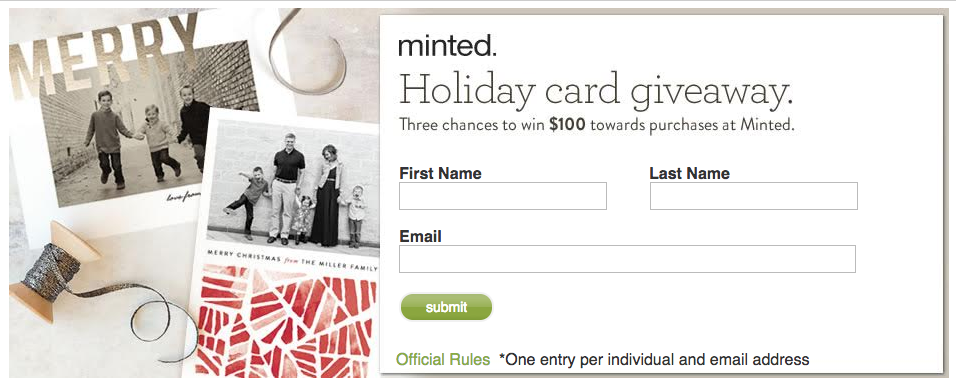 What are you waiting for?
Have you ordered your holiday cards yet?
This contest ends at 11:59 pm EST, Tuesday, 12/06/2016 and is open to US residents, 18 years or older. The winners will be randomly selected and notified via email. I received compensation in exchange for hosting this contest — but all opinions are 100% my own. Please see my full disclosure policy and contact me with any questions you have. Good luck!