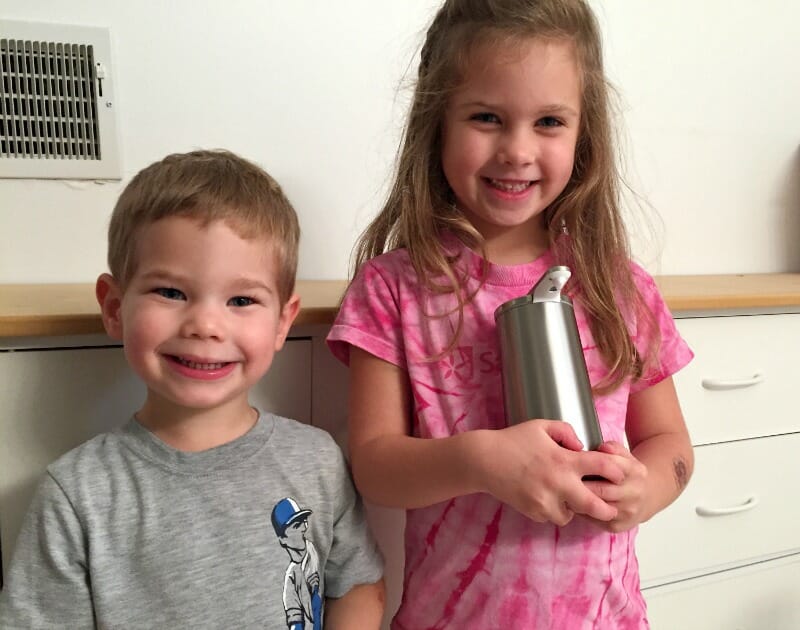 Today is Dave's birthday, and I thought we'd celebrate on the blog by doing a fun giveaway!
Happy Birthday, Dave!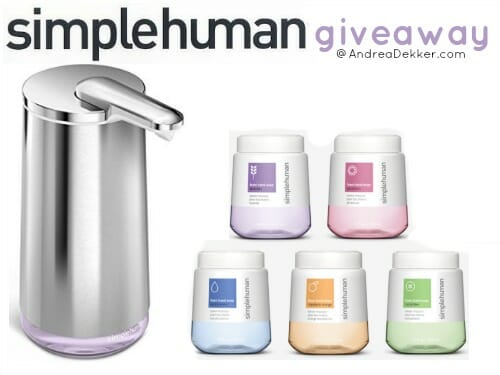 You might think a soap dispenser giveaway is an odd choice for Dave's birthday; however, I can assure you he is just as excited about these soap dispensers as I am because he frequently uses the kids' bathroom and these fabulous simplehuman foam cartridge sensor pumps mean the kids' bathroom is quite a bit cleaner!
Also, Dave is a hand-washing fanatic — which has definitely rubbed off on me and the kids — so really, a soap dispenser giveaway is more fitting for Dave's birthday than you might think. (Don't worry, I'm also taking him to Culver's for dinner tonight!)
RELATED POST: Make your own DIY foaming hand soap with this simple recipe!
Anyway, back to the giveaway…
I've been getting increasingly frustrated by the soap situation in our kids' bathroom and the bathroom off our kitchen (which the kids use to wash their hands several times a day).
Nora is usually relatively clean, but Simon is a crazy boy who insists on doing the soap himself — which usually results in several squirts of soap all over the sink and counter before he actually hits his hand. Then he realizes he can't turn the water on with soap in his hand, so he turns the water on with his soap-filled hand, "loses" his soap on the faucet, and proceeds to start the whole soap dispensing process all over again.
Needless-to-say, I spend a fair amount of time wiping up soap suds and spills in our bathrooms — and we go through an alarming amount of hand soap on a weekly basis!
At least he's adorable!
A couple of months ago, I decided to look for some sort of automatic soap dispenser… and as I was searching online, simplehuman contacted me to see if we'd like to try their brand new foam cartridge sensor pump.
I think I responded to their email in approximately 4 minutes and had an exclamation point after every single sentence. I was SO excited!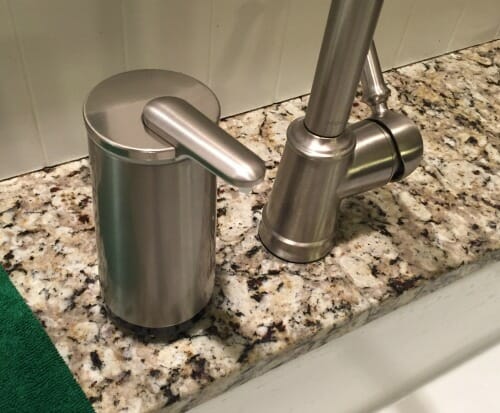 When our simplehuman goodies arrived, I immediately placed one pump in the kid's bathroom and brought Nora and Simon in to check it out. I don't think either of them knew what "automatic" meant — so they were both giddy and giggly when the soap squirted out for the first time 🙂
I'm SO glad I decided to take this quick video of the kids testing out our soap pump for the first time!
Yes, the kids went a little crazy the first time they used this "magical soap pump" (as Nora calls it)! However, they now know to just use one small squirt each time they wash their hands.
Since it's foaming soap, it doesn't slide off their hands or instantly wash down the drain when they get their hands wet (we've been a huge fan of foaming soap for a couple of years now as it's so much easier for kids)!
So there is NO MESS!
I realize this might seem like a very small thing to some of you — but the fact that both Nora and Simon can now wash their hands completely independently without making an enormous mess in the bathroom each time is very exciting for me.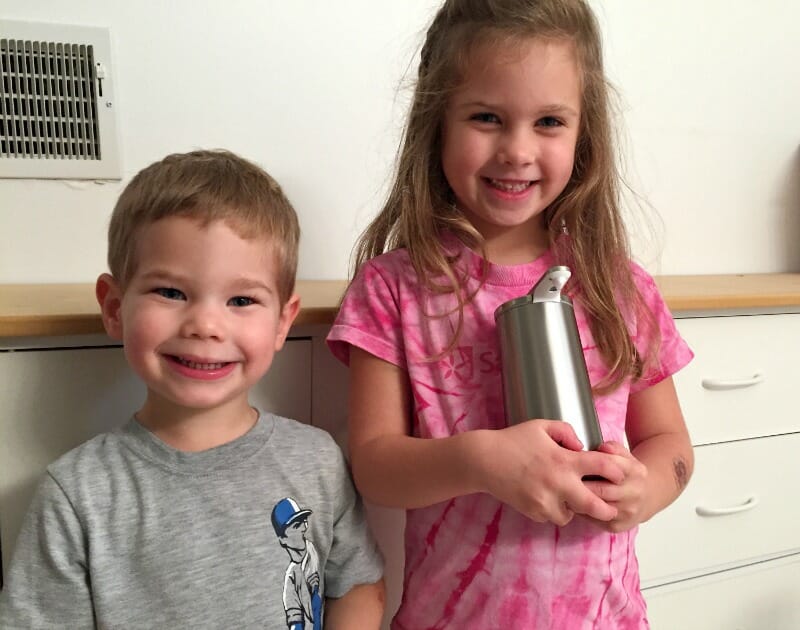 Can we pause for one minute and smile about the very sub-par haircut I gave Simon the night before these pictures were taken! I guess I have a little more trimming to do… and next time, he's getting candy so he actually sits still! 🙂
The simplehuman foam cartridge sensor pump is so easy to use — just click in the accompanying soap cartridge, turn it on, and you're ready to wash. Then pop the empty cartridge out with the touch of a button and you're ready to enjoy another one of their amazing scents (lavender, geranium, mandarin orange, spring water, cucumber, and more!)
The sensor pumps are germ-free (because you don't actually need to touch the unit) and they're battery-free because they come with a USB charging cord (they only need to be charged about once every 3 months!)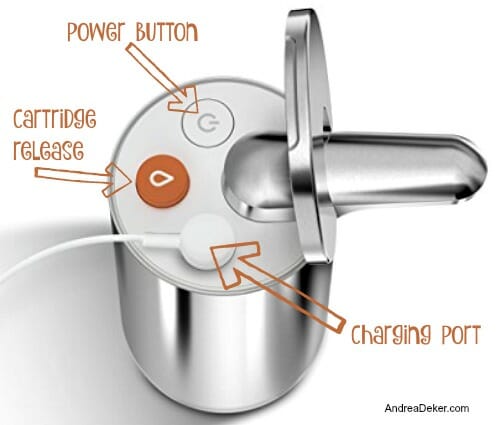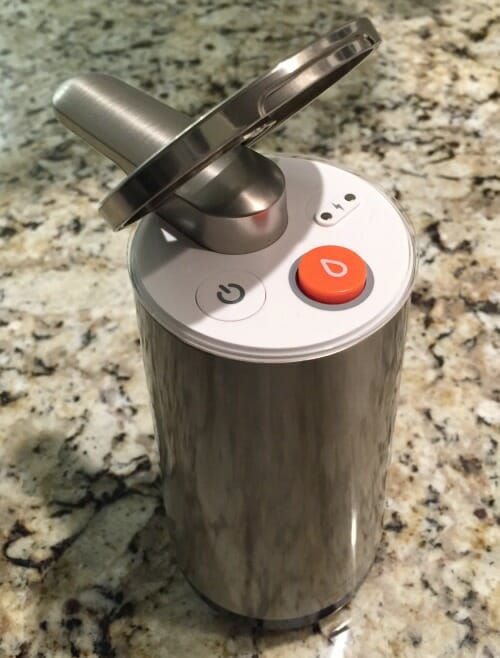 Oh, and did I mention they are MESS-FREE!?!?
No gobs of soap running down the dispenser, no smudgy handprints all over the faucet, no streaks of soap covering the sink, no water puddles under the soap dispenser. Just nice, clean (well, relatively clean) kitchen and bathroom sinks and counters!
Happy Birthday to Dave and Merry Christmas to me!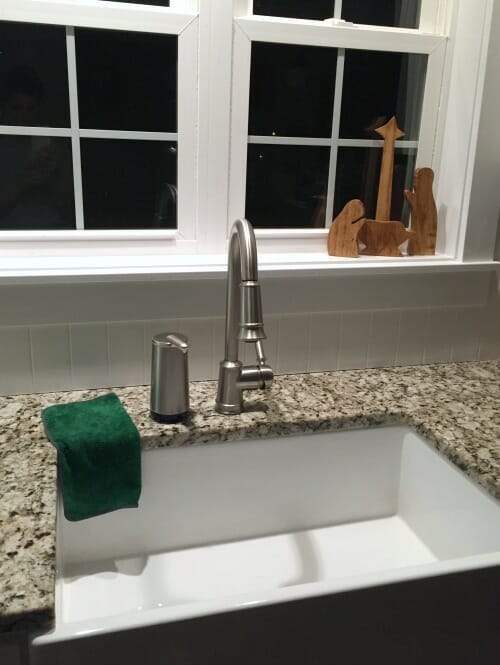 The simplehuman foam cartridge sensor pump might be a nice addition to your own Christmas list too (especially those of you with little hands around the house!)
It's amazing how something so small and seemingly insignificant instantly solved our ongoing messy hand soap problem.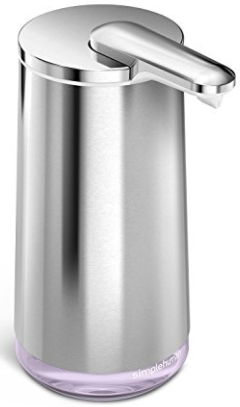 Website: www.simplehuman.com
Instagram: @simplehuman
Twitter: @simplehuman
Facebook: @simplehuman
Pinterest: @simplehuman
Hashtags: #simplehuman
Enter To Win This Giveaway!
This giveaway is now closed.