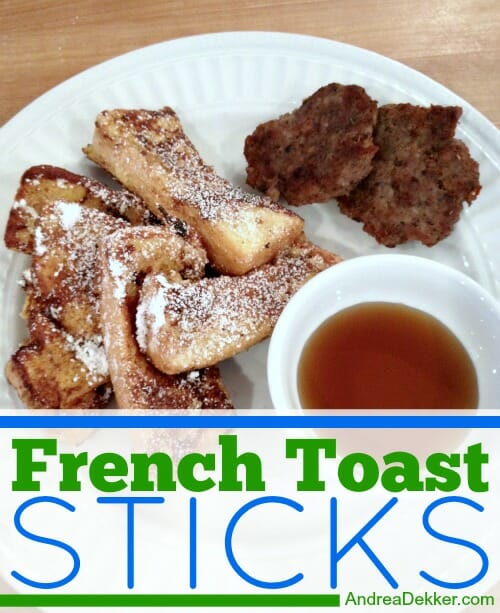 As I've mentioned many times before, our family LOVES breakfast for almost any meal of the day, especially for dinner. And it just so happens that breakfast is an extremely simple, frugal meal that usually doesn't require a ton of prep-work or a ton of time — so yes, we eat it a lot!
French toast is one of our favorite breakfast meals (served with eggs, sausage or bacon, and fruit). I'll also use our breakfast-for-dinner nights as another "excuse" to make our favorite smoothies.
Side Note: I've been sneaking carrots, spinach, flax seed, and squash into our smoothies without Nora noticing a thing!
Anyway, I shared a picture of these French Toast Sticks on Facebook a couple weeks ago and immediately started getting questions about what they were, how I made them, if there was a recipe, etc. etc.
I honestly didn't think French Toast Sticks would have been such a conversation topic, but since they are SO quick, simple, and easy, I figured it would be a good recipe to share here on the blog!
Recipe for French Toast Sticks
Serves 3-4 (but is easily doubled or tripled)
INGREDIENTS:
Please note that these ingredients are NOT exact in any way — I just sprinkle a little of this, add a little of that. You truly can NOT mess up this meal unless you burn the french toast completely black.
Also, if you have bread that is slightly stale, it works REALLY well for French toast sticks!
butter — I used 2 T. of butter to grease my pan, but you could also use cooking spray, oil, or bacon grease 🙂
bread — I used 6 slices of Texas toast because I like how thick it is
eggs — I used 3 eggs
milk — I used about 1/2 c.
sour cream — this is totally optional and I used about 1/4 cup
cinnamon — again, this is optional. I just sprinkle it on one side of the toast while the first side is frying
brown sugar — I don't use this all the time, but sometimes I'll sprinkle a little on at the end to give it a nice crunch
powdered sugar — I LOVE French toast with a light dusting of powdered sugar. It makes me feel like I'm at a fancy restaurant!
Of course, you'll probably also want some syrup for dipping — maybe some butter too if you're like Dave.
DIRECTIONS:
Melt butter in a large frying pan over medium heat
Cut slices of bread into 3 or 4 sticks depending on how big your want your French toast sticks to be.
Mix eggs, milk, and optional sour cream in a medium size bowl until combined.
Quickly dip bread pieces into egg mixture ( you don't want them to be fully saturated, just lightly coated)
Place bread pieces into heated frying pan and sprinkle tops of bread with cinnamon
Flip bread and continue frying until all sides are brown and crispy
You may sprinkle a little brown sugar on at the end (I know people who will put it in the oven to caramelize at this point but I don't think it's worth the extra step)
Sprinkle with powdered sugar and serve with syrup in a little bowl to dip
We LOVE these French toast sticks for any meal of the day — served with sausage, maybe a fried egg, and fresh fruit.
Apparently they were so easy to make that my helper fell asleep on the job 🙂
I'm certain this recipe could be made with gluten-free bread, non-dairy milk, and even with egg substitute… so there's almost no excuse not to give it a try. I guarantee your kids will gobble it up!
Visit my virtual recipe box for more simple, delicious, family friendly recipes!