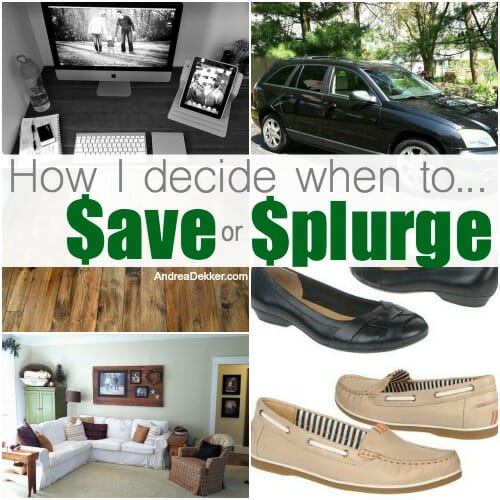 Most of you know that I am a very frugal person. When given a choice, I will almost always go with the less expensive item — even if the more expensive item is closer to what I want.
I can persuade myself out of buying almost anything, and it's not often that I buy anything I don't truly need (and can't find something in my house to "make due" for a little bit longer).
However, I'm working REALLY hard to get better at splurging every once in a while, especially when it comes to quality items that I will hopefully have and use for years to come.
Here are a few of the things I've recently been allowing myself to splurge on.
Home Renovation Items:
When we were renovating our kitchen 2.5 years ago, I was debating which kitchen faucet I should buy. The one I really wanted was about $250 (which seemed TOTALLY ridiculous to me at the time). I could easily get kitchen faucet for under $100 — but they weren't the one I wanted.
After WAY too much internal debate (and talking with Dave) I finally decided to "splurge" and get the one I wanted. After all, think of how many thousands of dollars we spent on our kitchen renovation, not to mention the fact that we're hoping to live in our house for many years to come, so that cost, broken down over time, would only equal to a few dollars a year extra.
And yes, we LOVE our spot resistant kitchen faucet!
I can tell my mindset is definitely changing after almost 4 years of renovations because I'm finally starting to seek out quality items BEFORE even looking at the price. I know the brands of products I like (GE for kitchen appliances, American Standard for toilets and sinks, Moen for bathroom fixtures, RugsUSA.com for rugs, Destination Lighting for all our lights, Behr paint, etc. etc.) and I know that they hold up well so I'm willing to spend a little bit more for those items.
In general, I'm trying to develop the mindset of: "we're hopefully going to live here for a long time so just buy something you like that will last". This has helped me tremendously when buying things for our home. Obviously, I'm not just going to go spend money for the sake of buying something, but I've felt more freedom to buy what I really want (like my farmhouse sink and our reclaimed barnwood floors), versus settling for something that's just a little bit less expensive.
So far, I haven't been disappointed by these small splurges!
.
Quality Shoes
While I'll always have at least 2 pairs of the $1 Old Navy flip flops in my closet, I've definitely gotten better at "splurging" on quality shoes that will be comfortable for my feet and still look somewhat stylish (at least in my opinion!)
Almost 2 years ago, I got a pair of grey Skechers Go Walk shoes and they immediately became my most favorite pair of shoes. I loved them so much that the next time they went on sale at Kohl's, I snatched up another pair (in coral) with my extra 30% off coupon!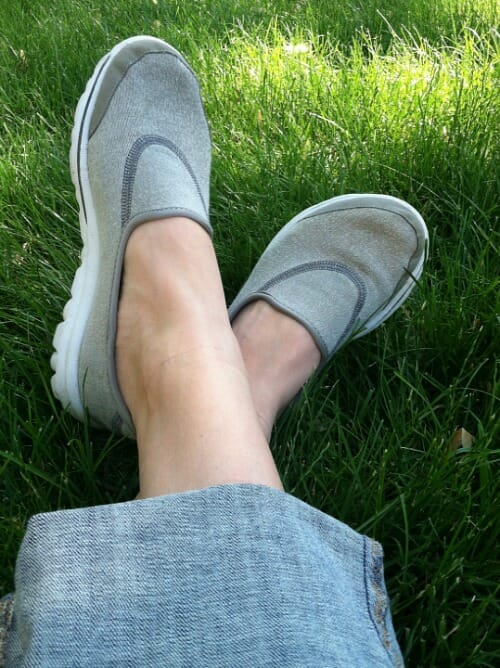 I've also purchased 2 pairs of shoes from Naturalizer.com (black and tan). Both pairs were close to $80 full price — but I was able to get one pair for $19 and the other for $29. I've had the black pair for almost 5 years now and they are still one of my favorite pairs of shoes. I've had the tan ones for a year and they are SO comfortable and still look brand new.
If you're wondering, my black pair is very similar to these shoes… and my tan shoes are similar to these.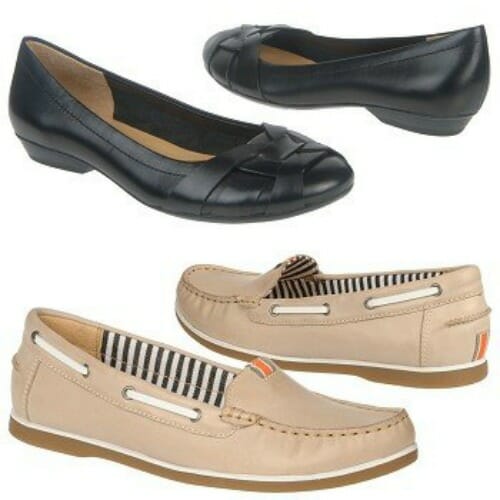 Even if I hadn't gotten such amazing deals on these 2 pairs of shoes, they would have been worth EVERY penny I spent on them for how comfortable they are on my feet. I will definitely be looking to Naturalizer the next time I need practical shoes!
.
Groceries
I know — this sounds so stupid to say I'm "splurging" on groceries — which are obviously a necessity. However, as I shared last month, I made a small goal to add a few more "high quality" foods into our diets, which means I need to be willing to splurge a bit more on groceries each week.
It's definitely nothing major, and I still have weeks when I get out of the store for less than $40 — but normally, it's closer to $80 or $100. I realize that's still less than what many people spend on groceries, but it definitely feels like splurging for me — and it's not always easy to do!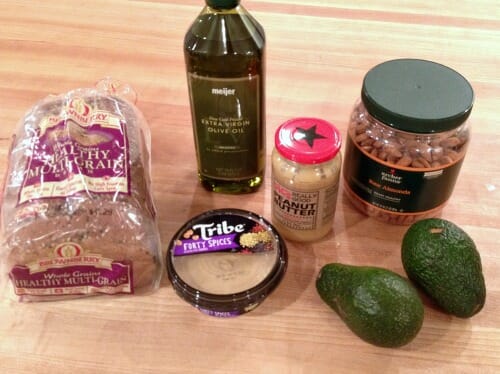 .
Technology:
Although I'm a HUGE HUGE HUGE fan of "buying used", technology is one thing we have almost never purchased used. Besides a TV that we purchased from people from our church, we have "splurged" on buying all our computers, phones, tablets, etc. brand new from the store.
I guess I just feel better knowing that we have a warranty and protection plan just in case something goes wrong. Plus, with how quickly technology changes, I like knowing that we have a newer model that won't become outdated so quickly.
For both Dave and me, finally deciding to splurge on all Apple products was a long process and one we put off for years since we just couldn't justify the cost. Well, after almost 3 years of using all Apple products, I can confidently say they are worth every penny (and you know how frugal I am!)
The products themselves are SO easy to use, they have very few issues, and any time an issue does arise, their customer service is the absolute best customer service I've ever worked with… EVER!
Add in the fact that all our devices "sync" together and are linked with our Apple ID's… and it's a recipe for stress-free computer usage (which makes my life as a blogger SO much easier).
.
Obviously, there are still many things I'm not willing to splurge on at this point in my life — not because they are bad or aren't worthy of splurges. It's usually because Dave and I weigh the pros and cons of saving versus splurging on that particular item… and "saving" wins out for one reason or another.
Here are a few examples.
New Vehicles:
Both Dave's and my parents drive brand new cars (paid for with cash). We also have several friends who drive brand new cars (although I have a feeling they weren't all paid for with cash!).
The new cars are great and often have fewer issues and last longer — however since neither Dave nor I are big 'car people', we have always opted for used cars in an effort to save a BUNCH of money. We could care less if our car is 5-10 years old, as long as it isn't rusty or doesn't have any major issues.
Someday, we might decide to splurge on a brand new car, but for now, we're more than happy to save a bunch of money on used cars.
.
Socks:
I know, this is a weird one — but I usually get our socks from the dollar store (besides Dave's dress socks). So far, they have held up well and you really can't beat 6 pairs of kids socks or 2 pairs of adult socks for $1!!!!
Then, when they get holes in them, I never feel bad about tossing them.
.
Furniture:
I realize this one might seem a little odd to many of you as furniture is often something people splurge on. However, I change my mind A LOT… and I like to switch things up, redecorate, and rearrange my room on a regular basis. So if I would splurge on a super expensive couch, I would most likely feel obligated to keep it forever (or at least 20-30 years!).
However, since we almost always buy used furniture (or get it from IKEA) I never feel bad about selling something to get something else.
In fact, in the 8.5 years we've been married, we've already gone through FIVE different couches and loveseats, 4 different dining room tables, 2 completely different sets of master bedroom furniture, and countless chairs, TV cabinets, end tables, etc. 🙂
I sell the stuff I no longer want on Craigslist and replace it with other inexpensive finds. I usually end up coming out ahead in my deals too!
Another reason we almost always buy used or less expensive furniture is because we have 2 little kids with another one on the way. I don't want to be worried about my children "accidentally" coloring all over my $5,000 dining room table or my $11,000 living room sofa.
I paid $50 for our current dining room table and our slipcovered IKEA couch has been colored on, spilled on, and stained more times than I can count — but I just put it in the wash every now and then for a brand-new-looking couch.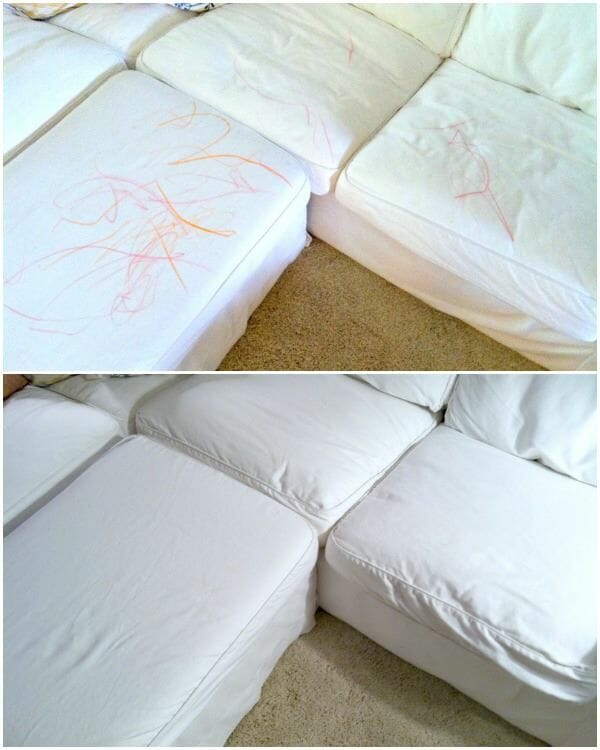 .
How I Decide When to Save or Splurge:
So how do I decide when I want to save a little (or a lot) of money and when it's time to splurge?
My answer is actually pretty simple — I just ask myself a couple of questions:
1. How long am I planning/hoping to use this item?
If my answer is "a long time", then it's probably worth the splurge — like in the case of our home renovation items, plumbing fixtures, quality shoes, etc.
If my answer is "not very long", then it's probably better to save — like with vehicles that we usually replace every few years, socks, or furniture that I'm always rotating.
2. Will I be extremely upset if I spend the money and something happens to the item or my kids ruin it?
If my answer is "no, I won't be upset", then it probably means that I can splurge because I won't lose much if something happens to the product or item.
If the answer is "yes" then I know it's probably better to save — because I don't want to be the type of person who puts plastic over the couches and chairs, won't let anyone inside with their shoes on, and won't let their kids make a little mess every now and then (or every day!)
I suppose if you really want me to get detailed about it, there is a little bit more that goes into my decision-making process; but these 2 questions have significantly helped me to simplify my choices to save or to splurge — and you know how much I like "simple"!
How do YOU decide when to save or splurge?