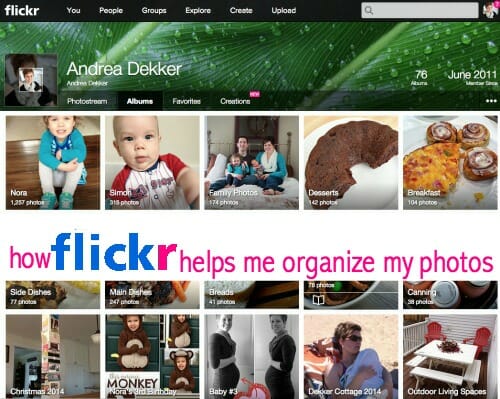 This time of year, I often find myself in "photo organization mode" because I order my previous year's photo books in January — which means they usually arrive in early February.
We (Nora and I especially) have SOOOOOO much fun flipping through the pages, looking back on our year's favorite pictures, remembering all the fun and silly things we did, and seeing how much the kids have grown. It makes any bit of time, effort, and money spent organizing my photos and making the digital books totally worth it.
And since I know photo organization, photo storage, digitizing photos, etc. are all HUGE clutter issues for so many people, I figured it was time for another blog post!
A Quick Photo-Organizing Recap:
In case you've never been to my blog before, you can read all the posts I've written about photo organization here.
I've written 2 posts that go into detail about how I create our digital photo albums. You can read those HERE and HERE.
Finally, here is a post all about how I organize my digital photos on my computer and on a portable hard drive.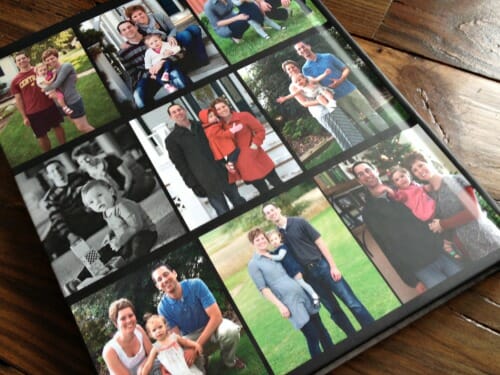 Now, Let's Talk About Flickr:
I realize that I've talked a lot about digital photo storage and organization — and I know I've mentioned Flickr before. But I don't think I've ever gone into detail about how Flickr truly does make my photo organization SO much simpler and easier.
So that's what I'm going to talk about today — how I use Flickr to simplify my digital photo storage and organization!
First of all, I should clarify that this post is NOT sponsored in any way.
Also, I have personally been using Flickr for almost 5 years and am SO impressed with how easy it is to use and how well it works with various other programs.
Oh, and in case you didn't know, Flickr is totally FREE!
Finally, even if you aren't planning to do any sort of digital photo book, Flickr is still an amazingly simple free way to safely store and organize your photos online.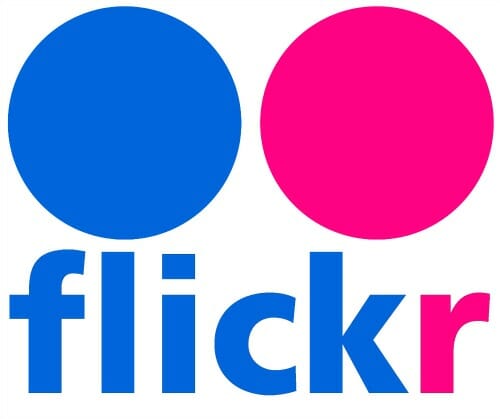 How I Use Flickr For Online Photo Storage:
I take roughly 300 pictures every month (all on my iPhone). Some are of house projects or recipes, others are just random photos for my blog, and of course, there are lots of photos of the kids 🙂
Those pictures are ALL stored in iPhoto and on a portable hard drive (read more about that here).
However, each month, there are a handful of my favorite photos (usually 50-80) that I crop, edit, brighten, lighten, make black and white, add text to, etc. Many of those are used for my website… and they are also ALL uploaded to my Flickr account.
When I upload my photos to Flickr, I "tag" them by the month and the year. So all photos uploaded in February of 2015 would have the tags "2015" and "February15" that makes it really easy for me to find any photo based on month and/or year (this comes in handy later when I'm making my Blurb photo albums… so just keep reading!)
I also put every photo into an "album".
I have chosen to make individual albums for each child, for family photos, for different house projects (main floor bathroom, master bedroom, Nora's room, kitchen reno, landscaping), and then for different events (Christmas 2014, Nora's 3rd Birthday, Simon's Birth, Spring Break 2011). I also have albums for different blog categories like desserts, main dishes, clothes clutter, home organization, etc.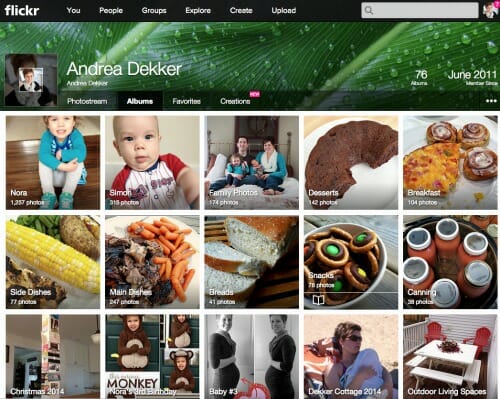 There are LOTS more fancy and involved ways you can use Flickr to organize and categorize your digital photos, but I currently don't have a need for those features so I don't use them right now.
Once the photos are uploaded — they are there FOREVER. Safe, sound, neat, organized, easy to access, done!
I can view them from any computer and any device with an internet connection and I can even change the privacy settings so none of my photos are visible to anyone unless they are logged in under my username and my account (yes, I feel that Flickr is very secure).
All this is great — but by far, the BEST part about using Flickr for me is the fact that it works seamlessly with Blurb's BookSmart program — which is the program I use to make all my digital photo albums!
.
How I use Flickr + Blurb Together:
I will not be talking specifically about how I make my digital photo books — but as I mentioned above, you can read about that process HERE and HERE.
Back to Blurb…
When I open BookSmart, the first thing I need to do to create my digital photo book is import pictures. Thankfully, because I have all my photos organized in Flickr, I can simply connect my Flickr account to my photo book program.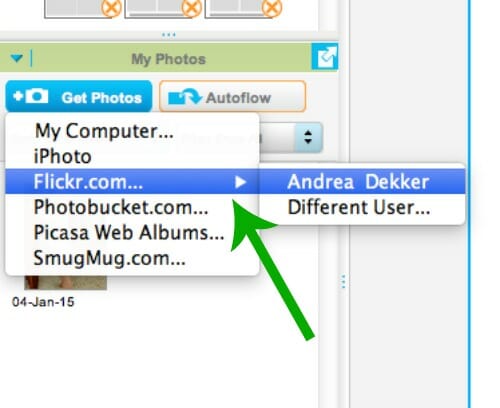 Once my account is connected I can quickly and easily transfer any photos to my BookSmart photo book… AND because I already have them all "tagged" and organized by month and year, I can specify exactly what photos to upload by selecting specific months, and then specific pictures within those months.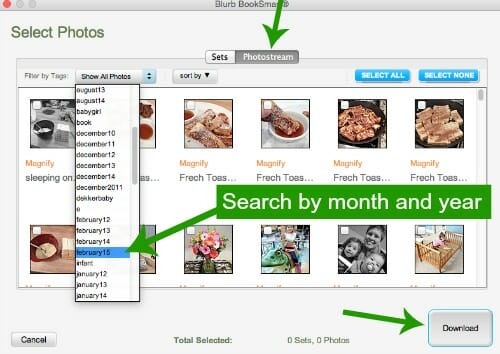 This is really convenient because I separate my photo books by month, so each month, I can easily see what photos go with that month and then download those in a matter of seconds.
It's also nice that ALL the photos in my Flickr account are already edited — so they are much better quality than photos straight from my phone.
Once the photos have been downloaded into my BookSmart program, then it's just a matter of dragging and dropping them into place within the pages of my book (see sample pages below from an old photo album).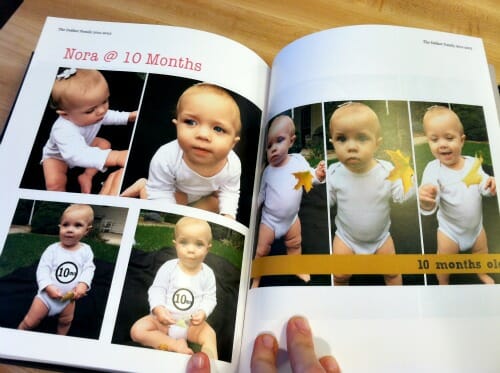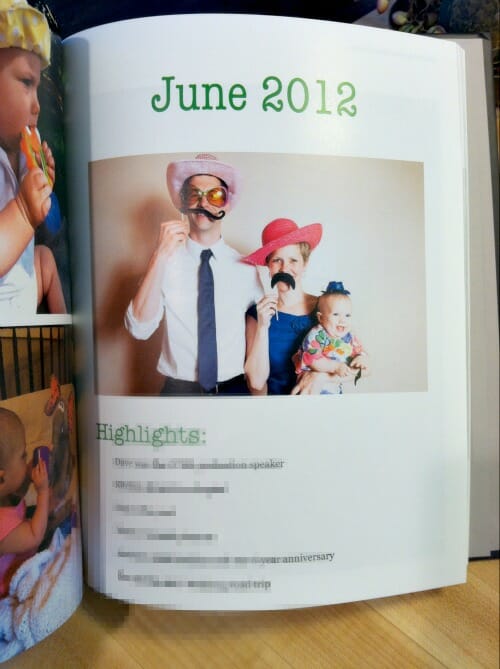 Working with my photos in Flickr allows me to create one full month of my photo album in about 20-30 minutes because I know all the photos are already edited and ready to download whenever I'm ready to work on my photo book.
My current system is to complete one month of my book at a time, usually in the first week of the following month. So I'm already finished with January 2015, and I'll do February 2015 sometime this weekend or next week.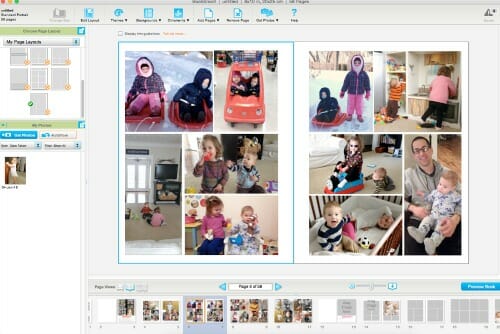 If you're currently not using Flickr's totally FREE photo storage, I would highly recommend setting up an account and uploading your photos. If nothing else, you'll know they are protected in case your computer crashes, you lose your portable hard drive, or any other number of crazy unfortunate events occur.
Do you use Flickr? If not, do you store your photos somewhere else online?