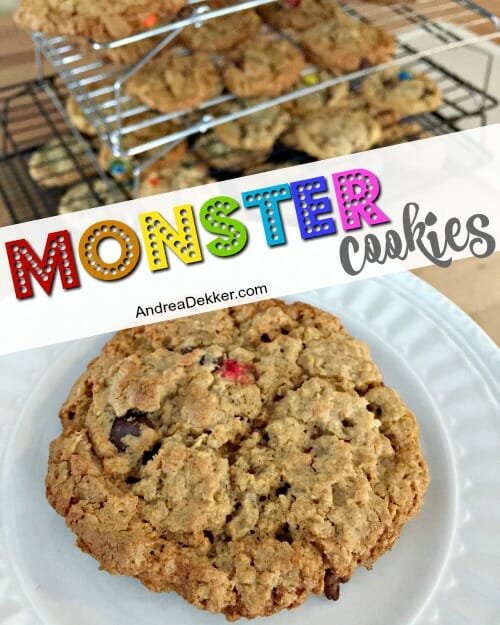 Our family loves almost any type of cookie, but Monster Cookies are our all-time favorites — probably because they combine all our favorite things into one cookie (chocolate chips, M&M's, peanut butter, and oatmeal!)
I've tried several different recipes in the past, but so far, this one is my favorite. It was given to me from a woman at church many years ago (with permission to share).
This recipe makes 12 dozen (kid-size) monster cookies — it's a biggie, one might even say it's a "monstrous batch" of cookies! 🙂
I was never able to make a full batch before as I didn't have a stand mixer — so I'd make a half (or even a quarter) batch at a time and call it good.
This post contains affiliate links. Please read my disclosure policy.
HOWEVER, when I got the NutriMill Artiste Stand Mixer a few months ago, I knew exactly what recipe I wanted to make first — a FULL batch of monster cookie dough!
The mixer combined this ginormous batch of dough with ease — it was SO fun for the kids (and for me) to watch it mix everything so quickly and perfectly, with NO effort from me!
Maybe I waited a little too long to finally get a stand mixer! 🙂
Of course, if you don't have a stand mixer that can accommodate 12 dozen monster cookies, you can easily cut the recipe in half. If you're feeling ambitious, make all 12 dozen (or even double it and go for 24 dozen!)
I dare ya!
Recipe for Monster Cookies
makes 12 dozen cookies
INGREDIENTS:
1 c. (2 sticks) softened butter
1.5 c. peanut butter
2 c. brown sugar
2 c. white sugar
6 eggs
1 T. vanilla extract
1 T. light corn syrup
4 t. baking soda
9 c. oats
1.5 c. semisweet chocolate chips
1.5 c. M&M's
1 c. nuts (optional)
DIRECTIONS:
Preheat oven to 350ºF degrees.
In a VERY large bowl, cream butter, peanut butter & sugars until well blended
Add eggs and mix well
Mix in the vanilla, corn syrup, and baking soda until well blended
Mix in the oats (two cups at a time)
Mix in chocolate chips, M&M's, and nuts
Cover cookie sheets with parchment paper (this is essential to thick, chewy cookies)
Place large scoops of dough on the cookie sheets 2 inches apart
Bake for 12-14 minutes or until set and edges are slightly brown
Let cool for 2-3 minutes on cookie sheets, then slide parchment paper off sheets and onto a cool counter for another 10 minutes
Transfer cookies to cooling rack until completely cooled. Then freeze or store in airtight container.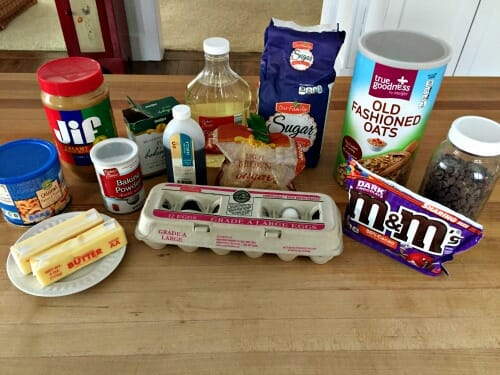 I rarely ever bake all 12 dozen cookies at one time — maybe 3 or 4 dozen right away, and then I freeze a bunch of cookie dough for later.
For freshly-baked monster cookies at a moment's notice, I flash-freeze balls of cookie dough on parchment paper, then put them into a ziptop bag in the freezer. I can simply pull out 6 balls and bake them with dinner for a fresh-from-the-oven dessert with no hassle or clean-up!
Another option to use up ALLLLL these cookies is to make Monster Cookie Ice Cream Sandwiches by spreading slightly softened ice cream between two cookies, and then rolling the cookies in chocolate chips, M&M's or sprinkles.
They are AMAZING!!
In my opinion, this recipe for monster cookies is definitely worth the effort, but if you're looking for a quicker (and smaller) recipe, click here for my "Simple Monster Cookie" recipe.
What is your favorite type of cookie?
Visit my virtual recipe box for more simple, delicious, family-friendly, recipes!