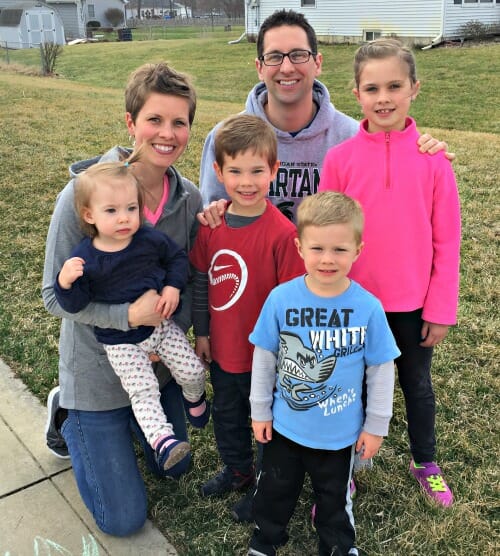 We're "back to reality" after a fun-filled week off from school for Dave, Nora, and Simon.
Although we didn't GO anywhere, I think the kids actually had a great time at home, especially since Dave and I had several fun outings and activities planned every single day.
And by "planned" I don't necessarily mean we had specific plans for each day — more just a laundry list of "could be fun to do over break" ideas that we chose from each day once we knew what the weather was like, how kids slept, what we were in the mood to do, etc.
We stayed busy… but I had to laugh when I flipped my calendar page over at the beginning of the week and noticed I didn't have anything written in for the entire week! Glorious!
I should note that Dave was home ALL break — since he's a teacher, he has the whole week off too, making it much easier (and much more fun) to pull off various crafts, game days, excursions, experiments, etc.
Many times, one of us did something fun or went somewhere special with the older 3 while the other one stayed home with Clara. She was a bit under the weather all week, and I'm so thankful I had another adult around as Clara mostly just wanted to be held.
Thankfully, Clara is on the mend now and back to her happy-go-lucky self!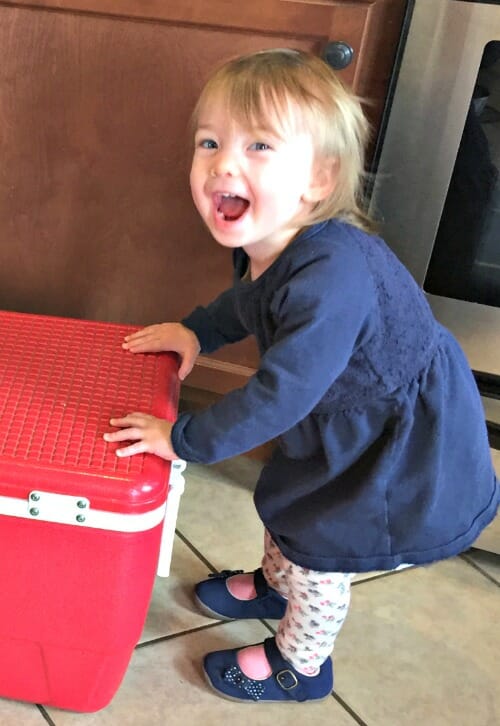 Overall, we had a very fun-filled, yet relaxing spring break "staycation"…
Here's what we did!
DAY 1:
Went to a local play group in the morning
Raided the grocery store for "fun foods" (Pringles, GoGurt, pudding cups, caramel corn, Lunch-ables, granola bars, cookies, suckers, gummy bears, ice cream, etc.) WOW, this food is expensive! Now I know why I don't buy it regularly!
Set up the trampoline (our kids Christmas gift from my parents)
Enjoyed Culver's for dinner (with custard!)
Gave Dave and the boys hair cuts
DAY 2:
Went to the LolliPop's concert (our local symphony puts on amazing concerts for kids every couple of months)
Went to the library to get a huge stack of books, games, CD's and DVD's
Played with neighbors in the afternoon
Had Dave's parents over for dinner
DAY 3:
Enjoyed cinnamon rolls for breakfast
Went to the zoo (we got a membership from Dave's parents for Christmas) and brought special snacks along
Rearranged the play room, rotated a few toys around, and figured out a new/better way to store the LEGO's
Watched one of the movies we got from the library (with a caramel corn + candy snack)
Read several of the books we got from the library
Made personal pan pizzas for dinner
Watched the Michigan State basketball game
DAY 4:
Simon treated us to donuts for breakfast using a gift certificate he got for his birthday.
Finished a science experiment kit we got for Christmas
Went on a hike through a local nature preserve (each kid got to choose a special snack to take along)
Did a bunch of yard work while Clara napped and the older kids jumped on the tramp with neighbor friends
Spent lots of time building with LEGO's — I think Dave might enjoy it more than the kids!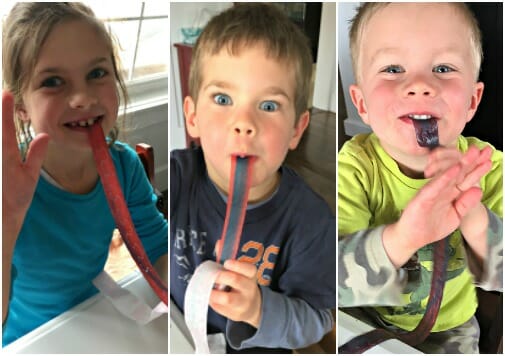 DAY 5:
Had a board game marathon in the morning
Went to the neighbor's garage sale (nothing for us to buy though)
Played outside for almost the entire afternoon — I did a bunch more yard work
Enjoyed snack time on the trampoline! 🙂
Went to a local pizza buffet for dinner (it was a kids-eat-free day and included a dessert buffet!)
NOTE: this was the very first time we've ever gone to an actual restaurant with all 4 kids… the older 3 did fantastic, Clara was a pain in the butt!
DAY 6:
Ran some errands in the morning
Stopped at the library for a bunch more books and CD's
Broke out new sidewalk chalk and bubbles
Enjoyed Easter candy for a snack during the day and ice cream cones for dessert after dinner
Set up a tent inside and the older kids had a slumber party in the play room!
DAY 7:
Spent a relaxing day at home — playing outside, watching movies, playing LEGO's, etc.
Did face paint, tattoos, and painted Nora's nails
Got Simon's photo book in the mail and the kids had fun looking through all their old photo books
Made a huge turkey dinner with special desserts
Let the kids sleep in the tent one more night 🙂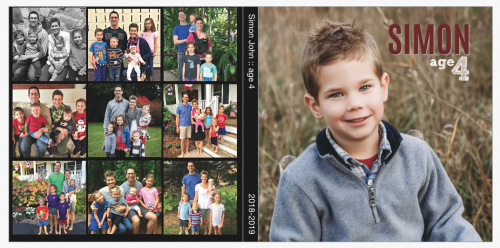 DAY 8:
Returned our cans and bottles and let the kids use the money to buy something small at the grocery store
Had my parents over for lunch
Washed our cars and bikes and played outside all afternoon
Went to Dave's parents' house for dinner — which meant the kids got to stay up late
Funny Story: our yard used to have tons of "lava rock" in the planting beds — and although we've removed most of it, a few pieces still show up from time to time when we're digging. The kids found some of the lava rock when they were digging and asked me what it was; without really thinking, I said "it's lava rock" — so now they think our yard is filled with rocks made from cooled lava. They are brushing them all off and saving them!
DAY 9:
Drove to visit my sister in Indiana and brought lots of the baked goods we made the day before
Visited the Potawatomi Zoo in South Bend, IN
Had lunch and dinner with them and then drove home again.
Brought special snacks and movies for the car rides and the kids enjoyed staying up extra late again
Dave watched the Michigan State game
DAY 10:
Went to Arby's for lunch using freebie certificates we won
Lots more jumping on the tramp
Went to a local park
Enjoyed a SUPER warm day that finally warranted wearing shorts and sandals (the kids were so excited!)
Got to bed on time in preparation for school and "real life" the next day!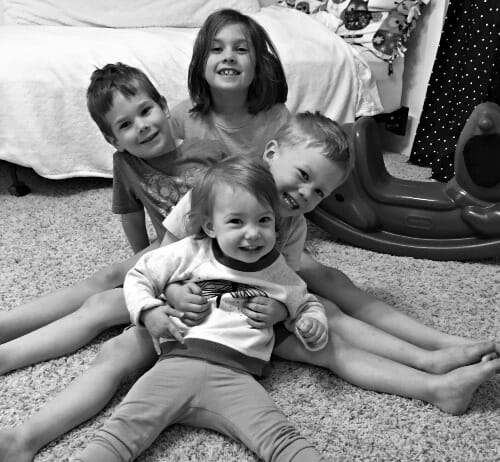 .
Growing up, my family almost always traveled somewhere warm over Spring Break — and although it was fun and exciting (and I loved coming back with a tan) I think Dave and I would agree that our week at home was much more enjoyable for our current stages of life than any warm destination could have been.
We were able to do several fun things with our kids, enjoy quite a bit of down time for ourselves, finish a few books, catch up on Netflix, work ahead on school and blogging stuff, and cross a bunch to-dos off our list.
Not bad!
There will most likely be a time for Spring Break travel in our family's future, but as far as we're concerned, a staycation was the ideal way to spend our week together!
What did YOU do over Spring Break this year?