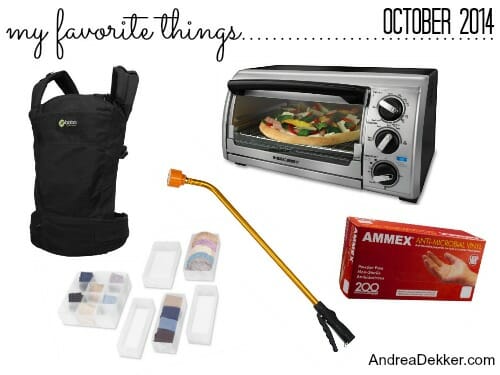 Here are a few of my favorite things for the month of October… and as always, be sure to check out some of my favorite things from past months.
DISCLOSURE: None of these products are sponsored in any way; however, some of the links below are affiliate links — which means that at no cost to you, I may get a VERY small commission. However, I hope you know that I'm only promoting the products below because I use them daily in my own home and life. Read my full disclosure policy for more information.
Clear Sock-Drawer Organizers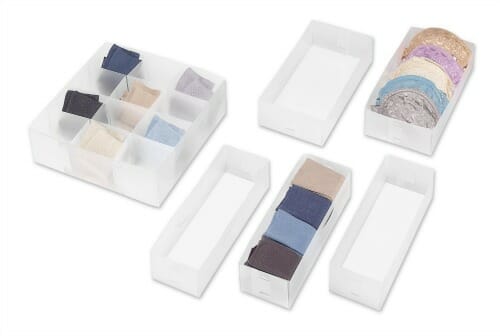 When it comes to finding free organizing containers, I consider myself somewhat of a "self-taught expert"! When I used to organize for people in their homes, I could almost always repurpose something they weren't using in their home into a useful organizing tool to solve one of their clutter dilemmas.
I've done the same thing in my own home (and shared some of those ideas here on my blog). However, I'm also always on the look-out for frugal organizing containers that have multiple uses and don't take up much space.
Needless to say, these clear sock-drawer organizers are some of my all-time favorite super frugal organizing tools.
Obviously, they work well to organize adult socks, underwear, tank tops, etc. but they also work fabulously for baby and toddler clothing like small pairs of pants, tights, shorts, etc.
Right now, they are about $10 for a pack of 6 different-sized organizers that you can mix-and-match to fit the size or your drawer. The best part is… they fold completely flat when you're not using them!
.
Disposable Gloves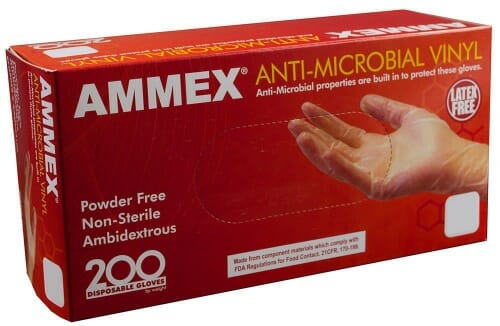 I'm not a germ-a-phobe by any means… but for the most part, I really don't like getting my hands dirty 🙂
As you've probably read in previous "Favorite Things" posts, I wear these gardening gloves when I'm doing anything outside and these rubber gloves when I'm washing dishes or scrubbing anything really dirty.
I've come to terms with poopy diaper changes and gross potty-training clean-ups; but touching raw meat (especially ground beef and chicken) is a different story. I almost always wear some type of disposable gloves as I just don't like the feel of the meat on my hands, not to mention I'm often going between raw meet and baby bottles so by wearing the gloves, I feel like I can more easily get away with doing quick handwash versus scrubbing vigorously to remove all the gross meat juice.
I also wear disposable gloves whenever I do any type of staining or painting project — for the obvious reason that I don't get any paint or stain on my hands.
I personally prefer powder-free disposable gloves — but there are tons of options if you're allergic to latex, if you like the powder, if you need food-safe gloves, or just want something different.
Either way, I can usually get a box of 100 or 200 gloves for $6 – $9 and that is TOTALLY worth it for me!
.
Boba 4G Baby Carrier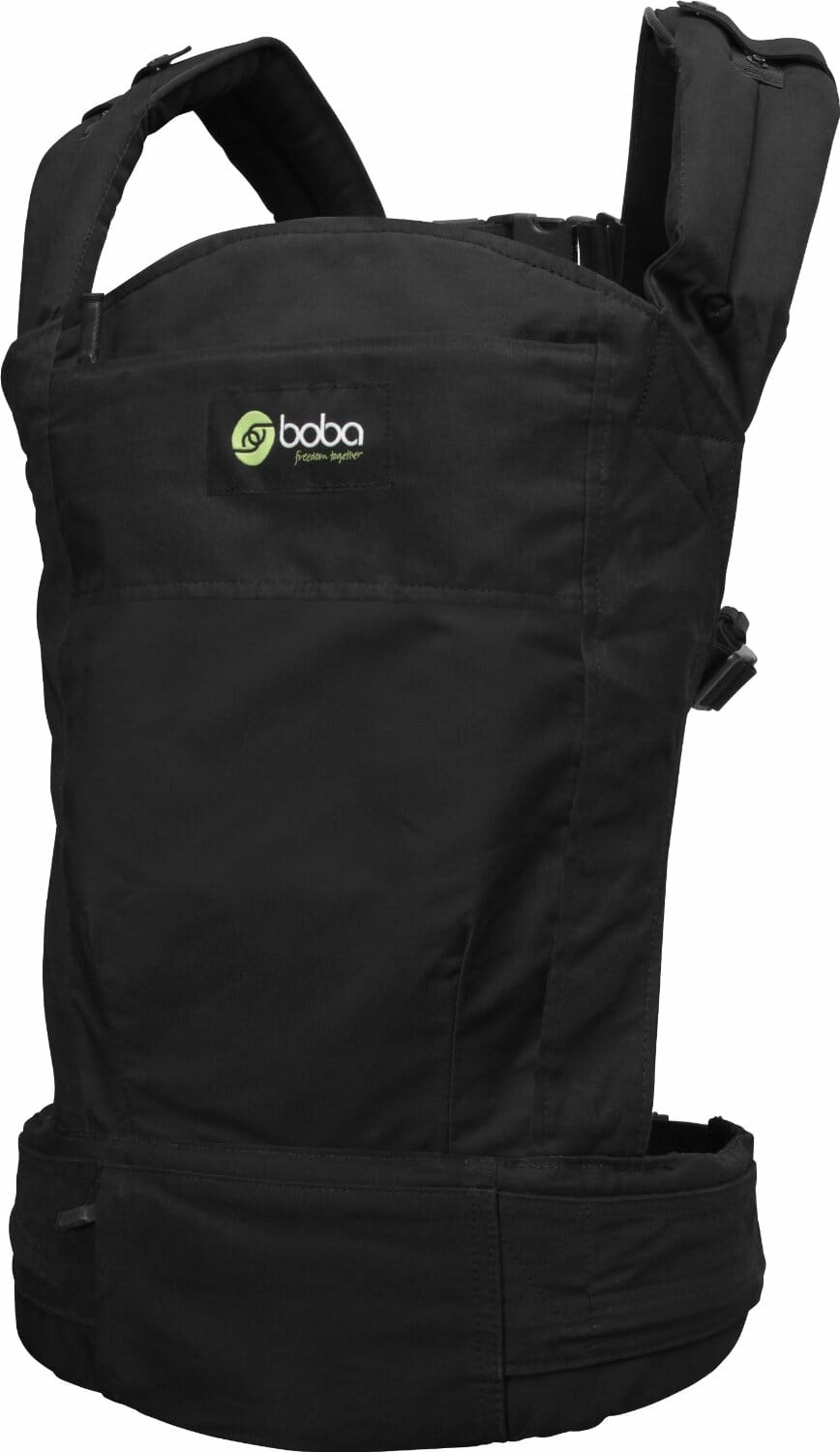 When I found out I was pregnant with Nora, a bunch of my friends offered me advice on the "best" baby carrier to buy. At the time, I thought baby-wearing was only for hippies (sorry, but it's true) so I never even bothered to take any of their advice or register for any baby carrier.
As many of you know, it did not take long after Nora was born for desperation to trump my pride — and I eagerly borrowed a Moby Wrap from a friend at church. The next week, I found a brand new Moby Wrap (still in the packaging) for $5 from a neighbor's garage sale and I snatched it up!
I wore Nora around everywhere to keep her from screaming all day long.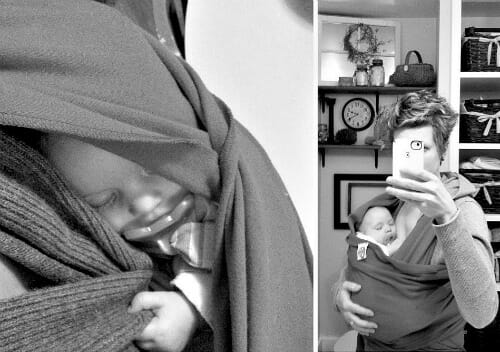 HOWEVER, I never really loved the Moby wrap. It was great for when they were tiny, but as they grew, it always felt like it was stretching out and I had to constantly tighten it every 15-20 minutes. Plus, the fabric always seemed complicated to me — and Dave told me (quite emphatically) that he would never be caught dead wearing a Moby Wrap in public 🙂
I still have the Moby Wrap as it is really nice for tiny babies; but I was eager to look for something different with baby #2.
After trying out MANY different baby-wearing devices (mostly borrowing them from friends for a week or two) I now exclusively use the Boba 4G carrier.
It is SOOOOOO comfortable for both me and Simon, it is extremely versatile and "customizable" for different size adults, babies, and children, and it works with infants from 5 pounds up to 45 pound toddlers (yes, I've carried Nora around on my back with this carrier too!)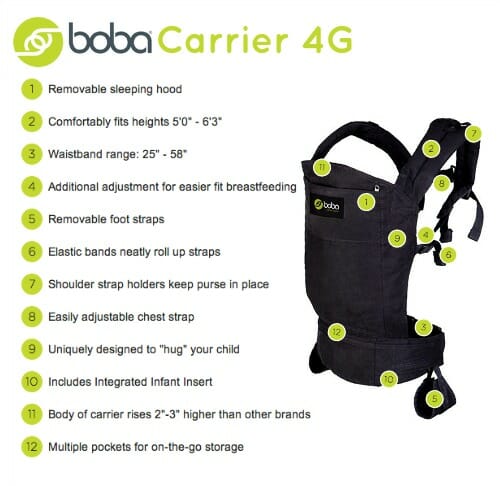 Although it's not the cheapest option around, the $125 Amazon price tag definitely isn't the most expensive either. I have to acknowledge the fact that I did get my Boba for free via a blog giveaway before Simon was born — but I really, truly have tested out at least 8 different carriers over the past 6 months just to see if I would find anything I liked better (and Boba has NO idea I'm bragging about them right now).
I can assure you that I haven't found any other carrier that I've liked even half as much as I love the Boba. I've recommended it to family and friends — and I've even let 2 different blog readers who live in the area come and "test" mine out before they purchased their own!
One cost-saving tip: if you will NOT be using this for tiny infants, you could purchase the Boba Air instead. It's about half the price as it doesn't come with the infant insert or have as many "bells and whistles" but it's still an awesome carrier that's really compact for storage and travel purposes.
.
Dramm Rain Wand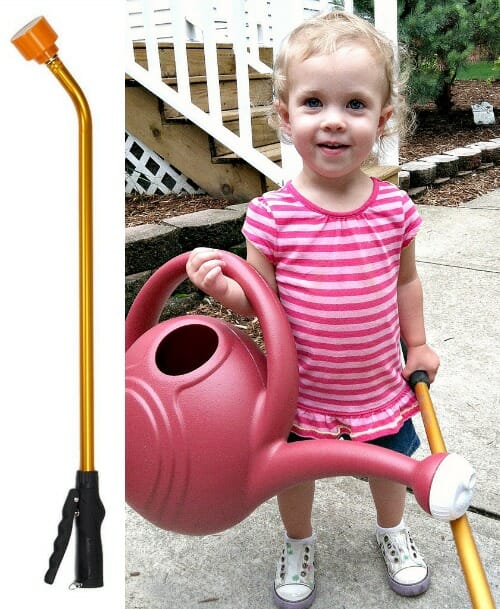 We have a couple "spray nozzles" for car-washing or other cleaning purposes, but when it comes to watering plants, I LOVE my Dramm Rain Wand. The long "arm" makes it perfect for reaching hanging baskets or all the way to the back of a planting bed. Plus, the flow of water is SO soft — it really is just like a gentle rain. It never harms the plants or blows the petals of delicate flowers, yet it quickly soaks them with water so you won't be watering all day.
I was actually in middle school the very first time I used a rain wand. My neighbor had asked me to water her flowers while she was gone on vacation, and she left her rain wand out for me next to the hose. I was initialy a bit confused, but the miniute I got everything hooked up and was watering, I was completely "sold" on this extremely useful watering tool.
It was one of the first purchase I made when Dave and I moved into our first house — and our rain wand is still going strong today!
.
Toaster Oven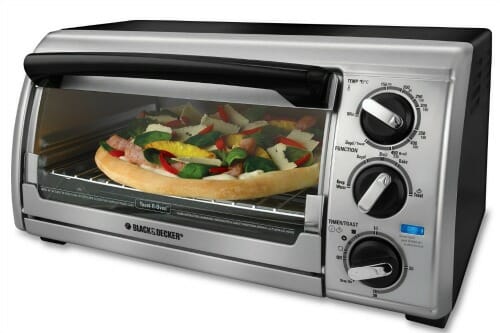 We got this toaster oven (also pictured above) as a Christmas gift from my parents several years ago — and we use it ALLLLL the time (often once a day or more).
I've used it for everything from chicken nuggets, french fries, and garlic bread to mini batches of cookies, muffins, cinnamon rolls and biscuits. I've even made small dishes of various casseroles and stews in our toaster oven!
Obviously, it might not be as useful for someone with a very large family — but our tiny toaster oven has saved us on many hot summer days when we don't feel like heating up our house even more with the full-size oven and we just can't do one more slow cooker meal.
Oh, and remember our kitchen renovation 2 summers ago? Yeah, our toaster oven saved us from SO much fast food!
It's definitely one of my top favorite kitchen small appliances!
.
That's all for me this month.
Make sure you check out my previous months' favorite things — and feel free to share some of YOUR favorite things in the comments below!