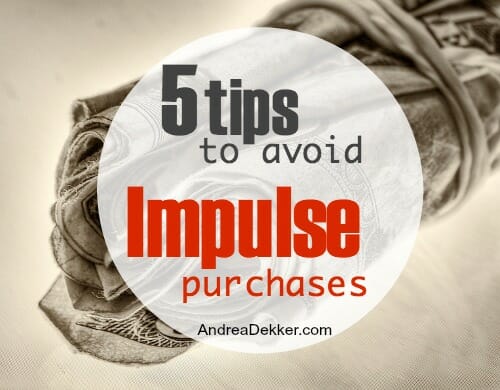 I get lots of questions asking how to avoid impulse purchases — at the grocery store, at the mall, online, at thrift stores, at garage sales, on Craigslist, etc.
It's hard — I know! Especially when you see such a fabulous deal or find something for free that you "might need some day." Plus, if you're shopping with kids, it's often easier to give into a $0.50 purchase than have them whining and complaining the entire shopping trip (not that I've ever done that before!)
Impulse purchases can do a number on your budget — not to mention adding excess clutter to your home if you don't have the space to store your new items. So as the holiday shopping season approaches, I thought I'd share a few guidelines I follow to avoid impulse purchases.
1. Remember your list.
You know I can't write a money-saving post without talking about my lists!
To say I love lists is a huge understatement — but only because I know from years and years of personal experience how much time, energy, and money I've saved simply by making and using lists.
I'm guessing that grocery lists and holiday gift lists are two of the first shopping lists that come to your mind… but what about:
An Amazon wish list to keep track of things you'd like for yourself or simply to wait until a great deal comes along.
An on-going list of household items you need (batteries, light bulbs, paper products, a picture frame, a rug, a lamp for the bedroom, a new knob for the kitchen drawer, etc.)
A "Craigslist list" — yes, you read that right! I keep a sticky note by my computer with items we're looking to buy used. Then, every couple of days, I hop on Craigslist to do a quick search.
I could keep going, but I think you get the idea.
Shopping with a list not only helps you remember what you actually need and want to buy, it also helps you stay focused and not get distracted by the numerous other items you see that aren't on your list.
2. Shop alone.
I know, some of you might think I'm totally insane — but besides taking Nora and Simon to the grocery store, I shop alone almost 100% of the time. I have always preferred shopping alone (even way back in high school) because I can quickly get in and out of the store without worrying about rushing anyone else, being stuck in a store while everyone else shops, or having my kids nag me into finally letting them have that $0.50 item.
I know that the longer I spend in a store, the more likely I am to buy more — so I love going alone and shopping as fast as I can.
I realize shopping alone might take the fun out of it for you (remember, I'm more of an introvert when it comes to things like this) and I'm not saying you need to shop alone every time. However, I am saying that often times, shopping alone will help you avoid those pesky impulse purchases.
3. Don't shop if you're hungry, tired, upset or desperate.
You WILL buy more groceries if you shop when you're hungry (even if you have a detailed list). There's also a pretty good chance that you'll throw in a few extra convenience items if you're tired, maybe an "I deserve that" purchase if you're upset about something, and you'll most likely over-spend if you are desperate for a last-minute gift or special item of clothing.
Yes, I know from experience!
Now, I try to plan ahead as much as possible so I'm not shopping (online or in store) if I'm feeling hungry, tired, upset, or desperate. It's just too easy to overspend and indulge in impulse purchases that I most likely wouldn't purchase otherwise.
4. Wait 24 hours to make your final purchase.
Whenever I'm debating a purchase, I try to give myself 24 hours to make a final decision. Sometimes this means leaving the store with nothing and coming back the next day. Other times, I hold items in an online shopping cart overnight and come back to actually "check out" the next day.
My thought process on this is that if I wake up the next day and don't feel like it's worth my time, energy, or gas to go back to the store or log back into my online account, then I obviously didn't want or need the item that badly. It's also a great way to get away from impulse purchase related to being hungry, tired, upset, or desperate (see #3 above).
Another reason I like to wait 24 hours is because it gives me the opportunity to do a little research to see if it's actually as fabulous of a deal as I thought, as well as read the Amazon.com reviews for that particular item.
The only 2 times I don't use this money-saving philosophy are when I'm grocery shopping (for obvious reasons) and when an amazing deal pops up on Craigslist AND it's something I've been looking and waiting for. Usually, in the Craigslist situations, I know I could easily re-sell the item for a higher price if I changed my mind.
5. Just don't shop!
I know, I know — this is overly obvious, but I can personally attest to the fact that it works!
Not only do you not have the chance to buy something if you don't shop, you also don't have the chance of seeing something else you want and deciding to get that item in addition to the item you came to buy.
And yes, the "don't shop" philosophy goes for ALL forms of shopping — online, in store, garage sales, etc. If you're trying to save money or to keep clutter out of your home, staying away from the stores and your computer is a great way to do that. Don't even window shop (or browse online) if you know you don't have the money or space to bring more items into your home.
.
Obviously these money-saving tips work all year long — but with the holiday shopping season right around the corner, this is an excellent time to think about different ways you can try to avoid impulse purchases this year.
What tips and advice would you add to my list?