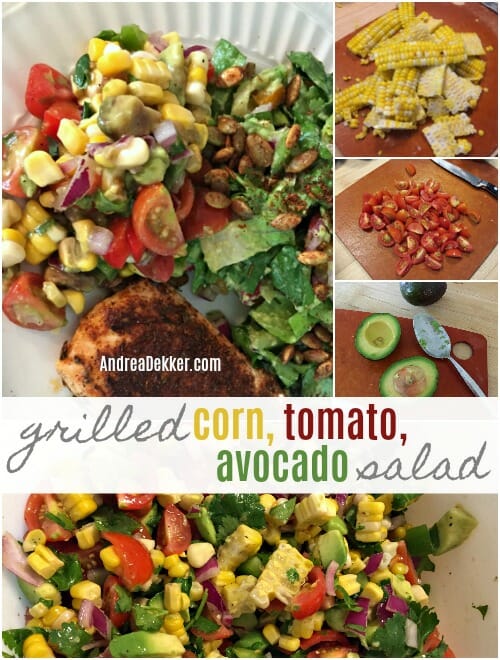 I'm back today with another SUPER SIMPLE, make-ahead "salad" recipe that will use up a bunch of your garden veggies.
And I say "salad" in quotations, because this recipe could be a condiment, a dip, a topping, a side dish, a main dish, OR a salad — I just love love LOVE eating it as a salad.
You can easily make it several hours in advance — even the day before and the avocados won't turn brown. The flavors meld so well together, I honestly think it tastes better as leftovers!
Also, as I mention below, if you don't want to grill your corn, or even take the time to boil it and cut it off the cob, just use a can of corn from the store (drained). The flavor won't be quite as fantastic… but I promise it won't taste bad!
I think I've made this recipe once a week since mid-July when all our tomatoes started ripening. I've brought it to parties, church picnics, and backyard BBQ's… and I always come home with an empty bowl.
Recipe for Grilled Corn, Tomato, and Avocado Salad
Serves 4-8 depending on how many other side dishes and salads you have
INGREDIENTS:
2 ears of corn (or one 15 oz can)
1 c. tomatoes; diced
1 large avocado; diced (I used 3 of the tiny "personal size" avocados)
1/4 c. red onion; diced
1/4 c. green pepper; diced
1/4 c cilantro; roughly chopped
1/4 c. lime juice
salt and pepper to taste
Sometimes I add in chopped cucumbers for extra crunch (and because we have SO many of them!)
NOTES: this recipe does NOT need exact measurements — use whatever you have in the house and make it work!
Also, I usually do use leftover grilled corn on the cob (which tastes AMAZING in this recipe), but I've made it successfully with boiled corn on the cob AND a 15 oz. can of corn (drained). I would not recommend using frozen corn for this recipe though.
Finally, I would recommend Roma tomatoes, or another variety without as much juice.
DIRECTIONS:
Cut grilled corn off the cob, place into large bowl.
Halve, pit, and dice avocado, add to bowl.
Wash and dice tomatoes, onions, pepper, and cilantro. Add to bowl.
Toss "salad" with lime juice, salt, and pepper. Stir well.
Taste and add more salt and/or pepper as you feel is necessary.
Cover tightly and refrigerate until ready to eat.
Doesn't it look good!?!
This recipe is SO versatile — you can serve it as a condiment for tacos, as a dip for chips, as a side dish for almost any type of Mexican meal, as a salad topping, or even as a stand-alone main-dish (yes, I have eaten a big bowl of this for lunch many times!)
We have enjoyed this salad with beef, chicken, salmon, tilapia, lettuce, spinach, chips, and even eggs! It's just so tasty!
How would you eat this dish?
Visit my virtual recipe box for more simple, delicious, family friendly recipes!