You may have noticed that I only wrote one Peek Into Our Week post over the entire summer… and that's because the days and weeks of our summer basically all blurred together as a week consisting of "6 Saturdays and a Sunday" as Dave and I often joked.
Our slow and full summer days were filled with fun, but every single day, except Sunday, basically felt like a Saturday due to Dave being home all day and the fact that we really didn't have any specific plans on any specific day at any point during the summer.
A few weeks into the summer, Nora stopped asking what day it was and instead started asking, "Is today Sunday or not Sunday?" If not, she knew the basic routine for the day would be playing outside, having fun with neighborhood kids, and hauling every single toy, scooter, bike, car, etc. out into the backyard EVERY day!
Not too shabby!
But as we know, "all good things must come to an end"… and summer is just about at its end in the Dekker house. Dave has been in and out of school for over a week now, and his first official day of school is next week.
I know I'll miss the lazy days of summer and having Dave home all day; but I'm excited to get back into more of a routine, I'm excited for Nora to start preschool, and I'm excited to get involved with a few new groups and activities now that the kids are a bit older.
As I thought about how I wanted to close out the summer on my blog, I realized there were SOOOOOO many photos I'd love to share. I could have easily shared well over 500 summer snapshots — but I'll be considerate of your time and only share about 50 or so 🙂
I hope you enjoy a few "snapshots" of our summer!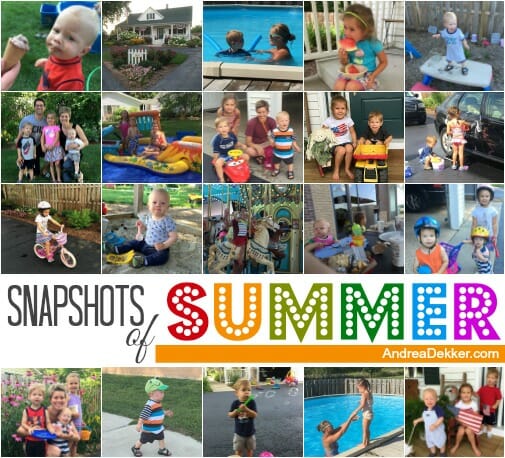 JUNE:
We started out the summer hosting Dave's staff party, a huge friend's gathering, several family BBQ dinners, neighborhood play dates, celebrating my 31st birthday, and more.
After the initial rush of the first 2 weeks of summer passed, we spent the remainder of the month (and really the remainder of the entire summer) lounging around at home, playing in the backyard, splashing in the kiddie pool, visiting local parks, playing with neighbors, and having fun with grandparents.
Nora went to a free story hour program at the library, Simon attended his speech therapy program, James started walking, and Dave and I celebrated our 10-year anniversary.
We did lots of yard work, got the vegetable garden up and running, had a fun weekend "staycation" with Dave's entire family, and Nora and I started reading the American Girl books. We read our way through all the Felicity and Kirsten books and we just finished Samantha this past week. I secretly think I like reading them even more than she does!
Nora and Simon got free bowling all summer long from a summer bowling program at our local bowling alley (which just so happens to be biking distance from our house) and our local mall had free carousel rides every Tuesday in the summer! We went bowling 4 times and to the mall 5 or 6 times — which is probably more than I've been to the mall in the past 2 years combined!
.
JULY:
We enjoyed many Fourth of July festivities, we celebrated James' first birthday, I took a 2-week blogging break, we rearranged all 4 of our bedrooms, and did a once-over purge of the entire house (wow, did that feel good!)
Nora learned how to ride a bike withOUT training wheels, Simon learned how to blow bubbles, and James discovered that he REALLY loves going for bike rides (check out our newest way to bike with 3 kids below!)
AUGUST:
August has been SOOOOO hot and humid — we basically were either inside in the air conditioning or outside in some type of water. We played in the kiddie pool, went in the sprinklers, visited a couple local splash pads, and went to my aunt's big underground pool a couple of times. We also spent a fun morning at our the county fair (Nora and Simon had a BLAST on the rides).
Nora and Simon took a week of swimming lessons at our neighbor's cousin's pool. It was super relaxed and slow-paced, but by the end of the week, Nora was finally willing to get her face wet and actually started swimming a little on her own.
I spent quite a bit of time picking vegetables, washing them, and either cooking, freezing, or preserving them. We also gave a bunch of veggies away to family and friends.
Nora finally mastered doing flips on our swingset rings (her one personal goal for the summer!), Simon basically lived in the kiddie pool, and James continued to climb on EVERYTHING!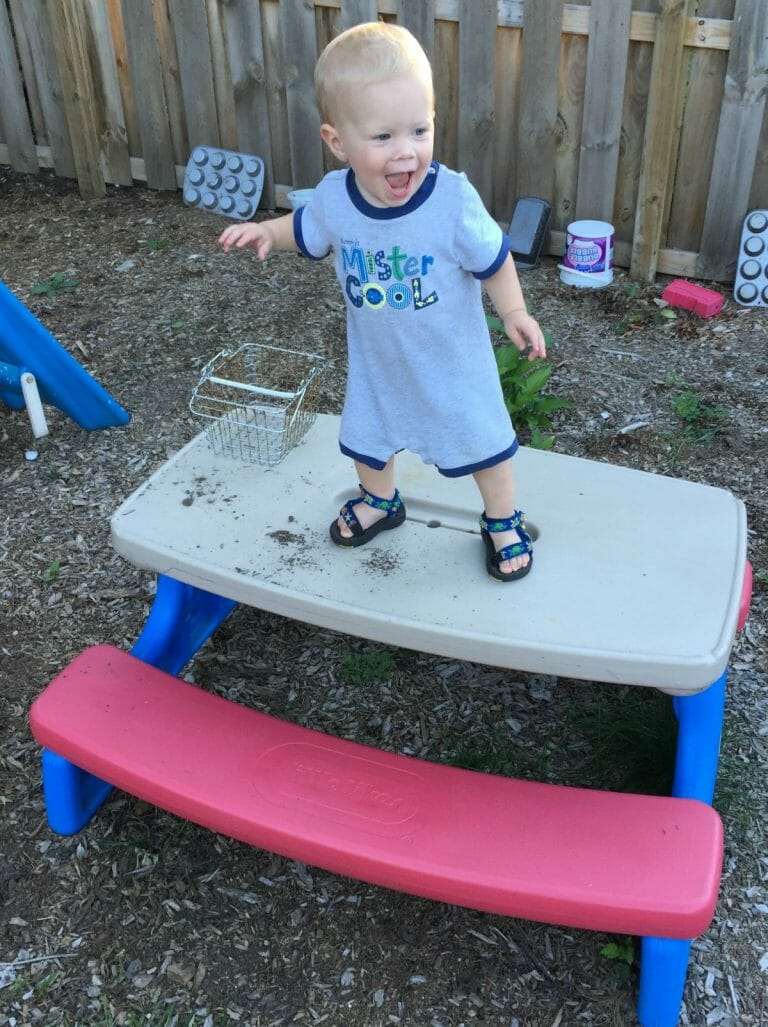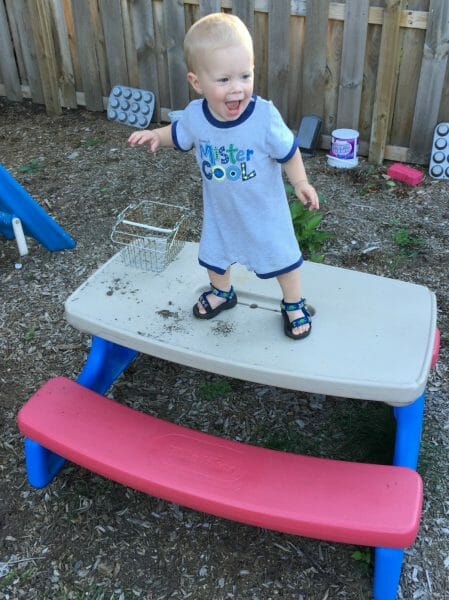 .
We had such a fantastic summer vacation. We said 'no' to a lot of things, activities, people, and events to be able to enjoy such a slow and full summer at home — and I don't think we'll ever regret that.
As I was scrolling through the hundreds of pictures I took over the summer, I kept coming back to the 2 photos below.
In some weird way, I feel like these 2 photos sum-up our summer of fun at home…
Every night after the kids went to bed, Dave and I went back outside to pick up the kiddie pool, the sand toys, the bikes, trikes, scooters, cars, and strollers, the ridiculous number of kids toys, and the rows of towels and suits hanging out to dry.
Every night I thought "we have SO much stuff" but at the same time, I know how much our kids (and neighbor kids and friends) used and enjoyed all our second-hand outside toys and games day after day.
The outside toys were well-loved all summer long because we had the luxury of being home every day this summer — that is not something I take for granted. I hope we will enjoy playing with them for many years to come.
Here's to another fabulous school year for Dave (and for Nora)!
Until next summer, my friends…