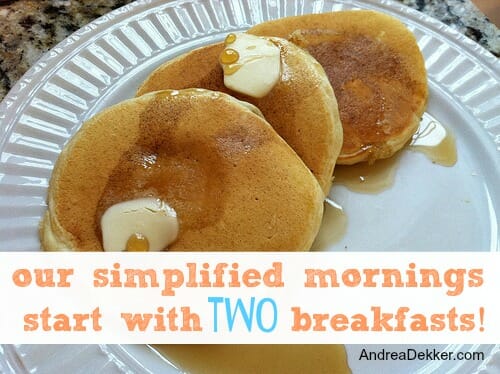 A couple weeks ago, I shared some of my favorite lunch ideas for at-home parents of young children. Of course, my ideas should work for almost anyone who has access to a refrigerator and microwave, but I wanted to specifically share lunch ideas because that always seems to be the craziest meal of the day in our house.
After that post, I got several emails and comments suggesting that breakfast always felt like the most crazy meal of the day and asking for quick, simple, family-friendly breakfast ideas.
Then last week, I was talking with some friends at the Library, and they mentioned how stressful mornings were with multiple little children to clothe and feed.
These emails, comments, questions, and conversations got me thinking about why breakfast is so stressful in other homes… and what we potentially do to simplify and de-stress this busy and hectic time of day.
My answer is simple… we have TWO breakfasts every day!
My children are all VERY HUNGRY when they wake up (and rightfully so). However, since they all wake up at different times, it's not convenient to eat together at the table. And since my children are all very young, I can't just put them at the table with food and expect them to eat.
This means that if I feed them all when they wake up, I would be making food, sitting at the table, feeding children, and cleaning up breakfast foods for the first 2+ hours of the day — not to mention the children who weren't eating would probably be bouncing off the walls, getting into trouble, and distracting the children who were eating.
Not exactly how I want to spend my morning hours.
Instead, we all eat our "First Breakfast" immediately when we wake up. Then we eat "Second Breakfast" all together at the table once everyone is awake, dressed, and ready for the day.
Let me explain it a bit more…
First Breakfast:
I try to wake up before the kids get up, but sometimes Nora wakes me up. Either way, when I get up, I usually have a banana, an apple, or a bowl of yogurt for my First Breakfast. Then I get dressed and ready, check and respond to emails, and do anything I want to start on before kids wake up (a load of laundry, emptying the dishwasher, etc. etc.)
Nora is almost always the first one up (usually around 6:45am). EVERY morning, she has a bowl of grapes, a few slices of Colby Jack cheese, and water for her First Breakfast. I put the grapes and cheese in a little food storage container and have her cup of water all ready to go before I go to bed. In the morning, I just hand her the bowl and cup when she wakes up.
She usually watches a Netflix show while she eats her grapes and cheese. Then she goes upstairs, makes her bed, gets dressed, and does her hair. When she is fully dressed and ready, we sometimes look at books, sometimes color or do a craft, or sometimes she'll just help me mix up pancake or waffle batter for Second Breakfast
Simon is usually awake by 7:30 and I change his diaper and get him dressed right away. Then we come downstairs and he has a cup of apple juice. Sometimes he'll want a squeezable yogurt pouch or some dry cereal — but since I always have his juice cup ready to go, it takes seconds for me to grab whatever First Breakfast he wants after he wakes up.
After First Breakfast, Nora and Simon play pretty well together — which is a great time for me to finish getting ready (if I didn't do this earlier), swap out laundry, pack lunches or the diaper bag, respond to a few more emails, start prepping lunch or dinner, or any number of things that need to be done that day.
James has been waking up around 5:30 or 6:00am to eat, and then going back to sleep until 8:30ish (glorious!) The other two kids are usually fully dressed, ready, finished with their First Breakfast and playing upstairs when James wakes up.
I get James out of his crib, change his diaper, get him dressed, and feed him. Then we go out to find the other two kids and start working on Second Breakfast.
Second Breakfast:
Right around 9:00 every morning, we enjoy pancakes, French toast, or Belgian waffles, eggs, and fruit as our Second Breakfast.
My kids LOVE pancakes and waffles and usually eat 3-4 smaller pancakes plus scrambled eggs and fruit. Simon will often eat a full Belgian waffle and eggs! Breakfast is most certainly the meal they eat the best each day.
My pancake recipe is SUPER simple and I have it completely memorized as I make it 3-5 times every single week. French toast sticks are another favorite… and I have a great recipe for Belgian waffles that takes only minutes to whip up (I can literally have it mixed up before the waffle iron is hot!)
I make up the kids' plates first, then I put fresh batter on the griddle (or in the waffle iron) and enjoy a piping hot breakfast while my children eat.
I can usually finish my Second Breakfast and have the entire kitchen cleaned up while they continue to munch on fruit and additional pancakes.
Then I wipe up ALL the syrup on their hands, faces, and the table, and we officially start our day around 9:30am.
While I realized this method (and this time table) won't work for older children who are in schools — I do think a modified version on an earlier time-frame could work — or even just implement it on weekends.
Also, with summer vacation right around the corner (yay!) this might be a fun summer tradition to start up!
My kids love having a hot breakfast every morning (they don't like cereal much), I love the fact that I only make one mess and clean up the kitchen one time, and Dave loves the fact that we always save some leftovers for him to eat the following morning 🙂
We've been eating 2 breakfasts almost every single morning for the past couple of years, and it just seems to be a win-win situation for everyone!
I'm not sure what we'll do next year as I think Nora will be doing morning preschool instead of afternoon preschool — we might just move up the breakfast time to 7:45 if that works with the boys' schedules, or just do a modified version on the 2 mornings she'll be in school.
Either way, I know that I will try to continue eating First and Second Breakfasts as long as I have little mouths to feed (and hopefully even when the mouths are a little bigger!)
Our mornings feel SO much simpler, less rushed, less stressed, less crabby, less whiny, and less chaotic when everyone gets a little individual First Breakfast and we eat Second Breakfast together.
Maybe the Hobbits were really on to something!
Also, did you know that "Second Breakfast" is actually a real thing in Poland, Hungary, and Austria?
Do you have any other tips to simplify breakfast time?