Tomorrow is Thanksgiving Day (for those of us in the United States) and the Dekker family will hopefully enjoy a fairly low-key day at home.
We have church stuff in the morning and my parents and Dave's parents are coming over later in the afternoon for an early dinner. That means our family can enjoy a "relaxing" afternoon at home ("relaxing" is relative for us these days — you know what I mean!)
As you might remember, we "skipped" all the traditional Thanksgiving hoopla last year.
It was glorious!
I was tempted to skip it again this year, but I compromised by hosting our festivities later in the day instead of immediately after church in the morning (which always feels so rushed and crazy for me).
I'm a HUGE advocate for continually re-evaluating "traditions" and doing what feels right for YOU and YOUR family in whatever season of life you're in. In my own experience, our family is MUCH happier, I'm much less stressed, our lives are simplified, and we end up starting new traditions that are often more meaningful and enjoyable.
If you feel like a tradition just isn't working for you right now, take a step back, re-evaluate, say "no for now" if you feel it's best, and move on. You can always come back to the tradition again in the future.
Life WILL continue. I promise!
My Favorite Thanksgiving Food (Tips and Recipes):
Are you roasting the turkey? Here are my 3 top tips for delicious turkey (it's almost foolproof)!
And here are more than 50 ideas to repurpose Thanksgiving leftovers.
More Thanksgiving Favorites
Hungry yet!?!?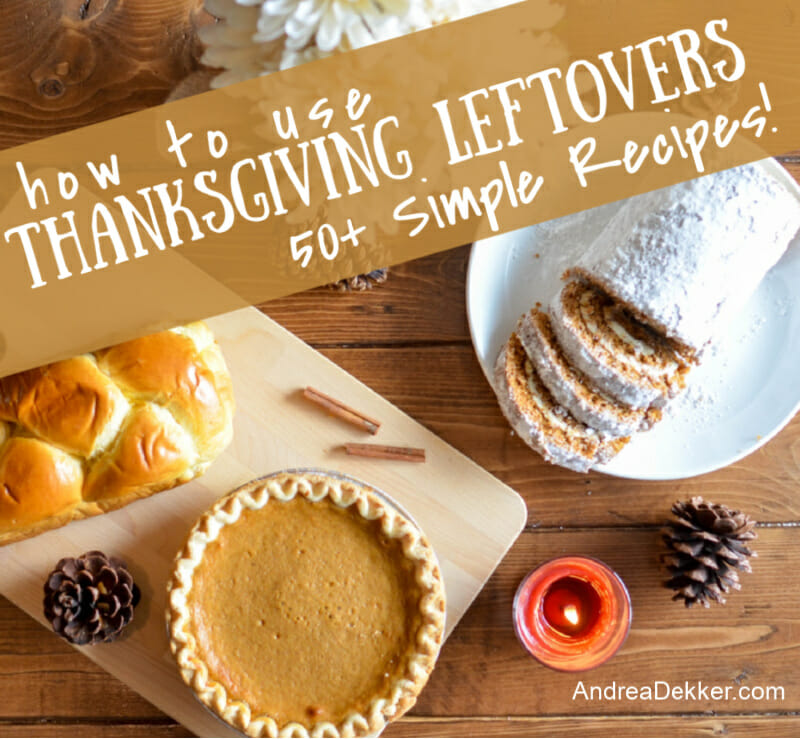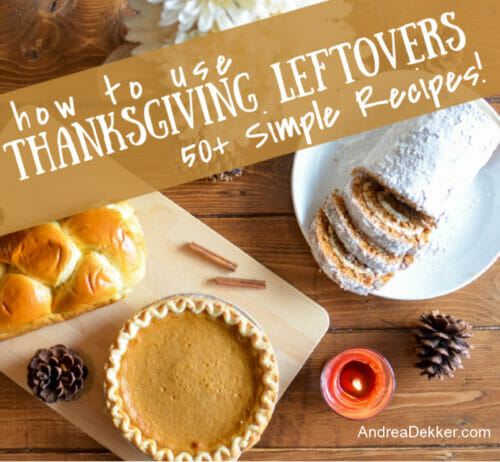 .
Our Plans for the Holiday Weekend:
Dave and the kids are off of school for the rest of the week, so we're gearing up for MANY games of Trouble, UNO, Sequence Dice, and Candy Land.
Nora also has a new craft project and "science kit" (from her birthday) she wants to work on, I want to do a bunch of holiday baking, and we usually put up our Christmas tree the day after Thanksgiving.
Call me crazy, but I don't plan to do any holiday decorating outside of our tree and 2 nativity sets this year. It just feels like too much "excess" for me right now.
The kids only care about the tree and the nativity set… and we're not hosting any parties this year, so I'm calling that "good enough". I might do more next year. I might not!
Once the tree is up, the kids have asked to have a movie marathon (with just the Christmas tree lights on).
Dave and I aren't big TV-watchers, but we are SUPER anxious to start watching the new season of The Crown. Hopefully we'll squeeze a few episodes in this week!
Of course, there is also plenty of yard work to do and a few "deep cleaning" projects I'd like to cross off my list… we'll see how much time I have and what all I actually accomplish this weekend (as always, my goals are lofty!)
.
One thing we will NOT be doing is shopping…
The only thing I plan to "buy" this weekend is Nora's 7-year-old photo book. I create, design, and order my digital photo books with Blurb, and they usually offer a 50% discount code on Black Friday or Cyber Monday.
Speaking of "Cyber Monday" I'll be here sharing another "Favorite Things" post!
Until then, I'm taking the rest of the week off from the blog.
With so many extra-special fun things on our to-do list this week, I don't think I'll have even one minute to spare… and I know you'll be just fine without me! 🙂
In the meantime, feel free to follow me on Instagram for a behind-the-scenes look at our Thanksgiving weekend!
Oh, and if you're planning to buy a new phone this weekend, you might consider a prepaid cell phone plan… Dave and I saved a bunch by switching over!
Happy Thanksgiving!
I am certainly thankful for YOU!!!