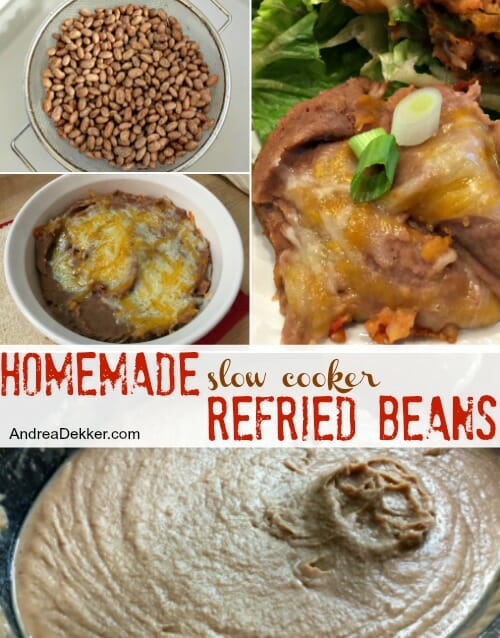 Our family eats A LOT of beans each week — and up until about a year ago, I relied on store-bought canned beans for all our bean-filled meals.
The reason I decided to try making my own beans was that I was given a big package of dried Pinto Beans and I wasn't sure what to do with it. I searched Pinterest, and basically my only option was to make them into homemade refried beans.
Since our family really likes refried beans, I figured it was worth a shot.
I was originally intimidated by the seemingly long process of soaking, draining, rinsing, slow cooking, etc. but then I realized it really only required a few minutes of hands-on work, and the rest of the time I could just let my slow cooker do all the work for me!
We were pleasantly surprised by the huge amount of refried beans we could make in one slow cooker — and with how delicious these beans tasted. As an added bonus, there weren't any weird ingredients added to our beans, and they were significantly lower in sodium!
I'm sure I'm being biased, but I really do think they taste superior to cans of beans from the store.
Now, 1 year later, I'm making all our own black beans, garbanzo beans, refried beans, and more!
I've been told (over and over and over again) that I need to get an Instant Pot — then I'll be able to make beans in less than an hour! However, for the time being, I'm very satisfied with our slow cookers and I honestly don't mind the slower process of letting them soak and cook.
That said, if you already have an Instant Pot, here's a recipe for beans that way!
These beans freeze AMAZINGLY well, so I divide them up into 16-20 ounce portions — making it easy to grab one container whenever a recipe calls for "one can of refried beans".
If you'd like to give homemade beans a try, I'd highly recommend starting with refried beans as there's more room for error (you can't tell if you accidentally overcook them!)
The recipe I'm sharing today is very simple — in fact, if it weren't for draining the hot liquid off the beans, even a young child could handle it!
Homemade Slow Cooker Refried Beans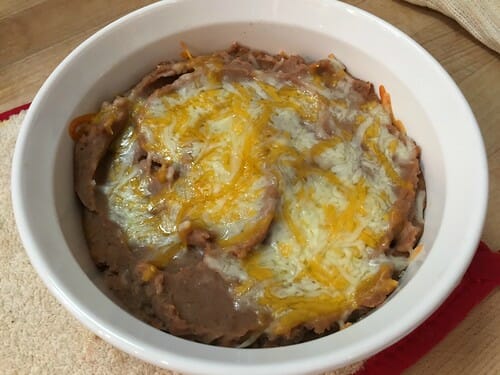 These easy slow cooker refried beans only require a few minutes of hands-on work for a huge batch of beans. They taste amazing and freeze wonderfully!
Total Time
16 hours
10 minutes
Ingredients
4 c. dried pinto beans
10 cups cold water
8 cups additional water or broth*
1 large onion, quartered
1 T. minced garlic
1 T. sea salt
1 t. black pepper
1 t. ground cumin
Instructions
The Night Before:
Rinse beans and place in a large slower cooker.
Pour 10 c. water over beans and let soak overnight (do NOT turn on).
The Next Day:
Drain and rinse beans in cold water.
Place beans back in slow cooker, along with onion, garlic, salt, pepper, and cumin.
Cover with 8 cups water or broth.
Turn slow cooker on HIGH for 8 hours.
After 8 hours, drain most of the liquid from beans and reserve liquid (I drain it over a large bowl.)
Use an immersion blender to puree the beans -- adding in as much of the reserved liquid as needed to reach your desired consistency.
Serve immediately (with optional shredded cheese) or divide up into containers for the freezer.
Notes
* I usually substitute 3-4 cups of the cooking water with homemade chicken broth (so it doesn't have a bunch of extra salt in it.
Recommended Products
As an Amazon Associate and member of other affiliate programs, I earn from qualifying purchases.
Nutrition Information
Yield
16
Serving Size
1/2 cup
Amount Per Serving
Calories

71
Total Fat

1g
Saturated Fat

0g
Trans Fat

0g
Unsaturated Fat

0g
Cholesterol

0mg
Sodium

180mg
Carbohydrates

13g
Fiber

4g
Sugar

1g
Protein

4g
Nutritional information is approximate and does not account for additional ingredients or added toppings.
Like I mentioned above, these beans freeze amazingly well, and they don't take long to defrost either.
I like serving ours with just a little shredded cheese, a dollop of plain Greek yogurt, and a sprinkle of fresh cilantro (we have it in our garden this year!)
SO tasty!
Do you make your own beans?
Visit my virtual recipe box for more simple, delicious, family friendly recipes!