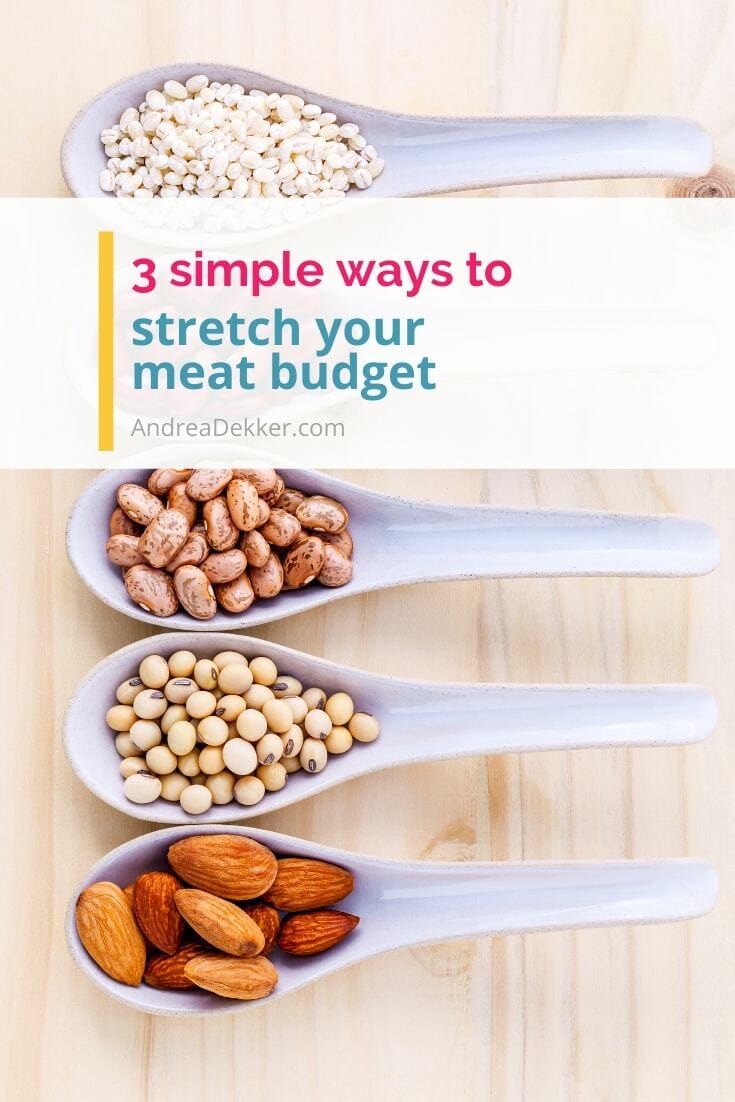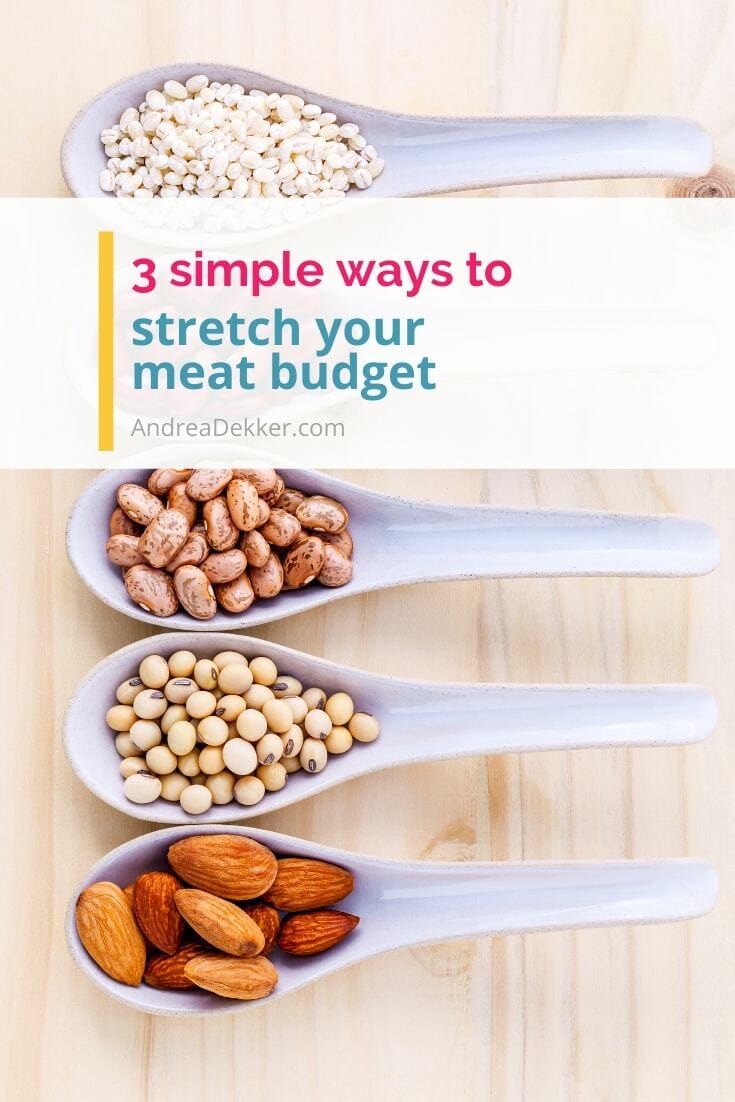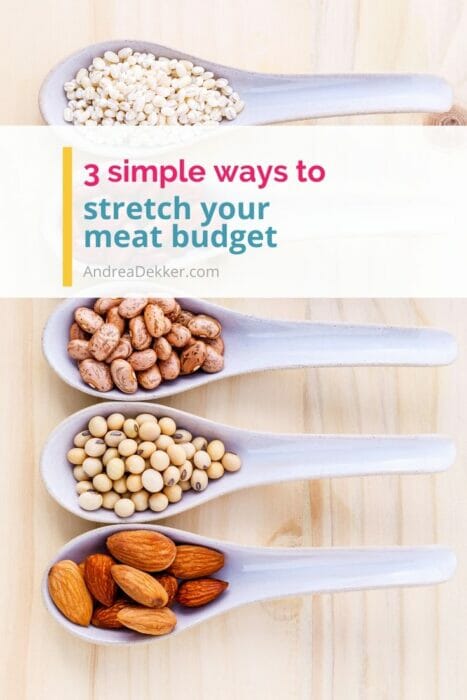 I'm sure you've heard the concept of "Meatless Mondays" as a clever way of encouraging people to eat vegetarian on Mondays — partially to improve their health, but also as a very simple way to lower grocery costs, as meat is often more expensive than other foods.
Well, my family isn't big on meatless meals, but I do have 3 really simple tricks to stretch our meat AND add a little more protein and fiber into our diets!
I've been using these tricks for years and years and my family has never complained (well, rarely ever!)
1. Beans
Adding any type of beans (black beans, refried beans, garbanzo beans, etc.) is probably one of the simplest, easiest, and most straight-forward ways to stretch a pound of meat and add a little protein and fiber to your meal.
They are very frugal, super convenient (just open the can), and they don't have an overly-strong taste so they usually tend to absorb the flavors from the rest of the foods they are cooked with.
Of course, the texture is a little different than meat — so picky eaters could revolt and refuse to eat them. If this is a concern for you, I'd start by adding a small amount of refried beans to your ground beef or turkey. Mix it in well and see if anyone notices. If not, add more the next time. Then try black beans and corn added in together (if your kids like corn) as colorful additions to the meal. They might be more focused on the yellow corn than the black beans (fingers crossed!)
Very recently, I started experimenting with soaking and cooking my own dried beans — which is even cheaper than buying canned beans, with significantly less sodium.
It took me a few tries to figure out the best way for me to do this, but this is what I do:
Soak one pound of dried beans in water overnight (I fill up the bowl of my slow cooker — but I do NOT turn the slow cooker on)
The next morning, drain and rinse the beans (pick out any stones), put them back in the slow cooker with 8 c. water.
Simmer beans on low for 6-8 hours (you may add salt, onions, garlic, or other seasonings if you'd like)
Drain and rinse again
Divide into food storage bags or containers for the freezer (I freeze 1 and 3/4th cup portions as that's about how many beans come in a 15 oz. can)
Lay bags of beans flat and freeze… or refrigerate and use within 2-3 days
I certainly do NOT do this every time we eat beans, but since I often only use a half can for different recipes, it's nice to be able to dump half a bag of frozen beans into a recipe and put the rest back in the freezer.
Here's how I use beans to stretch meat in many of my meals:
Refried beans + cheese and a little ground beef or shredded chicken for quesadillas for the kids.
Black beans + peppers and onions + chopped steak for fajitas.
Black beans + refried beans + ground beef or turkey for tacos, quesadillas, or enchiladas.
Garbanzo beans + refried beans + grilled or shredded chicken for tacos, quesadillas, or enchiladas.
Cannellini beans + veggies + ground beef or turkey in all sorts of soups.
Kidney beans + great northern beans + ground beef or turkey in chili.
Black beans and garbanzo beans on a variety of salads (often in place of meat or in addition to a small amount of grilled chicken).
.
2. Lentils
If you're anything like me, you might think that lentils sound "too healthy" or "too complicated". That's what I thought for years — but then I actually read the cooking instructions and realized it only takes 15 -20 minutes to boil up a full pound of lentils (roughly 8 cups cooked) and they are SO frugal!
Like beans, lentils tend to absorb the flavor of the foods they are cooked with… but unlike beans, they almost blend in seamlessly with ground meat as they are a very similar color.
Once you add any additional ingredients, spices, seasonings, sauces, cheeses, etc. it's almost impossible to see the difference in various casseroles, soups, and stews.
Here's how I cook lentils:
Rinse 1 pound of lentils under cold water (pick out any stones or weird-looking things)
Put lentils in a large pot with 8 c. of water
Bring to a boil and let simmer for 15 minutes
Drain, rinse again, and divide into smaller bags or containers for the freezer (I freeze mine in 2-cup portions)
I always keep a few bags of frozen lentils in the freezer and add a few handfuls to so many foods — taco meat, chicken casseroles, almost any type of soup, tatertot casserole, even breakfast burritos!
Lentils are SO cheap, and have SO much fiber — it's an easy swap my family never notices!
.
3. Mushrooms
Mushrooms aren't necessarily as frugal as beans or lentils (especially if you buy quality fresh mushrooms) but they often go on sale for much cheaper than meat, they pack a lot of nutrients, and, when chopped up into bite-size pieces, they REALLY do resemble the look and feel of ground meat.
My kids don't even realize how many mushrooms they eat on a weekly basis!
For many years, I was intimidated by the idea of using fresh mushrooms, but now, I buy 3 or 4 containers of fresh mushrooms every week and they never go to waste because I'm always finding new ways to cook and eat them! As with the beans, I always keep a few cans of mushrooms in the pantry in case we run out of fresh, but our preference is now fresh mushrooms.
I add them to soups, salads, quiche, pasta dishes, tacos, burgers (with balsamic onions), meatloaf, and more.
We often sauté the mushrooms and pile them on top of steaks, roasts, briskets, pork chops, sausages, etc. — seriously, it's SO tasty and helps to stretch those pricier cuts of meat.
Other times (when I'm trying to hide them), I mince the mushrooms super small and NO ONE ever knows the difference!
Two tips for storing fresh mushrooms:

Don't wash them until you are ready to use them.
Store them in a brown paper bag (in your fridge) to keep them fresh longer.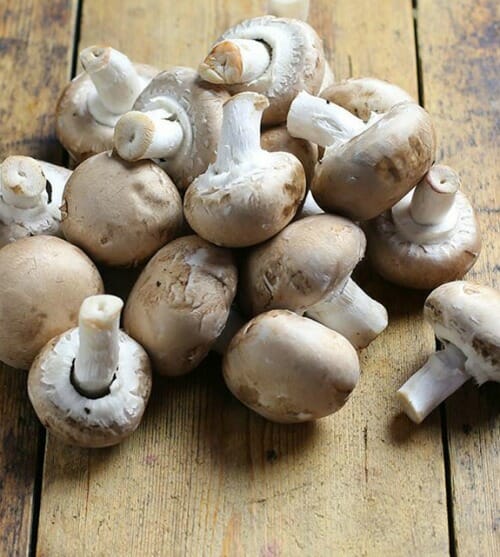 .
A Time-Saving Freezer Tip:
One of my best and simplest time-saving (or maybe dinner-saving) tips is to ALWAYS keep several smaller bags of ground beef, ground turkey, shredded chicken, ground sausage, lentils, beans, rice, etc. in the freezer for quick and easy meal prep.
They defrost SO much faster in flat bags, plus, they stack really nicely too!
.
If you're looking for a simple, frugal, healthful way to stretch a variety of meat in any of your favorite recipes, I would highly encourage you to give one or more of these tricks a try (sometimes I use all 3 in one meal!)
Start out by adding a very small portion of beans, lentils, or mushrooms and see if anyone notices. If they do, just say it's a new recipe you wanted to try and don't highlight the actual names of the ingredient (kid's generally don't get excited about beans, lentils, or mushrooms)!
Continually look for new and different ways to sneak in a few of these frugal meat alternatives into your meal and enjoy your savings (calories, fat, cholesterol, and dollars!)
Instead of a Meatless Monday… you can have a "less-meat Monday" today!
What are your favorite ways to stretch meat?
Recipe links encouraged!!