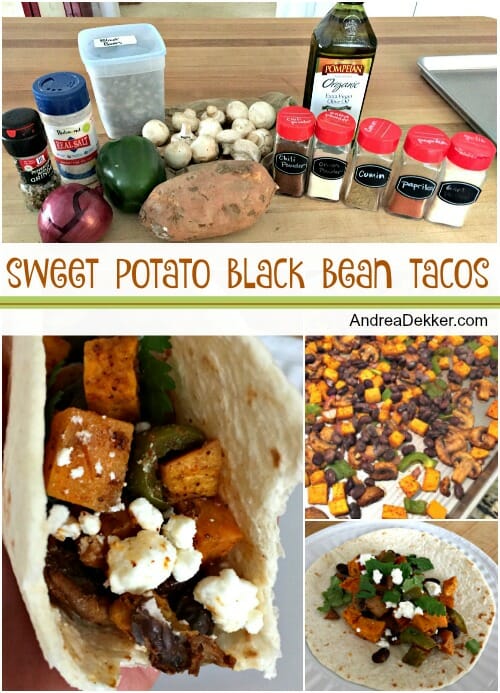 Our family loves Mexican-type foods — and I say "Mexican-type" because we definitely Americanize our Mexican meals.
We don't do tons of super hot spices, we like flour tortillas instead of corn, and we add lots of extra cheese! 🙂
That said, we enjoy Mexican food at least once a week, and Dave and I always look forward to having leftovers in our lunches throughout the week (Mexican foods seem to reheat SO well!)
Today's recipe for Sweet Potato Black Bean Tacos is one of those yummy meals that tastes just as good for leftovers as it does fresh-from-the-oven, which is probably why I make it at least once or twice a month!
It is a vegetarian dish — but you could easily add cooked ground beef or cooked shredded chicken if you felt like you needed meat. However, with the black beans and mushrooms (and cheese), our family doesn't even miss the meat.
Oh, and it can easily be gluten-free and dairy-free if you use corn tortilla and omit the cheese.
Either way, this meal is a great make-ahead weeknight meal that you can enjoy again for leftovers the next day!
Recipe for Sweet Potato Tacos
serves 4-6
INGREDIENTS:
1 lb. sweet potatoes; cubed
8 oz. mushrooms; sliced
1 green pepper; diced
1 red onion; diced
2 T. olive oil
1 tsp. paprika*
1 tsp. cumin*
1 tsp. chili powder*
1 tsp. onion powder*
1 tsp. garlic powder*
1/2 tsp. salt*
1/2 tsp. pepper*
1 16 oz. can black beans; drained and rinsed
tortillas and any of the optional toppings listed below
* Feel free to substitute 2 Tbsp. of your favorite Mexican seasoning for the spices in this recipe.
OPTIONAL TOPPINGS:
cheese
green onion
cilantro (a "must" in my opinion)
lettuce
tomatoes
salsa
hot sauce
sour cream/Greek yogurt
tomato, corn, and avocado salad (this is amazing with the sweet potatoes!)
DIRECTIONS:
Preheat oven to 400º F.
In a large bowl, combine sweet potato, mushrooms, pepper, and onion. Drizzle with oil and toss to coat all veggies.
In a small bowl, combine all spices and seasonings. Sprinkle over veggie mixture and mix well (it will seem like A LOT of seasoning, but the finished taste shouldn't be too strong).
Spread mixture onto a large baking sheet (I use, and highly recommend, the USA brand XL Sheet Pans) and roast for 20 -25 minutes, or until potatoes are tender.
Remove pan from oven and stir in black beans.
Taste and add additional salt or pepper as necessary.
Serve with tortillas, on a bed of lettuce, and/or with almost any type of topping you like!
I can't even begin to count how many times I've made this recipe over the past year — it's just SO tasty!
I often make the mixture in the morning and then simply reheat it at dinner time (or eat it cold on a salad). I serve it "buffet-style" with a large assortment of toppings chopped up and ready to go.
YUM!
A Few More Mexican-type Recipes:
What are your favorite Mexican-type meals?
Visit my virtual recipe box for more simple, delicious, family friendly recipes!