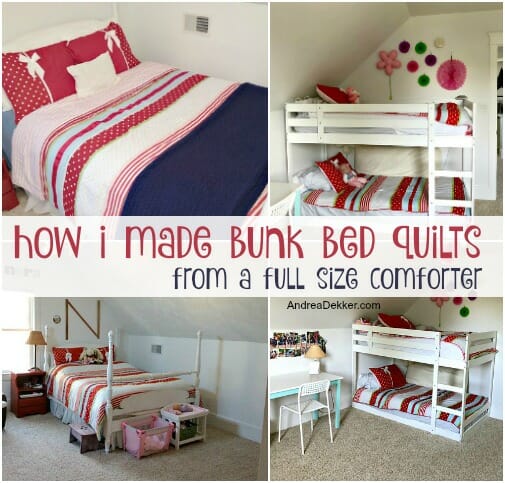 Just about 6 years ago, in preparation for Simon's arrival later that winter, we renovated one of the upstairs bedrooms for Nora. Of course, as a 2-year-old, she wanted pink, pink, and more pink… but I wanted patriotic colors to fit with the rest of our house.
I found a happy compromise on Craigslist… a comforter I considered to be a "girly version" of patriotic colors, with lots of pink — and the price was right at $25 for the set!
We both LOVED this comforter!
It's thin enough to be easily washable but thick enough to keep her plenty warm with just a sheet and thin blanket. Plus, it's reversible, so we can change it up depending on what we want the room to look like — red, light blue, and pink stripes on one side, plain pink stripes on the other.
And yes, the 2 pictures above are of the same comforter!
Just over 2 years ago, we renovated another bedroom upstairs, which Nora moved into right before Clara was born.
Her request was for a "loft bed", so we sold her double bed frame and purchase a bunkbed frame. We left the bottom bunk off in order to create a loft-like bed with cozy doll nook below.
Since we both REALLY liked her current double-bed-sized comforter, we decided to make it into TWO bunk-bed-sized comforters.
Initially, we didn't use the second comforter as we only had one of the bunk beds set up, but after our most recent bedroom renovation (just this past summer) we now have both bunk beds set up with matching comforters and pillow shams… it looks so cute (in my opinion)!
How Did I Do It?
I literally just measured the halfway point on the comforter and cut it all the way across.
Then I turned the raw edge over and sewed one straight stitch on each of the 2 new comforters.
It doesn't look fancy. It doesn't look professional. It doesn't even match the other 3 sides (all of which have red piping around them).
BUT, it took me less than 15 minutes, it didn't cost a dime, and it was the perfect solution for our new bunk beds!
One Tip:

If you want to make a comforter for twin beds that are NOT bunk beds, you'll want to use a king-size comforter so the twin comforters will hang over the sides a bit.
However, for our bunk bed needs, the full-size bedding was the ideal size as it does NOT hang over the edges so it doesn't need to be tucked in.
This means it's extremely easy for Nora to make her bed!
I'd say that after 6 years and countless bedroom "moves", we've definitely gotten our $25 investment back from this Craigslist comforter!