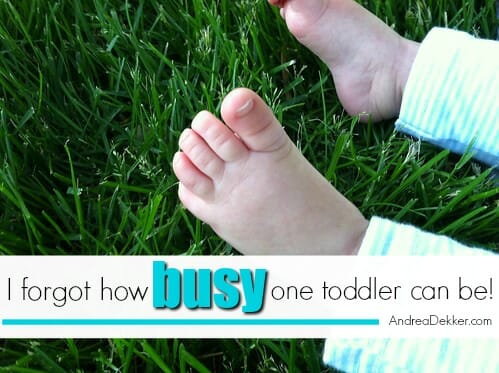 Last weekend, Dave and his parents drove to Wisconsin to visit his grandma and his mom's relatives… with the 3 older kiddos!
It was SOOOOOOO much fun for our kids to have a "road trip" with Papa and Nana, and to stay overnight at Great Grandma's house! I have a feeling it was fairly enjoyable for Dave too since he had 3 other adults to entertain our kids (all 3 of which were certainly more "popular" choices than mom or dad!)
So what did Clara and I do?
We stayed home and hung out together all weekend!
.
Since our family rarely travels anywhere, our children are not great travelers. Heck, I'M not even a great traveler!
This is fine with us as we are home 99% of the time… and are children ARE great at being home and sleeping in their own beds!
They do become better travelers as they get older, and Dave assured me the older 3 did really well on the 6+hour car ride each way. However, leaving Clara home was a practical decision that made the weekend much more enjoyable for our whole family.
The older kids got to do something "extra fun".
Dave got to visit his relatives and do something special with the older 3 without the need to pack our entire house!
Our van had 2 extra seats available so Dave's parents could ride with Dave and the kids instead of driving separately
Sleeping arrangements at his Grandma's condo were significantly easier without a pack 'n play or 2 extra bodies to find space for.
Clara got to enjoy lots of extra one-on-one time with mom, and the comfort of being in her own home and her own bed.
I was able to catch up on a bunch of house work, laundry, yard work, and finish James' yearly photo book.
Dave's grandma was able to enjoy spending quality time with most of our family.
Everyone enjoyed better sleep as we didn't have to listen to Clara cry for hours at night because she wasn't in her own bed
Eventually, we will travel back to Wisconsin (and other locations) as a complete family — but for this trip, it truly was SO much easier and simpler for me to stay home with Clara.
That said, I definitely forgot how physically and mentally demanding it is to "only" have one young child at home with me all day!
I'm used to siblings playing together and entertaining each other while I can sit and watch for a while (or read a book!)
I'm used to the older 3 helping Clara reach things or find things she needs and wants when I'm not RIGHT there.
I'm used to them all running outside to play together without constant supervision as I can still hear or see them through the windows while I'm finishing something inside or doing yard work outside.
I'm used to kids actually sitting still while I read to them!
I'm used to hearing a logical response when I ask a question.
Even though they fight, even though they push each other's buttons, even though they pester and bother and annoy and anger their siblings at times, they really DO have so much fun together — especially when they are all home in the summer!
This past weekend with just Clara was SO much fun (and honestly quite relaxing for me as she slept a lot), but it was also very "busy" as she constantly needed and wanted ME!
I was her sole playmate (certainly not as fun as her siblings either!)
I was her sole companion.
I was the only person who could do, get, or find anything for her.
I was the only person for her to "talk" to (she must have shouted "mom!" at least 2000 times over the weekend!)
When she was sleeping, it was SO relaxing. When she was awake, it was busy!
Yes, it was fun to spend so much extra quality time with my "baby".
Yes, the house was so clean and quiet all weekend long — which was nice for a change.
Yes, I enjoyed my break from planning and preparing meals and snacks for 6 people (I planned for enough leftovers from earlier in the week so I didn't have to cook all weekend!)
Yes, in many ways 1 child WAS significantly "easier" than 4 children — especially at bedtime and meal times!
However, being the sole care taker, entertainer, and playmate for one young toddler all weekend definitely required more time and energy than I remembered.
.
These days, almost any time I get out of the house with all 4 kids (which is surprisingly a lot!) I have someone make some type of comment about how I must be such a "busy mom".
I completely understand that these people are just trying to make conversation by acknowledging the fact that motherhood is a very demanding job… and I appreciate it.
Motherhood IS hard and it is definitely under-appreciated. I am not offended or put-off by these "busy mom" comments in any way.
HOWEVER, as I've mentioned before, I am 100% convinced (after years of first-hand experience) that having multiple children close in age is actually EASIER (most of the time) than being home alone with 1 young child who isn't old enough to entertain themselves.
This is not to say parenting multiple children is "easy"… just often "easiER" since the older children naturally end up entertaining the younger ones.
If you are the parent (or care taker) of one child — or even 2 or 3 really young children who need you to do everything for them, please know that it WILL get easier as they get older.
Also, resist the temptation to look at moms with multiple children and wonder "how on earth can they do it without going insane?"
I used to have the same thoughts when Nora was a toddler.
I was sure I'd never be able to handle 2 children, let alone 3 or more. But here I am, 7 years later and I can honestly say that 4 children FEELS easier for me in so many ways!
.
I thoroughly enjoyed my low-key weekend at home with Clara… but boy was I eager to welcome the rest of our tribe home Sunday night!
I'm assuming I'm not the only one who feels parenting several children is (at times) easier than parenting 1 child!?!?!
Yes? No?