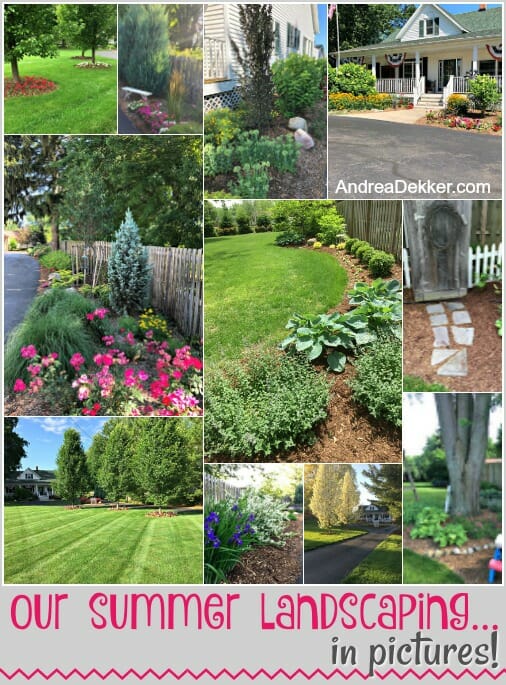 As many of you know, Dave and I have essentially been renovating, improving, tweaking, and/or totally overhauling our 1-acre property little by little for the past 8+ years.
It has been a labor of love — something we both enjoy doing together, and something we benefit from every single day as we spend TONS of time at home and outside with family, neighbors, and friends.
We stay busy working in our yard throughout the spring, summer, and fall — starting in April (or as early as we can get outside) and working until November (or until the snow falls).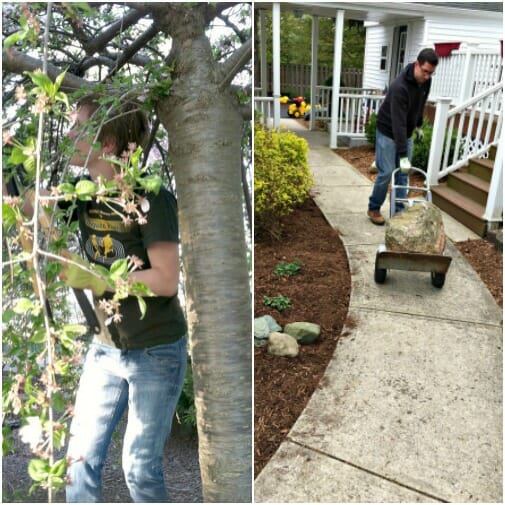 Once, just for fun, Dave mowed the lawn in December as it was warm enough with no snow — that man loves to mow!! 🙂
A couple years ago, we even raked leaves in February when we had a random 70ºF weekend!
We've also been known to work until it's VERY dark outside (especially in the spring)… working by the light of our exterior house lights, our car headlights, or even using a headlamp!
So yeah, I guess we might be a little crazy!
But our hard work and tireless efforts pay off (in my opinion) as we have a very colorful yard that is enjoyable for both kids and adults to spend time in — not to mention we personally enjoy looking at it every day!
I've already taken several pictures of our yard this summer and I keep meaning to share more on the blog, but never get around to it… so today's post is a compilation of many different areas of our yard over the past 3 months.
.
Yes, Dave and I spend quite a bit of time working on our yard!
HOWEVER, as I mentioned above, it's something we both enjoy doing (most of the time) so it doesn't feel like a horrible to-do we force ourselves to cross off our list each day.
Plus, Dave and I are both home all summer long, and we're outside ALL the time with our kids, so we just "pick away" at the yard work little-by-little each week.
We might weed or deadhead for 20-30 minutes while the kids are jumping on the tramp.
We might prune trees or shrubs while the kids are riding bikes around our driveway.
We might pick the garden while they are playing with bubbles or sidewalk chalk.
We might water pots of annuals while the kids are swimming — or sometimes we turn a sprinkler on and let them run through while we're also watering flowers.
Dave usually does all the mowing, weed whipping, edging, and blowing after the kids are in bed.
Of course, our kids also "help" and enjoy getting involved in the yard work too!
In many ways, yard work is one of our main "hobbies" — something we enjoy doing, something we continually strive to learn more about, something we try to improve on regularly, and something we're OK spending a bit of money to do.
So yes, we DO spend a significant amount of time working in our yard, but for the most part, we do not feel like we are "slaves" to our yard.
Once Dave goes back to school, we start to tire of doing as much yard work, but then it gets cold and we can enjoy the extra time inside.
By the time the snow melts, we are beyond excited to get back outside again!
WANT MORE LANDSCAPING POSTS?
How We Re-Landscaped Partially for Free!
My Favorite Weed-Fighting Tips and Tools
A before/after of our "outhouse" area.
A list of EVERY plant in our yard.
I hope you enjoyed this little peek into our yard this year!
It's ALWAYS changing (sometimes on a daily basis) which is fun for us to watch… and it means I'll certainly have more photos to share again next year!