Although I do enjoy being in the kitchen, there is no way I want to be in the kitchen for hours every single afternoon just to make dinner for my family each night. However, I'm also not willing to order takeout or eat sandwiches every night either.
Instead, over the past 3+ years, I've settled into a rough routine that allows us to eat homemade meals almost every night of the week — while I only need to spend time in the kitchen making 2-3 of those meals.
And no, we don't have a personal chef (although wouldn't that be fun!)
I originally shared this meal planning concept almost 3 years ago, but due to the overwhelming number of emails I get related to meal planning, I thought it might be time to revisit the topic.
How I Cook only 2-3 Meals Per Week:
On a "normal" week, our meals might look something like I've listed below — this is NOT in order by day.
0-1 MEAL = Eat away from home.
This doesn't happen every single week, but quite often we'll have 1 meal a week outside of our house — either at Culver's, a friend or family members house, a church potluck, etc.
1 MEAL = Frozen Pizza
We almost always have frozen pizza and salad on Sunday nights… and Dave makes it! Sometimes we'll also make our own personal pan pizzas — but that's a great way to entertain the kids, so I don't really count that as cooking 🙂
1 MEAL = Breakfast
We LOVE breakfast for dinner… and it's SO simple. We always have lots of eggs, homemade waffle mix, and bacon or sausage in the house, so it literally takes me 15 minutes to whip up a delicious meal (here are some of my favorite breakfast recipes).
1-2 MEALS = Something from the freezer.
Since I often make double or triple batches when I cook and bake, we have several pasta dishes, casseroles, soups, stews, etc. in the freezer for busy weeknights.
I simply pull one meal out of the freezer the night before and let it defrost in the refrigerator the following day. Then I put it right before dinner (or warm it up on the stove if it's soup).
Depending on what the meal is, I might also make veggies, a salad, potatoes, fruit salad, or bread to go along with it — but no major effort is needed on my part.
2-3 MEALS = Cook!
Sometimes, this means simply making a big batch of soup (and freezing some for later). Sometimes this means making 25 chicken enchiladas, 2 lasagnas, and a slow-cooker meal all on one day. Other times, it might mean roasting a turkey or baking a ham and then using the leftovers to make several different meals.
Either way, you all know that the recipes I make are not complicated or time-intensive, so even on the days when I am cooking a complete meal (or 2 or 3), I'm rarely "trapped" in the kitchen all afternoon!
BONUS 1 MEAL = Leftovers.
Our go-to lunch options are almost always sandwiches or leftovers… however, if we don't eat the leftovers for lunches, we can usually combine various leftovers from the week to have a "free-for-all" dinner that I don't need to cook!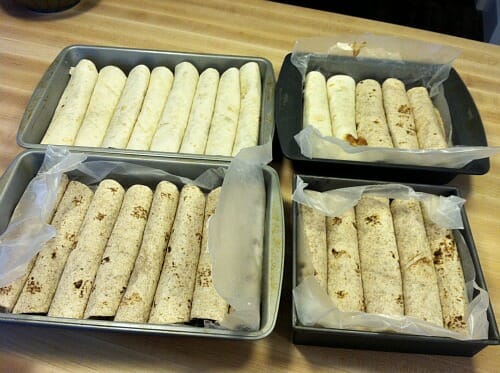 Obviously, I'm still in the kitchen for some amount of time every night (except if we go out), but it's usually only for a few minutes to shove a dish in the oven and throw some veggies in the steamer. I can handle that even on bad days when everything seems to be going wrong, the kids are crabby, and Dave is running late from school!
On the 2-3 nights when I DO cook, I always make sure to plan that into my day, and I try to do the majority of the cooking when the boys are taking their afternoon naps (Nora LOVES helping!)
Sometimes, I'll assign specific meals to a specific day of the week, but more often than not, I'll just list 5-7 meals I can make on any given night of that week (I have a meal planning spot in my planner that is perfect for this).
If you're wondering how all of this might play out in our weekly meal plan, here's a sample.
SUNDAY
We are often with friends, family, or at a church function for Sunday afternoons — if not, we'll often eat leftovers for lunch and then have a frozen pizza on Sunday nights.
MONDAY
Make 2 lasagnas. Put one in the oven for dinner (and leftovers later in the week) and put the other one in the freezer. I would also make salad, vegetables, and garlic bread for dinner.
TUESDAY
Pull a casserole out of the freezer Monday night and serve with fresh fruit and rolls.
WEDNESDAY
Blueberry pancakes, eggs, and bacon — with plenty of pancakes and bacon left over for breakfast tomorrow.
THURSDAY
Roast a chicken in the oven, and make baked potatoes and veggies to go along with it.
FRIDAY
Use some of the leftover chicken to make chicken quesadillas.
SATURDAY
Go out to Culver's!
So if we followed this meal plan, I would end up cooking a full meal on Monday and Thursday, eating from the freezer on Tuesday, whipping up pancakes on Wednesday and using up leftovers on Friday — not too bad!
We still end up eating mainly homemade food and I save SOOOOOO much time in the kitchen — both cooking and cleaning up!
Do you have any tips to simplify meal planning?
Visit my virtual recipe box for more simple, delicious, family friendly, recipes!