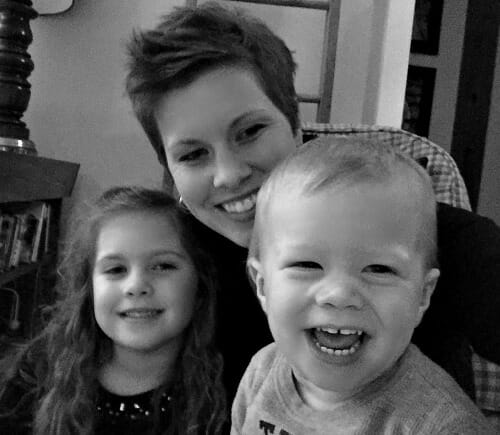 In case you haven't noticed, I'm not really a "fly by the seat of my pants" kind of gal!
I like structure, order, and routine; and even though SO many people told me I would become more easy-going after having children… I really didn't believe them.
I suppose that since having children, I have relaxed in some areas (like the cleanliness of our home, what I now consider "gross", and how my children look in public) but in most other areas of life, I have tightened the reigns, gotten even more organized, and planned even further ahead.
Ironically, I've noticed that planning ahead and creating more structure has allowed me to relax and become slightly more easy going in so many situations.
Let me give you a few examples…
MEAL PLANNING:
It would be an extremely rare occasion for me to skip meal planning for any given week.
No, I don't particularly love meal planning… but I do it because I know from years of experience that taking 10-15 minutes to make a meal plan will save hours of time later in the week — not to mention boatloads of stress and frustration.
NOTE: for those of you who don't necessarily love meal planning, or just don't know where to begin, I'll be sharing a bunch more tips later this week!
When I have a meal plan, I have no stress when 5:00 rolls around because supper is usually just coming out of the oven.
I can make many of my meals the night before or in the morning because I already have the ingredients ready to go — which means I rarely have to scramble at the last minute.
I rarely ever resort to fast food simply because I didn't have time to make anything — but instead, I plan in fast food or pizza into our meal plan as a "fun night" we can all anticipate and look forward to.
I can fairly easily accommodate guests for dinner, even on a last-minute notice.
I can try to always incorporate one kid-friendly food into each meal (even if I know the kids might not love the main dish).
ARRIVING ON-TIME:
I often find it amusing that the same people are chronically late for the same things week after week, month after month.
I know there are some mental and physiological things at play here, but even still, arriving late for almost anything is a pet-peeve of mine… so we always try to be early. If I know I'll need to get all the kids bundled up, we often leave 20 minutes earlier than I think we'll need to leave so we arrive 10 minutes early. Then we sit in the car and finish a movie or play a game.
While some of you might be rolling your eyes right now, I know for a fact that leaving early and arriving on-time is a huge positive in our lives.
I'm not constantly yelling and nagging my kids to "hurry up".
We don't feel rushed or always behind.
I don't feel frantic or stressed when I'm driving.
We aren't frazzled when we reach our destination.
A small traffic delay, accident, or train won't totally throw off our trip.
Everyone is in a more positive mood.
I'm not THAT lady who's always late for everything.
PACKING for FAMILY VACATIONS:
Oh my word — I hate traveling. HATE IT.
I don't mind being at the destination, but the process of packing and loading, driving or flying, and then unloading and unpacking is enough to cast a shadow over even the most exciting vacation.
If it were up to me, we would simply stay home ALL THE TIME… but since the rest of my family apparently enjoys vacations (probably because they don't have to pack or plan) we venture out of the house occasionally 🙂
And when we do, I make sure to plan ahead and pack well in advance.
Since we usually use all travel-size cosmetics, I can literally pack everything almost a full week ahead of when we need to leave. We just add in the kids' monitors, favorite blanket or stuffed animals, and our laptops the day we leave.
This might sound crazy to some of you… but since I dread the packing and traveling process, planning ahead helps me to relax and enjoy the vacation once we're there.
I don't worry about forgetting something important because I know it's all there.
I don't have to run around the house at the last minute stuffing things into suitcases.
I don't need to buy anything when we arrive or try to do without for the whole vacation because I forgot something important.
I don't stress about leaving on time due to last-minute packing (you all just read about how I like to arrive on time!)
MY BLOG:
Transitioning from a "work from home adult" to a "work from home mom" was definitely a HUGE learning curve, but I eventually found my footing again and have continued to make small (and large) adjustments as we've added children to our family and as the children's needs have changed.
One of the biggest and best changes I made years ago was to start writing almost all my blog posts 1-2 full weeks ahead.
This means I write almost all my blog posts 1-2 weeks before they are published (I finished this post on Jan. 23) and wow does this make a HUGE difference for me and my family! (NOTE: I don't write my Peek Into the Week posts that far in advance.)
I don't have to stay up late trying to frantically finish a blog post (I did this all the time when I first started blogging).
I don't have to take time off because I'm overwhelmed or running behind — I can simply take time off because I want to enjoy a break from work.
I don't have to cancel on a client because I can't finish their sponsored post by the agreed-upon deadline.
I don't feel rushed or overwhelmed with my job — which means I don't experience burnout.
I don't remember the last time I had writer's block because I always have anywhere from 5-15 post ideas drafted at a given time.
I don't have to hire child care for my kids because even if we have a few busy days where I don't get much time to work, I'm still far enough ahead that it doesn't really matter.
I don't get completely thrown off if we get sick, if out-of-town visitors stay at our house, or if other fun opportunities and plans arise.
It seems fairly obvious to me that the result from ALL my planning ahead and organization is that my business can almost always take a backseat to anything else going on in my family and my life without much interruption for my readers — a work-from-home person's DREAM if you ask me!
.
So I guess, in a way, I DID become more easy-going after having children… but only because I am even more structured, even more organized, and plan even farther ahead!
That might sound like a crazy oxymoron… but it's completely true for my life!
I still wouldn't consider myself "easy going"… but thanks to faithfully planning ahead and incorporating order and structure into my days as much as I can, I am able to enjoy the benefits of a simpler, less stressful, more relaxing, MORE easy-going way of life!
Can anyone relate?