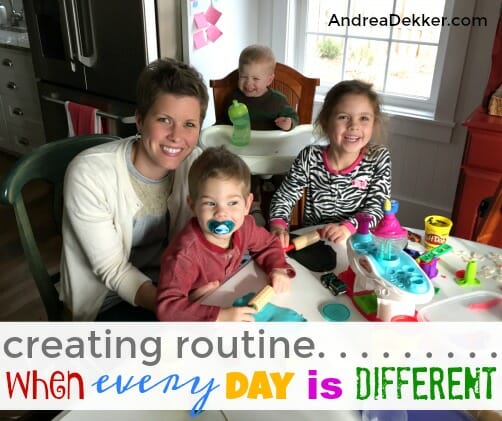 As a self-employed, work-from-home mom of 3 energetic, non-school-age children, my days can be very VERY unpredictable.
This is not necessarily bad — after all, I almost always have the freedom to change plans or do something last-minute as we aren't tied down to any specific schedule; but for my Type A personality, the lack of daily structure or routine can start to wear on me after a while!
I know a basic routine and rough structure allows me to be more productive, less stressed, and even happier… and my kids actually function better with a fairly reliable routine too. However, as any parent of young children knows, a super strict schedule or routine is basically a recipe for disaster. I'll end up stressed because we're not on schedule, the kids will be crabby, we'll constantly feel rushed, and we'll all be frazzled by the end of the day.
Instead, I've taken a few simple steps to implement BASIC structures and routines into our days and weeks while still allowing for LOTS of flexibility — because, much to my dismay, I've learned that life with kids must be flexible!
I know my specific ideas won't work for everyone, but if you're craving a little more structure to your every-day-is-different schedule, I hope some of the concepts in today's post will help you see how you might add a bit of structure and a general routine to your ever-changing, always different days.
FIRST… I plan my day the night before.
I know, I know — I sound like a broken record. I've probably mentioned my nightly planning sessions 30 times on my blog already — but I truly do make my next day's to-do list EVERY SINGLE NIGHT before I go to bed. No questions asked.
I make my lists right in my planner, and (in my opinion) this tip is THE MOST important thing I do every day to increase my productivity, decrease my stress, and allow me to have a good mix of fun and function in everyday.
My mini nighttime planning sessions not only allow me to think through everything I have to (and want to) accomplish the following day, they also act as a springboard to jump start my mornings AND provide a basic framework for the next 24 hours.
.
THEN… I utilize daily time blocks.
Every single day is different for our family — not hugely different, but different enough that I can't just make a weekly schedule or a Monday schedule that will work week after week.
However, over the past 2 years, my daily routine has morphed into roughly 6 time blocks throughout the day. These are NOT super strict and they can be easily changed or tweaked as necessary.
BLOCK #1: Wake Up and Get Ready for the Day (6:30 – 8:00)
The kids are usually awake by 7:00 and my goal is always to sleep as long as I can but still get up at least 20 minutes before them so I can be ready when they wake up! (Read more about my general morning routine here)
I usually have pancake or waffle mix ready to go the night before, so I can get breakfast on the table fairly quickly.
Then I get the kids dressed and ready and they play for a bit while I clean up the kitchen.
BLOCK #2: Morning Stuff (8:00 – 11:30)
This is the time of day when our daily schedules are the most different. Nora has preschool 2 mornings a week, Simon has speech therapy 1 morning, we go to Coffee Break at our church 1 morning, there's a free story hour at the library 1 morning, and there are often local play groups that meet on Fridays.
I usually get groceries one morning while Nora is at school, I try to schedule any Dr. appointments for this time frame, and if we invite friends or neighbors over, it's almost always in this morning time block.
However, since we know we are almost always home for a while after this time block, it's easier for everyone to be OK with a little running around and different morning schedules.
BLOCK #3: Lunch (11:30 – 1:00)
I start making lunch around 11:30 (we try to pick up the house fairly well before lunch). We're usually finished eating and have everything cleaned up by 12:30.
After lunch we play a couple games, read a handful of books, and then I put James and Simon down for naps around 1:00.
BLOCK #4: Nap / Afternoon Time (1:00 – 4:00)
While the boys are sleeping, I try to do something just with Nora for a bit (a small craft, painting project, cooking, baking, reading her American Girl books, etc.) but then I often let her do her own thing for a while so I can cross a few things off my to-do list. Some days she'll play with a neighbor, other days she plays with Playdough or gets to watch a movie.
Since I know I almost always have a bit of time every afternoon, I try to keep handful of quick projects to work on whenever my "Afternoon Time Block" rolls around. These are projects that aren't a big deal if I am constantly interrupted (either by Nora wanting my attention or by the boys waking up from their naps). I rarely try to do any focused work at this time.
Once the boys wake up (usually around 2:30 or 3:00) we have a snack, and then play until Dave gets home from school.
BLOCK #5: Wrap-Up and Dinner Time (4:00 – 6:00)
Dave is usually home between 3:30 and 4:00, so by 4:00 I often have another chunk of free time to respond to comments and emails or wrap up any little projects I was working on throughout the day (fold laundry, finish a blog post, clean out the dishwasher, vacuum, etc).
I try to have dinner ready for the oven before Dave gets home so I can use this time block to get a bunch of stuff accomplished, but if I didn't make dinner during the day, I use this time block to do it.
We eat at 5:00 and are finished cleaning up shortly after 6:00.
BLOCK #6: Bath and Bedtime (6-7:30)
After dinner, Dave and I often both play with the kids for a bit… but we are quick to get them in the bath around 6:30pm.
They LOVE playing in the bath together, so that's a great way to kill 30 minutes. Then we tag-team and get them dried off, dressed in PJ's and downstairs for a quick snack. They eat their snack while we read them books and they all are in bed by 7:30pm.
Hallelujah!
The beauty of using time blocks is that even though we don't do the same thing during the same time blocks every day, we have roughly the same basic routine each day.
So even if we are gone running errands one morning, at a church event one morning, or playing at home another morning, we still eat lunch and move on with our day at 11:30 pretty much every single day of the week. We have that consistency each day, and I think we all benefit from it.
It might not sound like a huge deal, but for someone who strongly values structure and routine, it is very helpful for me to have these time blocks in the back of my mind, offering structure even in the midst of a crazy day!
.
FINALLY… I Don't Schedule Evening Commitments.
In my current stage of life, the evening hours from 7:30 – 10:30pm are literally the ONLY hours of the day that are even remotely predictable for me. I know that I can almost always count on these hours as the time I need to finish my to-do list, do something I enjoy doing, watch a show with Dave, go for a walk with a neighbor, or work on a project that's been on my list for too long.
If I'm consistently gone during these hours (for meetings or obligations), I start staying up later to accomplish more, I don't sleep well because I'm over-tired, I don't get up before my kids wake up, and I'm crabby and stressed all day because I'm trying to squeeze in too many to-dos while also trying to be present with my kids.
I fully understand that evening commitments are unavoidable for many of you — but it doesn't have to be evening commitments. Maybe you have a couple hours every day while your kids are in school to do your "stuff", or maybe your spouse is home for a few hours in the morning, or maybe you hire a babysitter for a couple hours one afternoon a week.
For me, the key is to have a somewhat consistent chunk of time that I can almost always utilize in whatever way I want to utilize it. If you can find a chunk of time like that, guard it and cherish it, and do NOT schedule commitments during those hours!
.
Like I mentioned above, I know my specific examples won't work for the family with 2 teens working different hours but still trying to coordinate a little family time, or for the family where one spouse travels for work or is in the military, for the family with a brand new baby, or even for the family with 3 young children and parents who work outside the home.
HOWEVER, I think the concepts and ideas here COULD be implemented in so many different ways to accommodate lots and lots of different family situations.
By planning my day the night before, utilizing time blocks throughout the day, and guarding my cherished evening hours, our entire family thrives — even when every day is different!