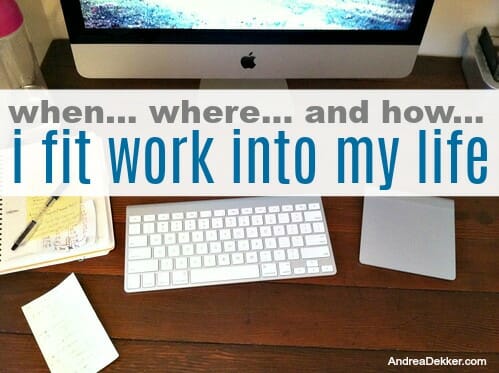 A few weeks ago, I shared a fairly detailed look at a "normal" weekday for our family.
As I wrote that post, it really never occurred to me that I didn't mention all that much about my own work — or exactly WHEN, WHERE, and HOW I fit my work-from-home job into my daily life with 4 kids, 3 different school schedules, a laundry list of house projects, and all the mundane household tasks and chores I complete each and every day.
I suppose the main reason I didn't mention much about my work in that post was because I've cut WAY back on the amount of work I actually do. Not because I don't enjoy my work, but rather, because I have so many other pressing requests for my time at this point in my life. I guess work has just naturally taken a back seat to everything else.

I'm far from the budding entrepreneur I once aspired to be… but I still have my 'foot in the door', I still thoroughly enjoy sharing my thoughts in a tiny corner of the internet, and I'm still thrilled to be able to earn an income sharing something I'm so passionate about while enjoying home life with my family.
I do NOT have a perfect work-life balance…
In fact, if you are actively trying to grow a business, launch a new product line, or start something from scratch, I would caution you against modeling my "business plan" as I'm almost positive it will not work for you!
My current approach to my business is to do the best work I can in the least number of hours without taking on anything extra.
How's that for honesty!?!
Anyway, since so many of you have asked, I decided that if my imperfect business model is good enough for me, then it's good enough to share with you too!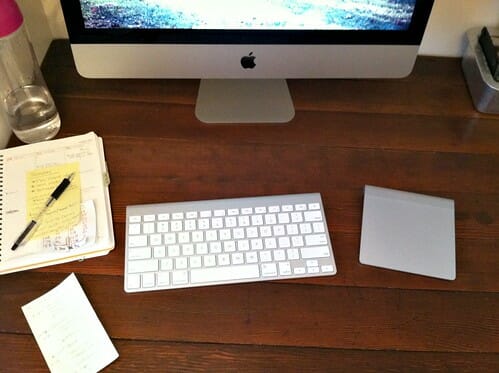 WHAT I DO:
Have you ever wondered what exactly I do these days? If so, you're not alone!
Working on the internet is definitely not a main-stream way to earn an income, but it's perfect for someone like myself who enjoys working from home, who is very self-motivated, and who is not easily stressed by multiple to-dos or lots of different tasks to complete each day.
I currently work as a Virtual Assistant (VA) for 3 different companies.
A local business who I used to work for after college that I help by formatting and editing blog posts, scheduling things to run on social media, and sending out scheduled emails to their database.
A money-saving blog where I format, edit, and schedule all guest posts (and answer lots of emails related to guest posts)
Another money-saving blog where I manage their coupon database — installing, activating, troubleshooting, etc. etc.
I've had many other VA jobs over the years as well — some for short-term projects, others for longer periods of time, but I've been doing the 3 jobs listed above for 8+ years! They have all provided very steady work for me, and they all allow me to work within my own schedule (something invaluable to me right now).
I have turned down several much higher-paying VA jobs because they aren't flexible… and that's not worth it for me at this point in my life.
.
I also run my own blog — sharing 5 posts each week and updating social media Monday through Saturday.
Some of the many tasks involved in running my business are:
brainstorming, writing, and scheduling post content
formatting and editing post content
writing and photographing recipes
taking and editing pictures of basically everything I do
working with various companies and brands for sponsored content and advertising.
working with an ad agency
trouble-shooting minor issues, or working with my tech support to fix larger issues
scheduling content for social media
answering a huge number of emails, comments, social media questions, etc.
sending, tracking, and/or paying various invoices, expenses, and taxes every month (or every quarter)
I think working online is one of those jobs that can easily sound VERY overwhelming and intimidating — but once you start doing it, you realize it's not all that bad.
I've been doing all these things for so many years that they are natural habits for me now. It's very low-stress and low-energy for me (which is perfect for my sanity right now!)
.
WHEN I WORK:
I only spend a few hours each week working on tasks for each of my VA jobs — and they are all VERY flexible jobs, so I work after the kids are in bed, before they wake up in the morning, or on weekends when Dave is home.
Of course, there are always little things that come up during the day (or at 9 pm on Sunday night) that I need to tend to more quickly, but nothing is super time-sensitive that I MUST be home at 4:32pm every day to complete.
I do have to check my email several times a day, just to make sure nothing super urgent comes up, and to answer quick questions or troubleshoot little problems… but for the most part, I can do my VA work whenever it works for me!
As for my own blog, I write all my posts (except the Peek Into Our Week posts) at least 1 full week ahead of time (often 2 weeks) and my goal is to write the majority of one blog post every weekday morning.
Since Dave and I wake up very early, I usually spend 1 hour writing each morning, along with scheduling social media posts for that day. Then I try to finish up whatever post I was working on during nap time (when the boys are playing together) or after the kids are in bed.
This way, I'm able to write the majority of 1 full weeks worth of posts before the weekend. Then I use Saturday morning to finish everything up, take/edit any additional pictures, schedule some social media stuff, brainstorm future post ideas, and have Dave read through my posts for the upcoming week.
It's a very cyclical routine (which I thrive on) and seems to fit so well with my current schedule.
.
WHERE I WORK:
I literally do almost 100% of my work sitting at the desk in our home office — right off the living room. This arrangement works SO well for me because I'm never more than a few steps away from anything going on within the main floor of our house. I can be working from my computer while roasting veggies in the oven, changing laundry in the laundry room, and overseeing the kids playing in the living room.
It's absolutely perfect. I have no need to GO anywhere to work… except maybe outside when the weather is nice! And considering we have no childcare set up, it just makes sense for me to work IN our home… even if that means sacrificing productivity.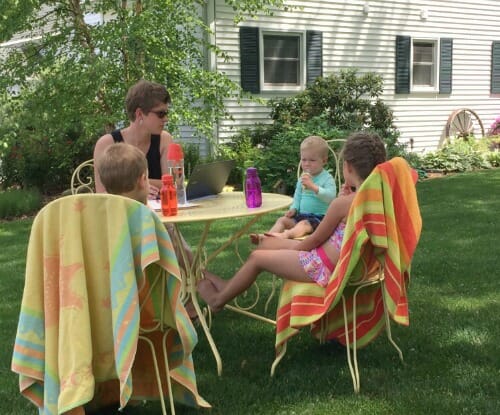 .
HOW I WORK:
I'm one of those people whose brain never really shuts off — I'm ALWAYS thinking about "what's next", especially when it comes to work related to-dos.
This is extremely beneficial for me as I no longer have hours and hours to devote to my business and VA work every single day. I might only have a 20 or 30 minute chunk of time and in order to maximize that time, I need to be mentally prepared to work before I sit down at my computer.
Thankfully, due to my inability to shut off my brain, I usually think through exactly what I want to say for the blog posts I'm writing that day, and can simply sit down and write.
It's amazing how quickly the words flow from my fingers when I'm excited about what I'm sharing!
Since I write my posts well in advance, I have plenty of time to incorporate various meals and recipes into our weekly meal plan in order to take photos for future posts. I also have time to get any pictures I need throughout the week, which means I can edit them in batches as I have time so they are ready to go when it's time to sit down and write.
Without the ability to think and plan ahead, I would not be able to do what I do successfully or efficiently.
Like I mentioned earlier, I've really cut back on how much I work these past 7 years, and I'm OK with that.
I have lots of ideas for future projects or things I'd love to do "once the kids are all in school" but for now, I'm thrilled to be able to earn an income doing something I love, something I'm passionate about, and something I really truly enjoy doing — all FROM HOME, with my kids around!
It's far from a perfect system but it works for me for now!