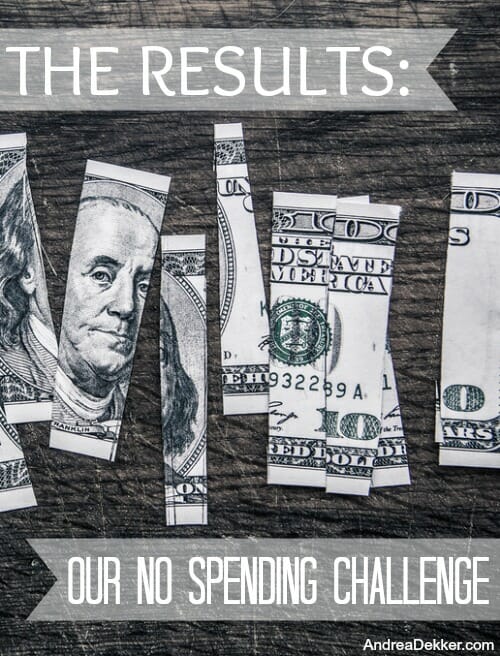 It's June — which means our month-long no-spending challenge is over! Yay!
Dave and I made it through… and it honestly wasn't that difficult, especially after the first week (read my half-way update here).
I do have to confess that I broke the rules once — but it was 100% unintentional, and I honestly didn't even think about it until the next day. I was taking a shower and I realized that not only had I scheduled a hair cut for myself in May, I also went to the appointment and paid without ever thinking of the money I was spending.
Granted, it was only $25 (including tip), but the fact that I spent my cold hard cash without even giving it a second thought and without remembering our no-spending challenge just goes to show how easy it can be to spend, spend, spend.
In my defense, Dave said we could probably consider my hair cut a basic necessity (my hair was getting REALLY long) and thus approve the expense based on Rule #2 🙂
.
I consider myself quite frugal, and I make a point to think twice before I spend money; however, this challenge has really opened my eyes to how often I have the opportunity to spend a few dollars here and there without ever thinking about it.
There were so many times over the past month when I thought:
"I'll just quick pick up _______ from the store"

"I need to buy _______ on Amazon.com"

"I wondering if anyone is selling ______ on Craigslist"

"I wonder if we have any Culver's coupons"
Then I quickly reminded myself that there was no reason to go to the store, to Amazon.com, to Craigslist, or to Culver's because I couldn't spend money anyway.
And yes, we survived just fine without a few bargains, without fast food, and without online shopping. We did go to Culver's one time — but we had a gift card and a BOGO coupon so we didn't break any of our rules.
I realize we couldn't continue our no-spending challenge month after month after month, but this mini month-long challenge was actually really refreshing. It was a good excuse not to spend anything, not to go shopping, not to browse the web, and not to always want more, more, more.
We'll definitely have to make this an annual thing — maybe not always the month of May, but certainly some time during each calendar year. If nothing else, it's a fun way to save. Plus, it forced us to take a step back and re-evaluate our priorities, our true needs, and all our many wants.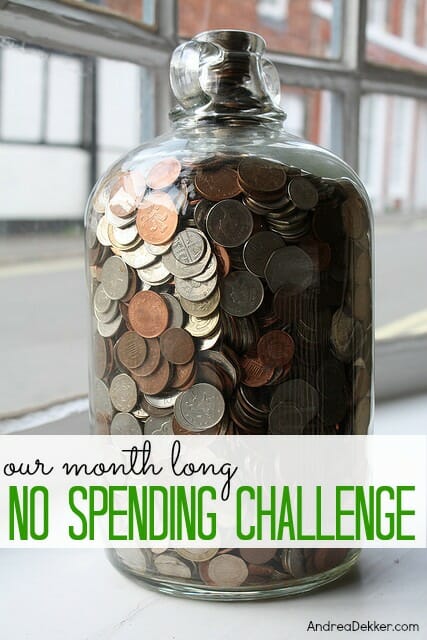 This challenge was a totally new experience for Dave and for me… and I didn't really know what to expect.
I was pleased with the number of you who emailed and commented saying that you were joining in on our challenge. However, the thing I found MOST interesting and MOST surprising were the many responses, emails, comments, Facebook messages, etc. I received from others saying things like:
"What an awesome idea! I wouldn't be able to do it this month because of _______ but I'll have to try this some time."

"This is such a great idea. My spouse would never go for this because ______, but it sounds really fun."

"Cool, I love this idea! It wouldn't work for me right now because ______ but I'll keep it in mind for the future."
The reasons listed were everything from family birthdays, anniversaries, vacations, kids in sports, holiday parties, new babies, work events, moving, home projects, etc. etc. etc. etc.
And while these are all very good reasons to spend money (seriously, I'm not trying to make anyone feel bad), I had to smile each time someone gave me their excuse because I know that Dave and I have given ALL those excuses too… and we could have given many of the same excuses this time as well.
But we didn't.
We knew it wouldn't be easy, and we knew there might be times when we messed up (a.k.a. my hair cut!) But we really wanted to do this challenge and we figured we might as well do it NOW.
After all, when is "some time"? When is "in the future"?
Is it next month? Next year? In 5 years?
And whenever "some time" or "in the future" finally arrive, I'm sure there will always be a really good reason why a no-spending challenge wouldn't be convenient at the time.
The truth of the matter is: There is NEVER a convenient time to save money.
Never!
There are way too many reasons to spend money all the time… it's almost impossible not to give in some of the time.
However, I'd like to challenge you to seriously consider doing your own no-spending challenge. You don't have to use the same rules Dave and I used, and you honestly don't even have to do it for a full month.
If a month is too long, start with a no-spending week, or even just one day.
If you can't get your spouse or family members on board, make it a personal challenge that you do on your own.
If you're going on vacation, then don't count that time, or better yet, set a strict budget for your vacation and buy gift cards or travler's checks ahead of time.
If you have lots of expenses for your job, for school, or for your house, then make an exception for that specific area and do a no-spending challenge on everything else.
If no-spending on EVERYTHING is too much for you, give yourself a no-spending challenge just for clothing, just for entertainment, or just for restaurants.
If you have a birthday or anniversary or other occasion, force yourself to plan ahead and buy gifts before your no-spending period — or better yet, try to come up with free gift ideas like dinner for the family, homemade baked goods, free babysitting services, flowers or veggies from your garden, etc.
There are a hundred other ways you could tweak this challenge to make it fit with your life. The point is, by giving yourself a no-spending challenge, you will be MUCH more likely to consciously think about how you're spending your money. And even if you're a frugal person like me, I'm guessing you'll probably have your eyes opened to just how easy it is to spend a few bucks here and there without thinking twice.
You can totally do this!
If you also participated in our no-spending challenge (or if you've ever taken a similar challenge), I'd love to know what you thought/learned at the end.
And if you've never done anything like this, I'd like to challenge you to pick a day, a week, or a full month and give it a try. What's the worst thing that could happen?