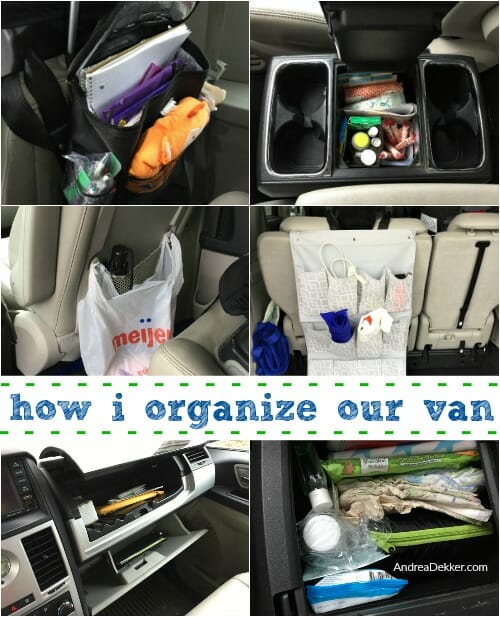 I've officially been driving a minivan for a full year now — and yes, I still love it! We purchased our Chrysler Town & Country last January, and have been enjoying ALLLLLLL the extra space ever since.
We haven't had a chance to take it on a long road trip yet, but we plan to take a couple road trips this summer, so we'll have more of an idea of how convenient it is after those trips.
That said, even just for tooling around town on a weekly basis, the extra trunk space and huge amount of interior space has been so fabulous.
Since we've had a full year to use our van and assess our storage needs, I thought it might be a good time to share a bit more about how I've organized the interior of the van.
DASHBOARD STORAGE:
We have 2 storage compartments within our front dashboard.
I use the top dashboard storage cubbie for any grocery and restaurant coupons. The bottom compartment is for our vehicle information documents — license, proof of insurance, manuals, etc.
CENTER CONSOLE STORAGE:
Our center console also has 2 smaller compartments which work well to hold essentials I use on a very regular basis.
I keep candy, gum, lip balm, a pen, paper, lotion, tissues, and blank bank statements in the very top compartment. I use a couple washed out baby food containers as tiny organizers for this compartment.
The whole top section of the center console slides back, leaving a large bottom compartment that seems to be the perfect size for a few "baby and kid essentials".
I keep a spare diaper for each of the boys, a travel size pack of wet wipes, a travel size changing pad, hand sanitizer, our travel size Boba Air baby carrier, some small bathroom-size cups that I use to hand out snacks, and a bunch of napkins.
BEHIND THE SEAT STORAGE:
I keep a selection of DVDs stored behind the driver's seat and an umbrella, flashlight, and a few extra trash bags stored behind the passenger seat.
I also almost always have a trash bag hanging from the appropriate hooks behind the passenger seat. The in-car trash bag has been a life-saver on SO many occasions!
Nora and Simon have completely taken over the back row — and although they are usually quite cooperative (especially when they get to watch a movie), I've found it necessary to keep a handful of kid activities in an area they can reach on their own AND easily put it all away again.
I found this super cheap "behind-the-seat organizer" for $3 or $4 on Hollar.com and put it on the back of James' seat since Nora has more range of motion in a booster seat than Simon does in his 5-point harness.
This organizer is actually marketed as a cooler, but I like that (unlike many car organizers) this one has just one large open pocket that's easy for kids to dump their picture books, coloring books, notepads, etc.
They use the side and front pockets for crayons, pens, tissues, or anything else they want to shove in there! I don't really care as long as it's not on the floor or shoved in between their carseast!
UNDER SEAT STORAGE:
Since we have stow 'n go seating, we have a large storage cavity under James' bucket seat (the other storage cavity stores the other bucket seat right now.)
We keep jumper cables, a clip-on high chair, a small tarp, and a large waterproof blanket under James' seat.
I forgot to take a recent picture of how our seats are arranged, but we still have it set up like the picture below. We've just upgraded the carseat situation as the kids have gotten older 🙂
Keeping the one passenger seat "stowed" has allowed SOOOOO much space to move around inside the car, get kids clipped in, and even change a diaper on occasion! I would HIGHLY recommend stow 'n go seating if you have the option!
TRUNK STORAGE:
I almost always keep our amazing Joovy Ultralight Caboose Stroller in the truck as it is quite compact and offers so many different seating combinations depending on what kids I have along with me.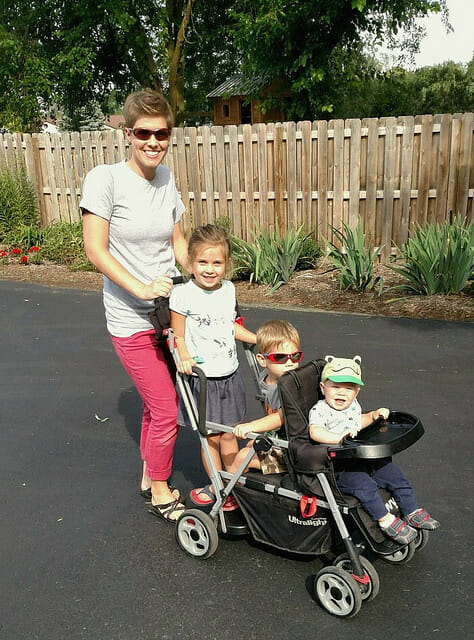 I also hung a cheep over-the-door shoe organizer from two of the back seat headrests (with zip ties). I use this storage for SO MUCH STUFF.
I keep extra mittens and hats in there for the kids, various sizes of bungee cords, sanitizing wipes, first aid supplies, reusable shopping bags, and even a small extension cord since our van has traditional electrical plugs we can use for any number of appliances or gadgets.
I have plenty of empty compartments in the shoe organizer right now, but there are times when it's completely full.
DAILY MAINTENANCE:
As with all areas of organization, GETTING the van organized is one thing… however KEEPING it organized can be the real challenge!
Although we rarely go on long road trips, it's amazing how "trashed" the van can get even with a few shorter trips when everyone has a snack, draws a few pictures, eats a sucker, uses a couple napkins, etc. etc.
We have a pretty good routine right now: When we pull in the garage, Nora unbuckles herself and then unclips Simon from his seat. The two of them dump all their books and coloring things back into the cooler/organizer and toss any trash in the trash bag before they get out the car (they can open the door themselves with the auto door open button).
Meanwhile, I collect any trash in the front of the car or around James' seat and get James out. Then the 3 kids walk into the mudroom while I grab any packages or bags that need to go inside.
In just a minute or two, the van is cleaned up and ready for our next outing — not too bad!
.
I'm positive I will continue to change and tweak our van organization as our storage needs change — however, I'd love to know…
Do you have any fabulous car/van organizing tips or tools?