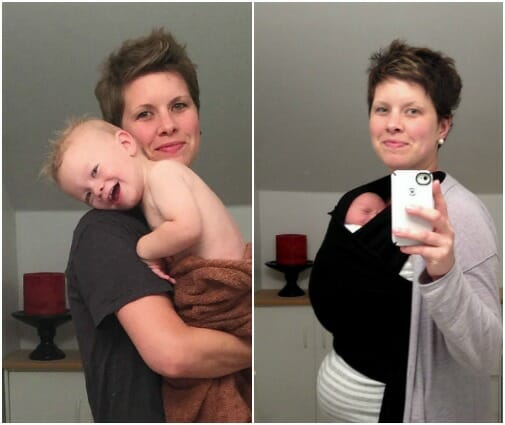 Tomorrow my sweet baby James will be 18 months old!
EIGHTEEN MONTHS!
I realize I'm completely biased, but James was/is one of the sweetest, happiest, smiliest little boys around (certainly the happiest of all my 3 babies).
That said, he is still quite stubborn and strong-willed when he wants to be (let's just pretend all my children get these qualities from Dave!)
For example…
James insists on feeding himself ALL the time.
It doesn't matter what he's eating, he wants to do it himself and has a complete meltdown if I try to feed him even one bite.
Since Nora and Simon are both very self-sufficient eaters, Dave and I simply let James fend for himself while we enjoy eating our moderately hot food.
Yes, this means there is usually a huge mess to clean up after every single meal, but we put a "shirt bib" on him and a tablecloth under his highchair and call it good!
.
Also, this boy is still nursing at night.
I know… it kills me to even type this after the long ordeal I went through with Nora. I said I'd never let myself be tied down by a nursing baby again, but after using (and loving) bottles with Simon, I really felt it was the simplest and easiest for me to nurse James.
And I honestly don't feel tied down.
I know he doesn't need it for the nutrition aspect, I know he eats enough food and drinks enough water during the day, but if he wakes up in the middle of the night, the only way to avoid hours and hours of screaming and crying is to feed him.
As many of you might remember, we actually hired a sleep consultant when James was about 6 months old. It worked marvelously and he now goes to bed so easily, takes fantastic naps, and sleeps significantly better at night. But no matter what we've tried, we cannot get him to sleep all the way through the night. There have been 5 or 6 times in his entire life that he has slept through the night, but he almost always wakes up once, takes 5-7 minutes to eat, and then we both go back to sleep.
Periodically, we try for a week to have Dave go into his room, to let him cry, to give him his water, or to simply lay him back down without feeding him. But every time, it turns into hours of screaming and crying, night after night, and we all get so tired. After 4-5 days of this, I just go back to feeding him in 5-7 minutes while Dave stays sleeping in our bed. We all sleep so much better and life moves on.
Almost no one knows I'm still nursing him (until right now, of course) because I'm truly not worried or anxious about it at all. Yes, I'll be happy when he consistently sleeps through the night, but until then, I'll just keep feeding him.
Nora did not nurse forever and I'm confident James won't either!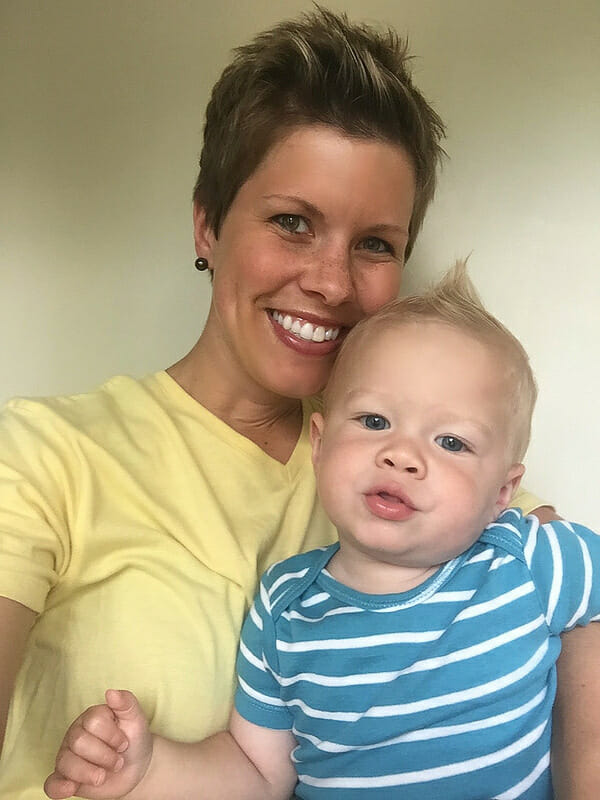 .
And that brings me to the point of this post…
After 5 years of motherhood, I still have so much to learn — but one thing I HAVE learned is that I'm the only one who can let others make me feel bad, stupid, or guilty for my parenting decisions (or any life decisions I make).
Back when Nora was a baby and toddler, it felt like everyone was judging me and my parenting abilities when they told me: "just let her get hungry enough and she'll eat", or "just let her cry long enough and she'll sleep", or "try using _____ bottle", or "have you tried swaddling her?"
I suppose a few people might have been judging… but most of the time, these statements and comments were not judgmental or suggesting I was doing something wrong. Rather, they were ideas from others who were legitimately trying to help.
However, I LET MYSELF FEEL GUILTY — like their comments somehow implied I was a bad mother, even though it was all my own overly-emotional brain!
.
Now, 5 years later, Nora eats a huge variety of foods, she goes to bed without any issues, sleeps 12 hours straight at night, and is extremely chatty and welcoming when new people are around.
Apparently I didn't totally screw up, and even though almost no one's suggestions worked to get her to eat or sleep, we eventually made it through to the other side!
.
Simon was a very easy-going baby, but we are currently in the thick of potty training this boy who absolutely REFUSES to wear underwear or Pull Ups (that darn stubbornness from Dave again!)
He goes #1 and #2 on the toilet consistently, but insists on wearing his diaper all the time. Also, he still LOOOOOOOOVES his pacifier (a.k.a. "blue pipe") and seems to want it more and more lately.
We've had our fair-share of suggestions and sure-fire ways to potty train him or to wean him from his pacifier… but so far, none of them have worked.
Am I worried?
Nope!
Do I feel guilty?
Nope!
I am 100% confident Simon will give up his pacifier and start wearing underwear at some point in the future. But until then, I'll carry an extra "blue pipe" and an extra diaper wherever we go!
.
Although I've always been a confident adult, parenting really threw me a curveball as I didn't quite know how to handle ALLLLLL the advice, suggestions, and comments from everyone — or the fact that apparently everyone has an opinion on everything I do now that I'm a parent!
Thankfully, I'm a lot more confident in my parenting abilities now than I was a few years ago, so I can see these comments and suggestions for what they are — simply comments and suggestions from people who have already walked this path of life, not necessarily judgments or guilt-trips. I can smile and nod, try some suggestions I think might work, and let the other comments roll off my shoulders.
I'm sure you can imagine how freeing this is!
If you're one of those parents still worrying about what everyone else thinks of you or trying to do what everyone else tells you to do, just remember this…
your baby will stop nursing eventually
they will give up their pacifier, blanket, stuffed animal, or favorite teddy bear eventually
they will sleep through the night eventually
they will eat fruits and vegetables eventually
they will stop wearing diapers eventually
they will go to daycare or preschool without crying eventually
Until then, do whatever you need to do to get through the days and nights.
If that means nursing them much longer than you anticipated, then do it.
If that means letting them take a pacifier or blanket with them everywhere they go, big deal.
If that means giving your 10 month old a queen-size mattress on the floor so you can sleep with her, who cares.
If that means feeding them mac and cheese and goldfish crackers with one grape and one miniscule chunk of broccoli, then that's what you do.
If that means bribing them with an insane amount of candy and treats so they finally agree to wear underwear, more power to you.
Of course, if you are legitimately concerned about your child's development, you should consult your doctor or another trained professional — but if you're just worried about what your friend, neighbor, coworker, or parents might think of you, don't bother!
YOU are the only one who can let others make you feel bad, stupid, or guilty for your decisions… so just don't let them!
**And this goes for more than just parenting decisions! Many of the times I feel guilty, I've noticed it's self-inflicted based on what I perceive others MIGHT think about me, my actions, my situation, etc.
So, the next time you think someone is judging you for a decision you made, stop and consider if you are simply letting yourself feel guilty. I realize this is not always the case, but in my own personal experience, it happens more often than I realized!