How We Use Vertical Space to Maximize Storage
posted by Andrea | 02/2/2016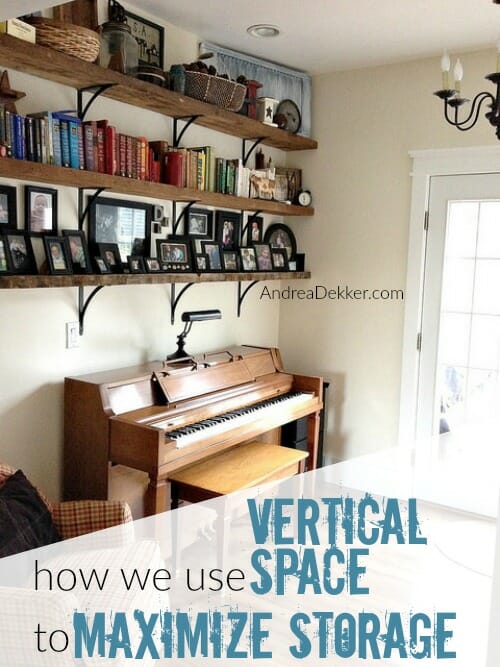 It probably goes without saying that purging is the BEST way to make more space… and it's always the first thing I recommend when you're trying to better organize and simplify your spaces.
However, since I know many of you live in very small spaces or share space with lots of other people, I figured it might be fun to share how we maximize our space (and in a sense, make more space) by utilizing as much vertical space as we can!
In Our Mudroom:
Not only did we maximize the space in our mudroom closet to store things from the floor all the way up to the ceiling; we also hung over-the-door shoe organizers on the inside of each door for hats, scarves, gloves, sunscreen, hand sanitizer, bug spray, sunglasses, and various other items we frequently need when we're heading outside.
Click here for more pictures of our mudroom.
In Our Living Room:
We found that black bookcase for free on the side of the road right after we got married. I painted it — and we've been using it in for storage in various places around our house ever since.
We've currently been using it in the living room to store toys and books on the bottom, and then for decorative items on top. We also hung our TV on the wall and had my uncle build us that TV cabinet to decoratively store blankets, DVD's, VHS tapes, etc.
Click here for more photos of how we store our toys in our Living Room.
In Our Office:
We installed shelves made from old barn beams in our office — and use them for decorative items, books, and my collection of black picture frames. We also utilize all the little nooks and crannies of the cabinet above our computer desk for office supplies and other decorative items.
Click here for more pictures of our offices area.
In Our Pantry:
We ordered a couple extra shelves for our pantry cabinet so we could place the shelves very close together — and thus, maximize the amount of things we were able to comfortably store inside.
I realize it's not magazine-worthy — but it is practical and efficient!
Click here to see more pictures of our pantry.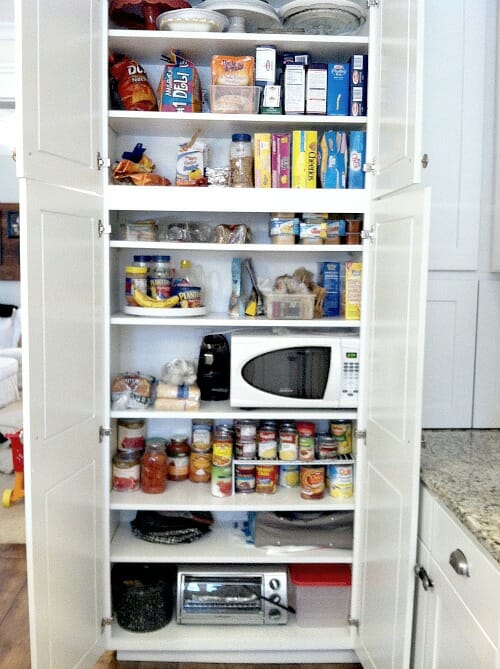 In Our Kitchen:
In the rest of our kitchen, we ordered our cabinets so they went all the way up to the ceiling in an effort to minimize wasted space. Yes, I need a stepstool to access the top shelf, but it's a great place to keep things we only use a few times a year!
Click here to see more pictures of our kitchen.
In Our Bathroom:
Our bathroom is actually quite small — but even still, we have really made use out of the vertical space by installing built-in open shelving, which we use to store extra towels, paper products, and toiletries.
We also put hooks on the wall to hang towels (we don't have any walls that are big enough for a towel bar and our door is a pocket sliding door) and we use the area over the toilet for decorative items.
my collection of black picture frames
In Our Hallway:
When we were renovating our main floor, we took the opportunity to make a very large built-in cabinet in our hallway. It's right off the bathroom and is a very convenient place for us to store medicines and other First Aid supplies that we don't want our kids getting into!
I realize not everyone could just knock a hole in their wall — but this is honestly one of my favorite storage spaces.
Click here to see more pictures of our hallway.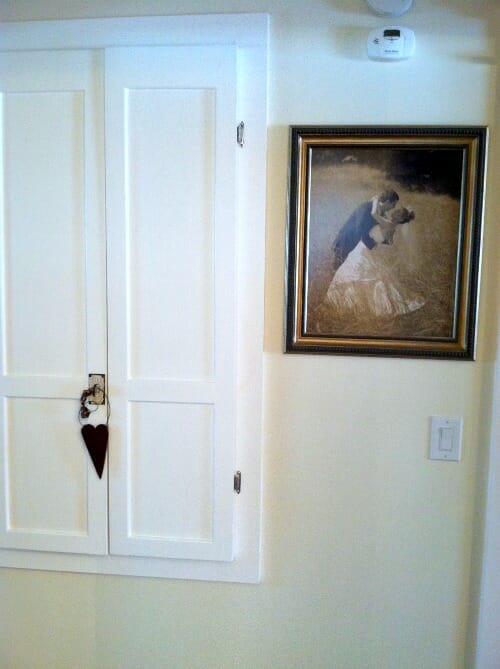 In Our Closet:
We have a very normal size reach-in closet — not a lot of extra space. However, Dave and I both easily fit all our clothing into this one closet (and even have a couple empty shelves to spare!
The main reason we're able to fit so much into our closet is because we used every bit of vertical space — including adjustable shelves, various bar heights and extra shelves tucked in on top of each bar.
We also use over-the-door shoe organizers on the insides of our closet door to store scarves, belts, and other accessories.
Click here to see more pictures of our master closet.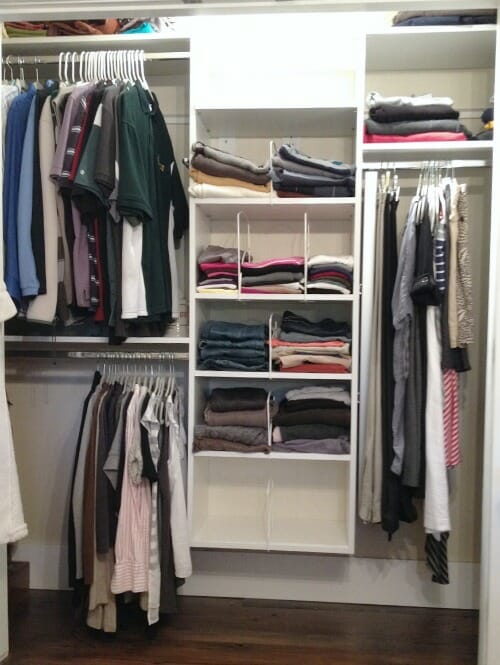 In Our Bedroom:
We have a ladder in the corner of our bedroom that I use to store all my necklaces and bracelets. I also use it as a drying rack for any small items I don't want to put in the dryer.
Click here to see more pictures of our bedroom.
In Our Kid's Closets:
All of the closets in our kid's' bedrooms are funny shapes and sizes, so we had to get creative to maximize the storage space. We did so by installing hooks at lower levels, using baskets and bins for outgrown clothing, and hanging shoe organizers from the bar to store smaller items.
I've also added shelves or used smaller organizing items inside of armoires to provide more storage in their bedrooms.
Click here for more pictures of Nora's bedroom closet.
In Our Basement:
Although we have tons of empty space in our basement, we use a couple heavy-duty metal storage shelves to hold the items we store in the basement. We were able to configure these shelves in such a way that our organizing bins fit perfectly in between shelves, and that the shelving unit fit perfectly under the heat ducts in the corner of our basement.
Click here to see more pictures of our basement.
In Our Garage:
Although our garage is mostly empty to make room for our cars, we have really maximized the storage space we do have by hanging tons of things on the walls. We used Monkey Bars storage to hang very tall cabinets and a couple organizing units on the wall. This gives us plenty of storage space and leaves the garage floors clutter-free.
Click here to see more pictures of our garage.
.
In general, I don't feel you need to be super organized or overly creative to come up with these space-saving ways to utilize your vertical storage. You also don't need a big budget! However, you DO have to be willing to try a few times before you settle on the best way for you.
For example, after we renovated our kitchen, it took me a couple of months of moving things around before I decided on the "best" way to store items in our cabinets, in our pantry, and in our refrigerator. This doesn't necessarily mean that my previous storage ways were "wrong" or "bad", I could just tell that they weren't as efficient as they could be.
Similarly, any time I rearrange the kids' bedrooms, move someone to a new bedroom, bring out a new season of clothing, get rid of too small clothing, or get a new piece of furniture for their rooms, I take a few minutes (literally just minutes) to evaluate if there are any other, potentially better, ways of storing and organizing their things.
It's also worth noting that there is NOT "one right way" for anyone to store anything — so please don't feel like you should take all my ideas and try to implement them into your own home.
Do you have bare walls in your home that could use a few shelves or a bookcase to create extra storage?

Could you add an armoire or other tall cabinet to store items that otherwise don't have a home?

Do you have room in your closet to add a few extra shelves or a hanging shoe organizer?

Can you install hooks or an over-the-door shoe organizer on the back of your doors?

Can you add another shelf in between the current shelves in your kitchen cabinets, your pantry, your closet, or anywhere else?
There are SO many ways you can use vertical space to maximize your storage…
What other ideas do you have?