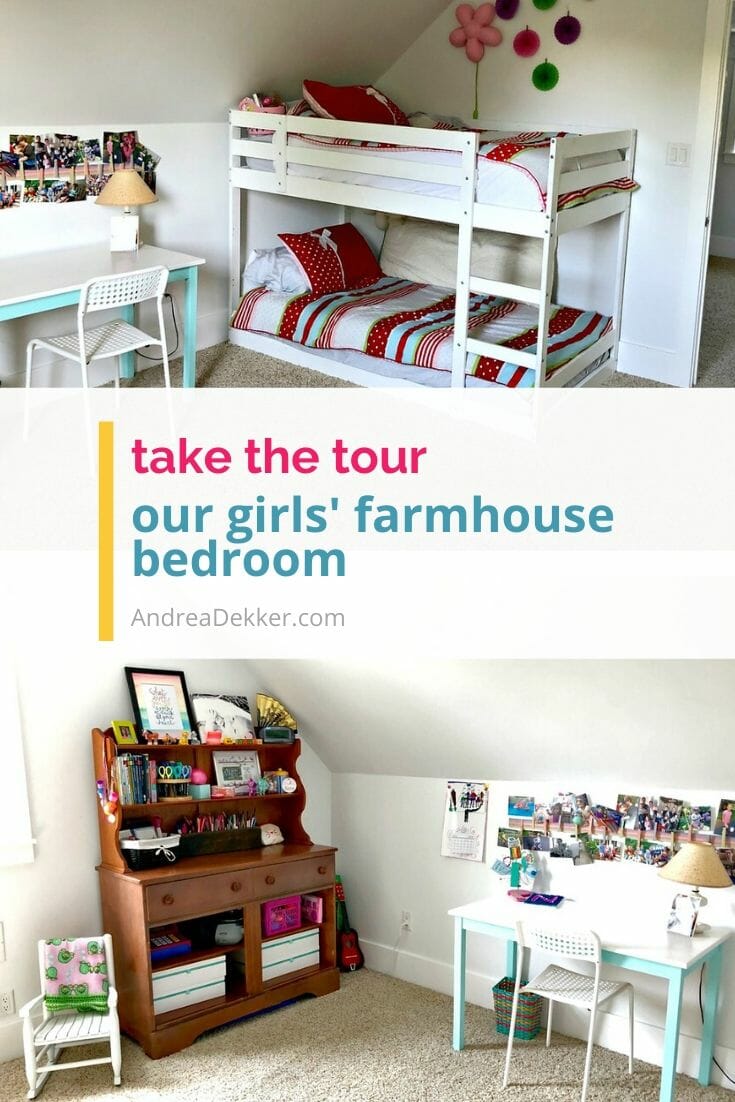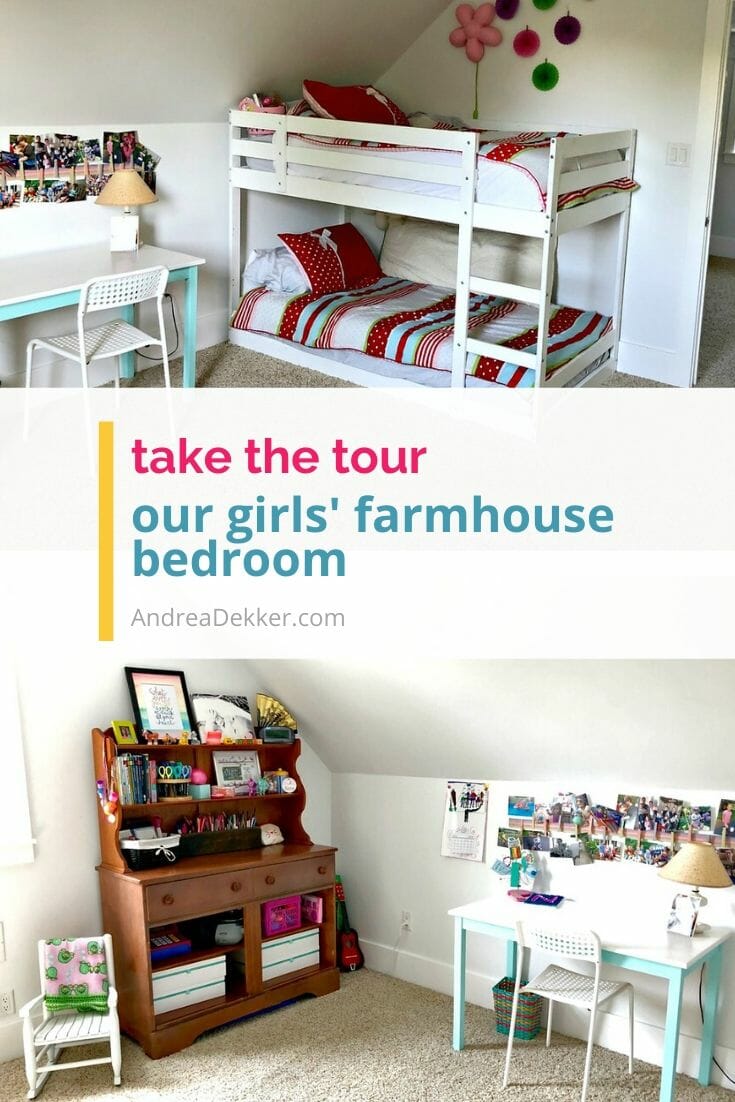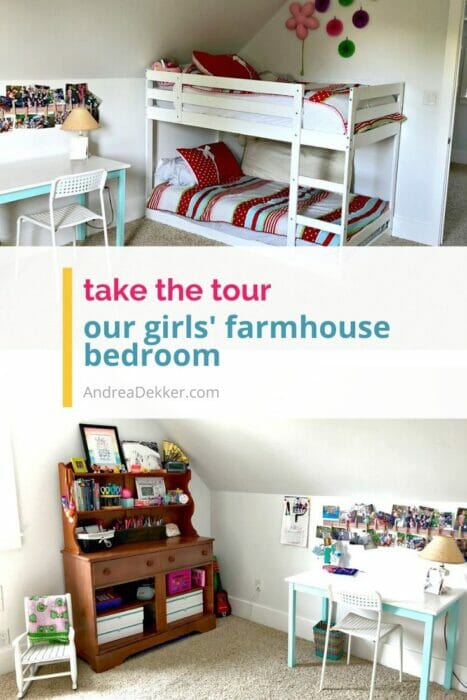 Are you a sucker for a fun girls' bedroom makeover? Me too — especially when they only cost $40!
At the beginning of the summer, the older 3 kids mentioned MAYBE switching their bedrooms around (again)!
Dave and I said we could probably make that happen, but we wanted to be SURE they wanted a switch before we moved everything around.
Well, by the time mid-July rolled around, they were still pretty excited about switching bedrooms, so we searched around for a few furniture pieces on Craigslist and Amazon, and finally made the switch at the end of July.
Dave helped me move all the furniture around before he left for a weekend trip with the older 3 kids, and I stayed home with Clara and put ALL the fun finishing touches on their rooms.
It was so fun to surprise them with their bedroom makeovers when they got home!
I'm thrilled with how well the rooms turned out (and how little money we spent to make the transformations). Of course, the kids are quite excited about their new spaces as well — especially since I added a few "bigger kid" items like desks and tables in their rooms!
I'm planning to share the boys' bedroom reveal next week, but today it's the girls' bedroom makeover!
And I say "GIRLS'" (plural) because Clara will eventually be up in this bedroom as well. However, for now, it's Nora's room all to herself (yeah, she's pretty excited!)
Watch the Video Tour!
If you're reading via email, you may need to click through to the post to watch the video.
I've included several more photos of this room below — hopefully you can get a feel for how it's all laid out!
Looking into the room from the landing area — closets are on the left wall.
Here's another look at the closets — her clothes are in the left closet, the dress up stuff is in the right closet.
And the fun collage wall we put together!
Another shot from the doorway, looking more to the right side of the room.
The hutch holds lots of craft and school items.
The desk was one thing she really wanted in her "new" room. We got a little tin of teal paint and painted the desk, a shelf, and a few other accessories.
And the bunk beds… these are the same beds we've used for several years already.
They are the MYDAL beds from IKEA but we purchased them on Craigslist, painted them white, and cut off the legs so they would fit with our sloped ceilings. We are VERY happy with these beds.
This picture is taken from the brown hutch area looking back towards the door to the landing area.
Not bad… especially considering we spent less than $40 on the whole room ($20 for the desk + chair, $12 for the teal paint, and a few bucks for accessories at the thrift store).
.
3 Super Quick Before/After Photos of our Girls' Bedroom Makeover:
This room was SO "blue" when we bought the house, I still can't believe how much we have transformed this space!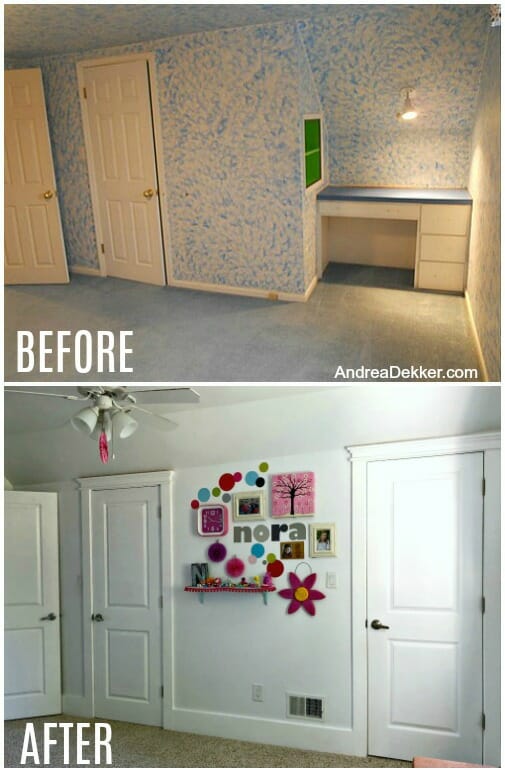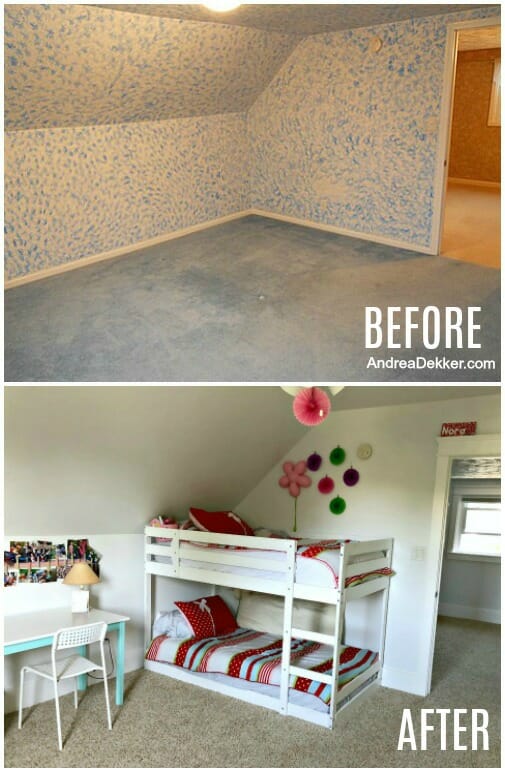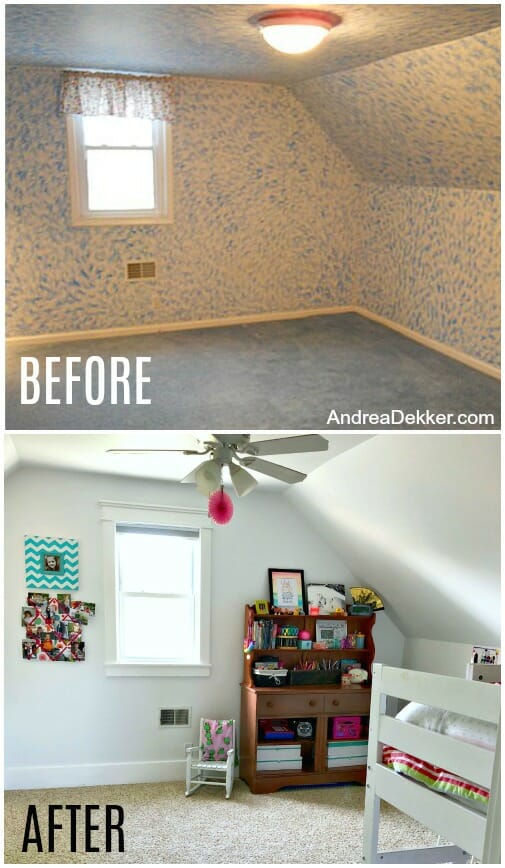 .
As you can hopefully see from the before/after pictures above, this bedroom was a massive project — probably our biggest bedroom renovation to date.
There was absolutely ZERO insulation in any of the walls. We raised the ceiling, rewired the whole room, added tons of insulation, added a 2nd heat duct, and then completely overhauled the paint, carpet, lighting, trim, and even added a second closet.
We are all SO happy with the results of our renovation, and I'm thrilled with how well this room has functioned for all 3 of our older children over the past 3 years!
.
More Posts & Pictures Of This Room!
We've used this bedroom in SO many different ways over the last several years… here are a few of the different ways I've documented on the blog!
1. When we first moved in, we actually slept in this room while we renovated our current "master bedroom".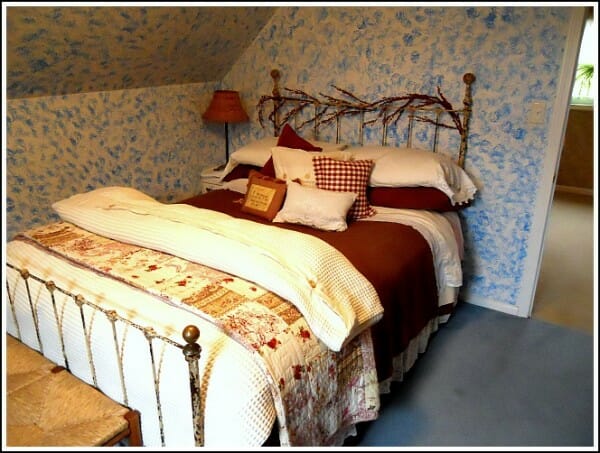 2. Then it became a bedroom for one of our international students.
3. After that, it turned into a guest bedroom and / or storage for a few years.
4. We moved Simon up here right before James was born.
5. It turned into a play room for a while when Nora and Simon shared the other upstairs bedroom.
6. Then Nora took over after we totally gutted it and renovated it right before Clara was born.
7. Eventually, both boys moved back into this room and all 3 older kids slept together (per their own request).
8. Now we're back to just Nora — with Clara moving in sometime in the next year!
Sigh… I'm tired just thinking about it all!
There you have it — a video and photo "tour" of the last 8+ years in this bedroom.
We've come a LONG way from blue sponge paint and no insulation… in fact, it's now one of my favorite rooms in the house!