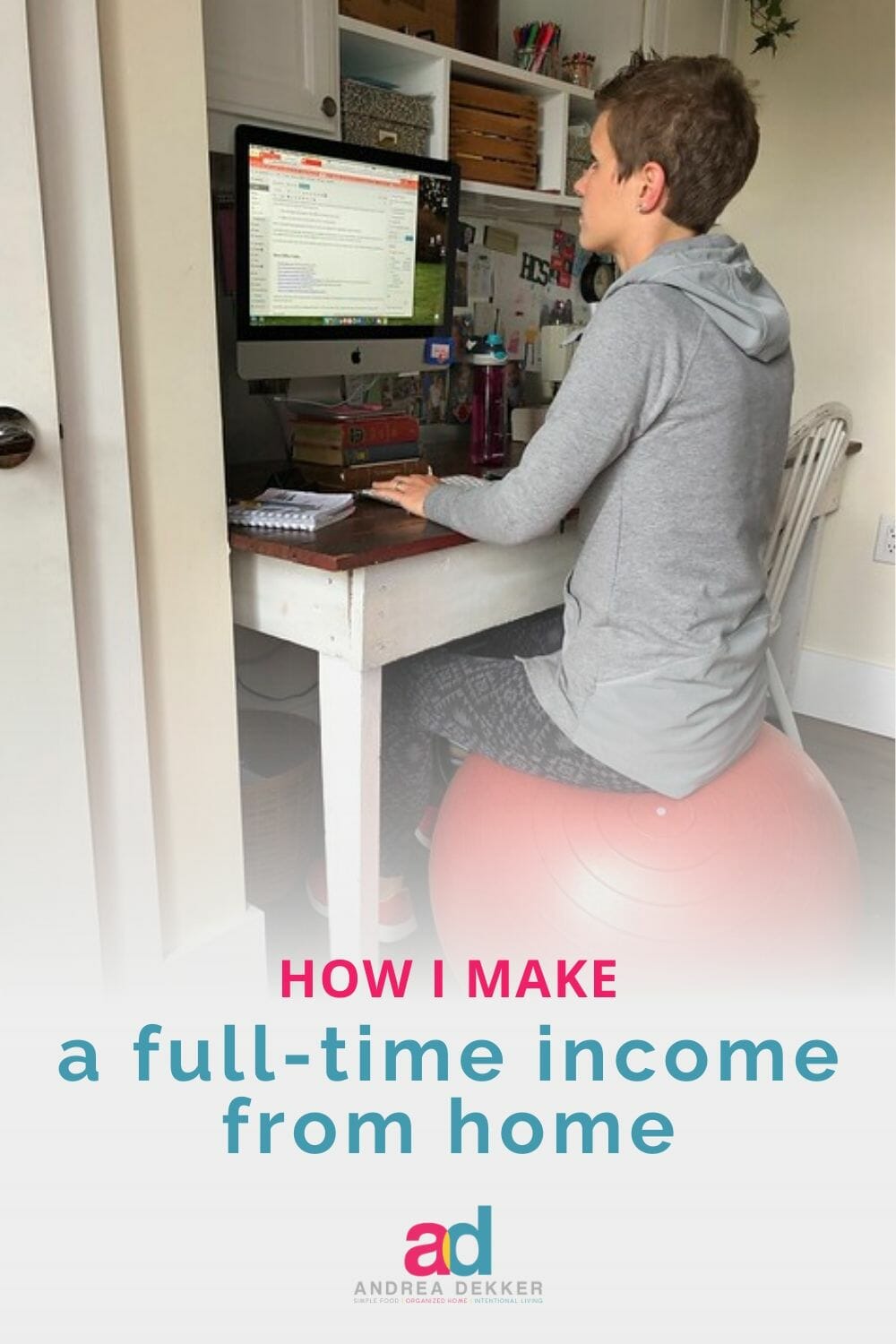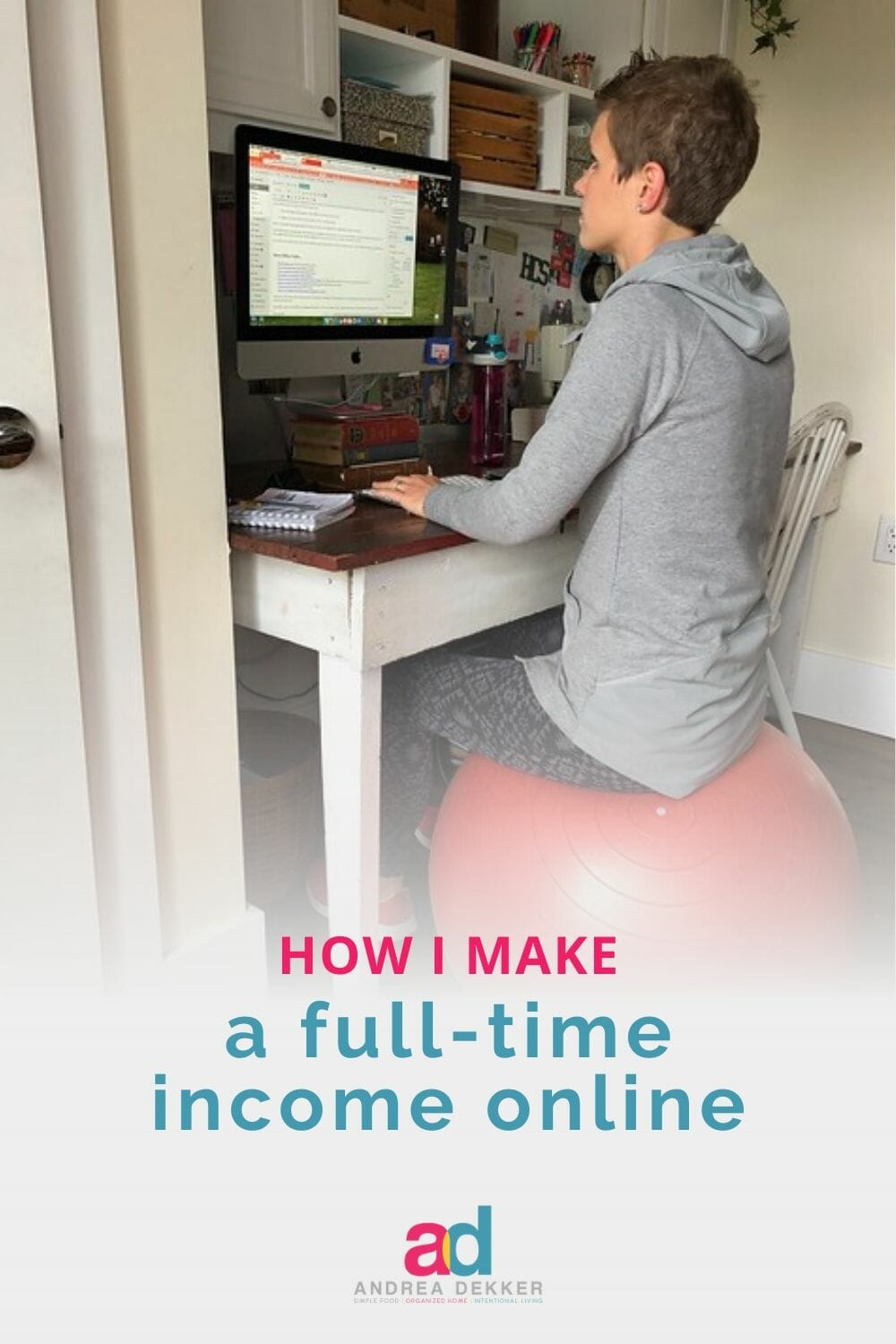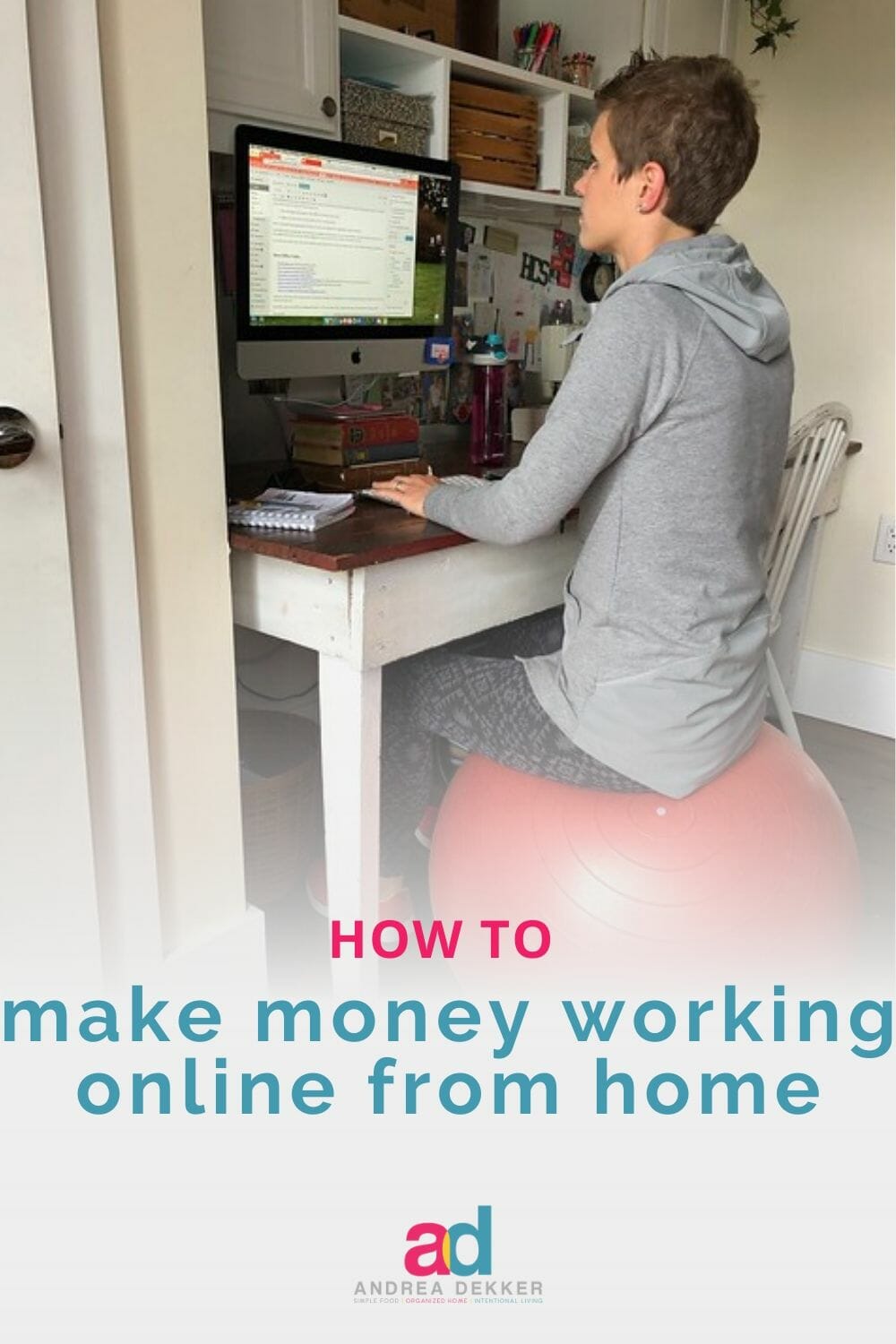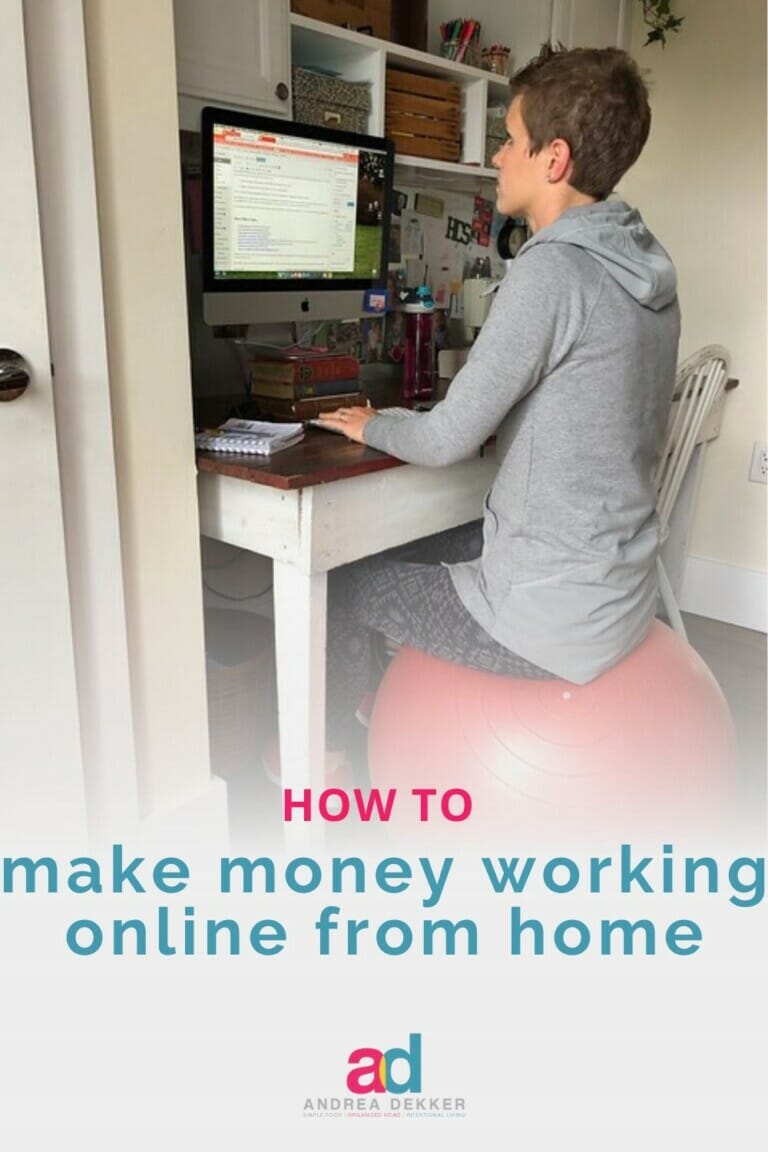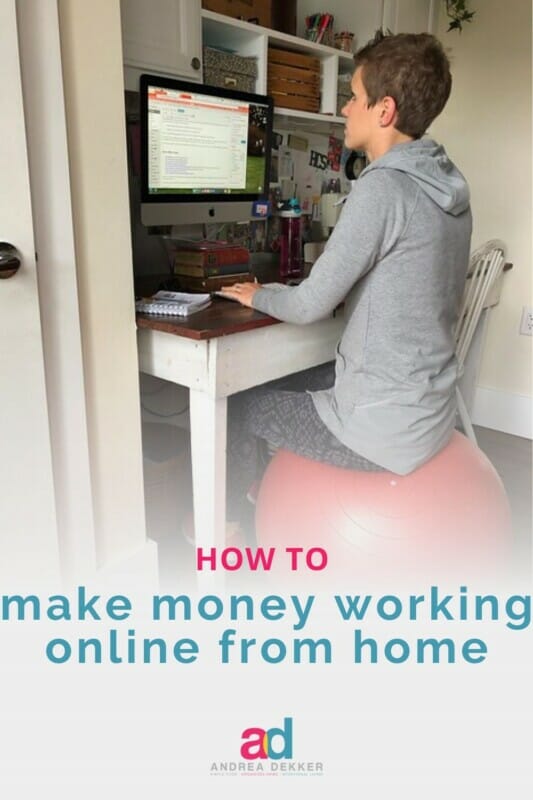 The question of "how to make money working online from home" is one I get regularly. Even though I rarely talk about the business side of blogging anymore, this question continues to pop up in my inbox and social media DMs.
Since we're all stuck at home right now, looking for tips and ideas to make money working from home, I figured it was a good time to share a bit more about HOW I started making money from home… and what the last 13 years of working from home have looked like for me.
I also share a few tips and (FREE) resources to help you start an income-earning at-home gig (if that's something you're interested in!)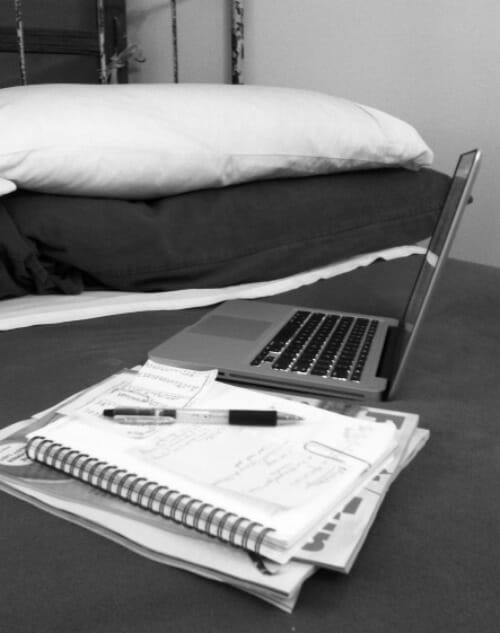 The Beginning of my Work-At-Home Career:
When I started my in-home organizing business back in 2007, my dream was to support our family WITHOUT working a traditional 9-5 job or having a traditional "boss".
I literally went into people's homes and organized their things — it was awesome!
I also taught organizing and time-management workshops and spoke for various local events and seminars.
From 2007 through 2010, my work-from-home business goals were:
build a healthy pool of in-home organizing clients
expand my workshop offerings
add more speaking engagements to my calendar
However, by 2009, I was getting daily requests to start some type of website where clients could go for more information.
At the time, Dave and I didn't even have the internet at home (I know — crazy!) so the idea of running a website from home was pretty much impossible. Also, I don't think I even knew what a "blog" was.
We eventually decided to "splurge" on home internet, and I started a free Weebly website.
About a year later, I paid Dave's cousin's company (Agathon Group — they are amazing) to design my very first website and blog in June of 2010.
My First Experience Working Online From Home:
In the beginning, my goal for being online was simply to offer resources for my own organizing clients… and to hopefully acquire a few new clients too.
The idea of actually making money online wasn't even on my radar. I'm not even sure I realized it was possible!
I NEVER could have imagined that in just a few years, my business model would flip upside down… but that's what happened!
By the end of 2012 (Nora was 1 year old), I was making a good full-time income working online from home — both via my own blog and as a virtual assistant.
Due to the fact that my in-home organizing business was becoming increasingly difficult to manage with a fussy 1-year-old, I decided to completely "walk away" from that income stream and focus all my time and effort into working online from home!
So HOW Do I Make a Full-Time Income Working Online From Home?
I don't have a nice-neat answer as it has morphed so much over the years. However, in true Andrea Dekker fashion, I made a list! 🙂
Also, I want to clarify that this is what works for ME — there are a bazillion other ways to earn a living from home that don't involve running a blog or even working online.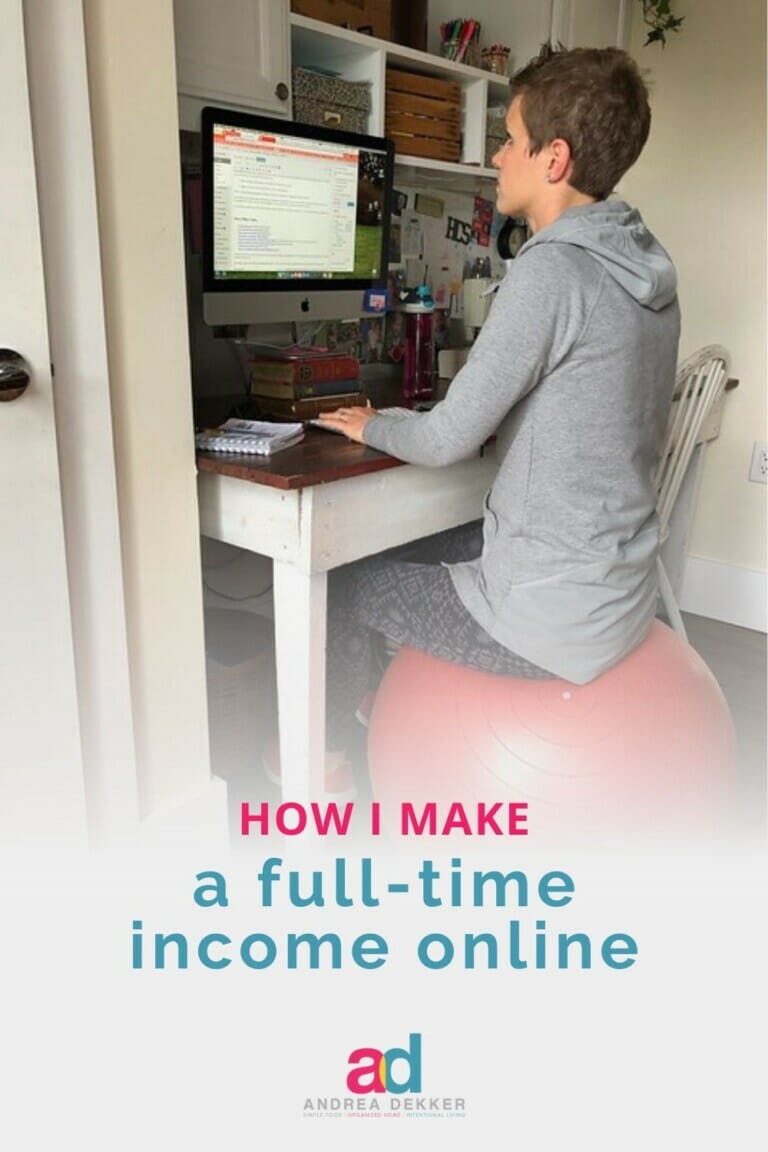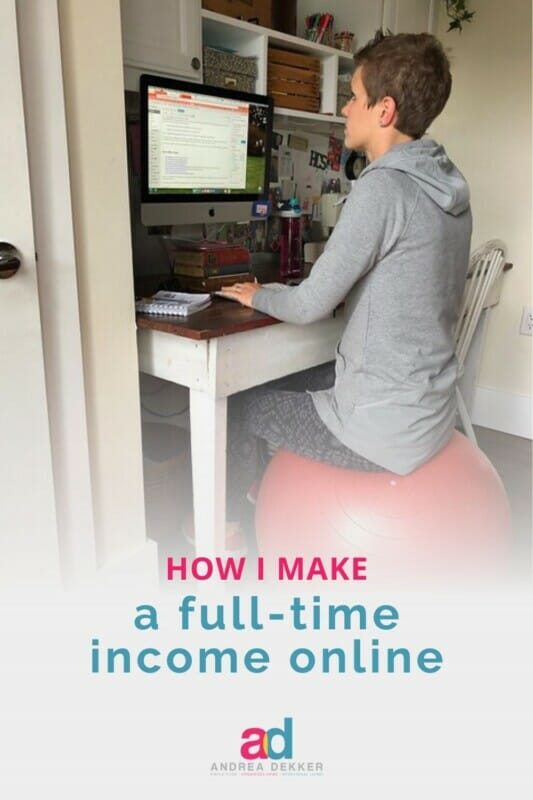 Affiliate Sales:
Almost immediately after starting my blog, I realized I could make a small amount of money each month by signing up for various affiliate programs and promoting products and services I used on a daily basis.
I joined the Amazon Affiliate program and a few other affiliate programs and made a few bucks a month.
Eventually, as I learned about more and more affiliate programs, I've grown my affiliate revenue to hundreds, and even thousands of dollars each month. All just by sharing the things I buy and use in my own life!
NOTE: You can still sign up for affiliate programs and promote them on social media, even if you don't have a blog or website.
Google Ads:
About 6 months into my blogging career, I created a Google Adsense account. This allowed me to display a handful of advertisements in the sidebar, header, and footer of my blog.
In the beginning, I only made about $10-$20 per month, but after a couple of years, I was making thousands of dollars per month just from Google Ads.
NOTE: I no longer use Google Ads as I work with a different ad network (see below). HOWEVER, even if your blog or website is SUPER small, you can still use Google Ads to monetize. There are no pageview requirements, so it's a great starting point to help you make money from home.
Virtual Assistant Work:
Working as a Virtual Assistant (VA) starting in 2011, I finally saw the possibility of supporting our family via my online work.
It was my first realization of just how much money I could make working online from home. In fact, I made over 50% of my online income from VA work in the first few years.
Meanwhile, I kept writing on my own blog every day and growing my readership, allowing me to make a little extra income from selling ad space on my blog (I literally sold it to people — this was before ad networks), doing a few sponsored posts, promoting affiliate sales.
NOTE: I no longer offer Virtual Assistant services as I'm primarily focused on my own website now.
Sponsored Posts:
As my readership and influence grew, I got more opportunities to write sponsored posts for other brands and companies (many of these are also accompanied by a giveaway).
Sponsored posts are A LOT of work, and while they do pay well, I personally won't share something unless it's a product I actually use regularly in my own life.
So while I have shared several sponsored posts and giveaways over the years, I've turned down 20 times the number of sponsored posts I've shared — simply because they aren't products or services I feel comfortable promoting.
NOTE: I write very few sponsored posts now. This isn't a large source of my income anymore.
Ad Networks:
A few years ago, Google ads weren't doing nearly as well for me anymore, so I joined the MediaVine ad network to more-easily monetize my blog traffic.
I know advertisements are not ideal (seriously, I hate them too), but they are by far the easiest way to make money online from home IF you have enough traffic to your online space.
I could write sponsored posts or sell products or promote other people's products (all of which I do in MODERATION) but the fact of the matter is, MY preference is just to share helpful tips, simple recipes, organizing ideas, and simple-living inspiration on my blog.
I prefer to give my content away for FREE, and the only way to do that is to display ads on my blog.
NOTE: I share LOTS more about my decision to use advertisements in this post.
Product Sales:
Despite the fact that every other blogger in the history of the universe sells products and courses and masterminds and eBooks and workshops and "swag", I haven't gotten to this point in my business yet!
It's not that I think selling digital or physical products is bad (it's an excellent monetization plan, that's for sure). I've just never been willing to invest the time to create a premium product I feel confident selling at a premium price.
Now that our children are getting older (and will hopefully go back to school eventually) I plan to devote more time and energy to this type of "premium" content and extra opportunities for readers who want and need MORE than what I currently share on my blog.
I've always loved the idea of hosting online workshops — similar to when I taught weekly workshops within my community (2007 – 2009). It's a much different dynamic than sharing something for a mass audience online. Plus, the rate of retention is SO much higher when you invest time and money into something versus just glazing over a run-of-the-mill freebie.
There are 3 or 4 really fun ideas I've been mulling around for a while now (one involves hosting a full-day workshop at our house this summer!), but so far I haven't implemented any of them.
Let me get my kids back in school, and I'll get back to you on this!
NOTE: If there's an opportunity, a product, or a topic you would LOVE to see me share more in-depth on (for an additional fee), please share it with me!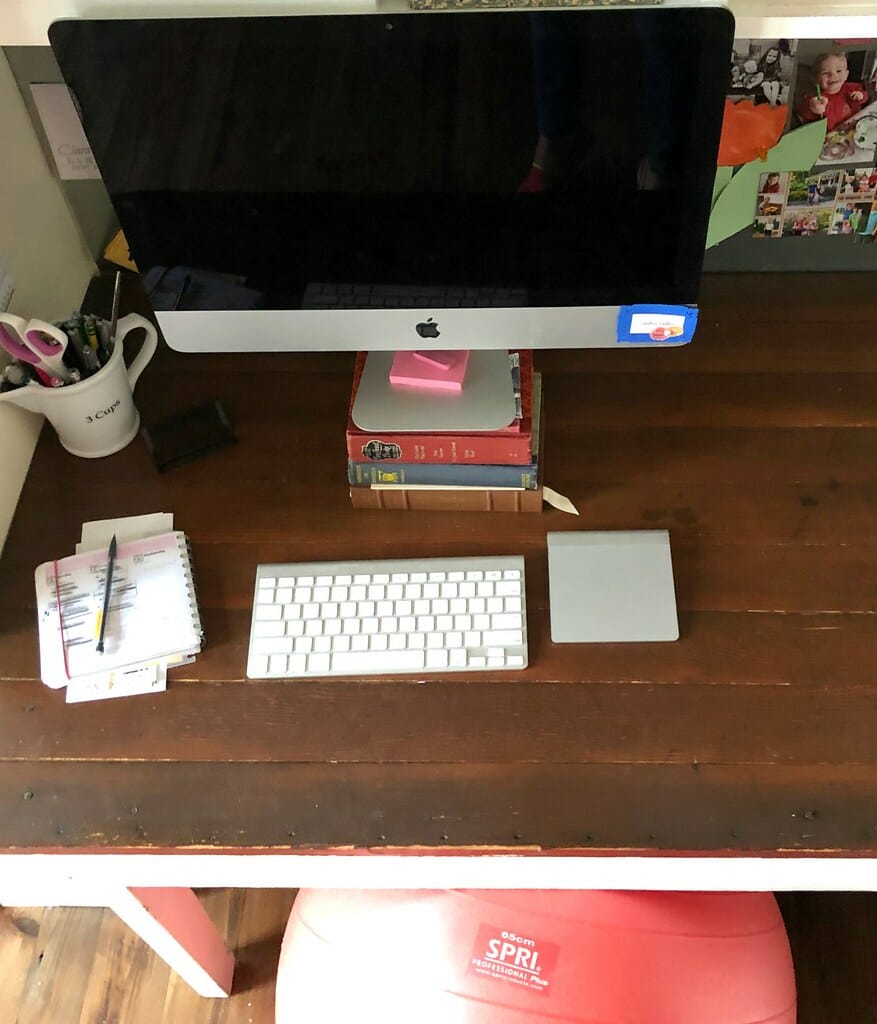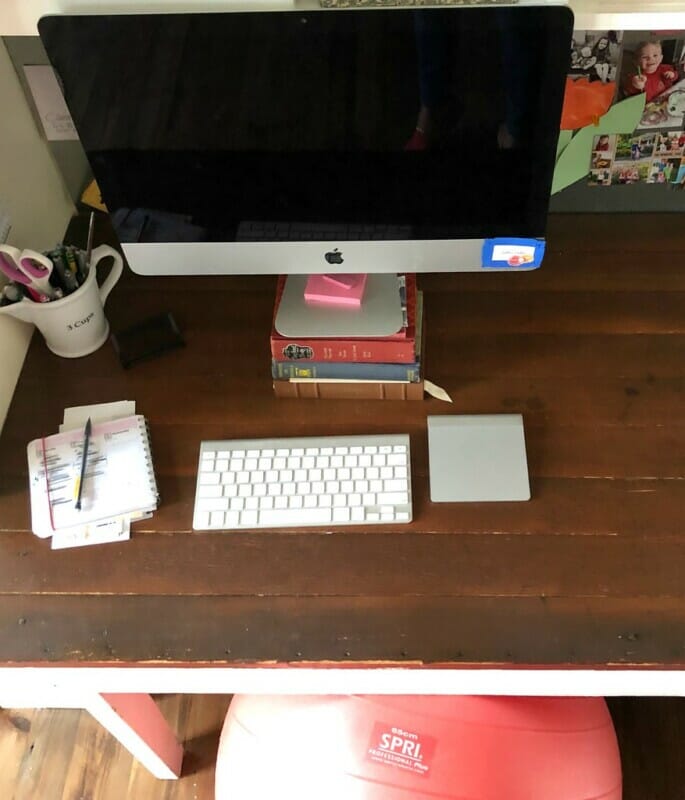 How I Get Paid:
Due to all the different affiliate programs I participate in, there are months when I get 20-30 payments and other months when I only get 4 or 5 payments.
The payments are almost always directly deposited into my business bank account or my PayPal account. Some deposits might only be $2.57. Others are significantly more (thank goodness!)
Often the payments are 45 to 90 days out — the money I make today doesn't actually show up in my account for 2 to 3 months.
My income can (and does) vary widely each month.
Do you need a blog to make money online?
The short answer is "no".
Of course, a blog is a great place to draw in readers. However, nowadays, you can set up an email subscription and link it to an Instagram, YouTube, or podcast channel and become an "Influencer" that companies will pay (really well!) to promote their brands and products.
Personally, I enjoy writing, so a blog format makes the most sense for me. If you prefer social media, videos, or audio, there is a huge market for it all!
My Favorite FREE Resources to Help You Get Started Working Online From Home:
The internet is saturated with high-priced resources that promise to teach you exactly "how to make money working online from home". I've taken several of the courses and read many of the workbooks — mostly out of sheer curiosity!
At this point, I wouldn't "strongly recommend" any of them (especially not for the price).
However, if you're interested in how to make money working online from home, I have 3 really fantastic, totally FREE resources for you!
They are all resources I've personally used in my own online business and have found HUGE value in.
1. Amy Lynn Andrews (formerly "Blogging With Amy")
Amy shares my business mentality EXACTLY — she's all about "minimalist business" and keeping things really simple and streamlined. She's not into high-priced courses, hiring a huge staff, or lots of bells and whistles.
She KNOWS HER STUFF!
If you are interested in starting and monetizing a blog in 2020, you need Amy! Her website will walk you through EVERY step of the process… FOR FREE!
I have learned a ton from her over the years and continue to enjoy her weekly emails packed full of helpful tips and information.
Crystal is another blogger who I totally relate with and admire. I've actually worked with Crystal for 8 years now, and she truly is as kind and generous as she comes across online.
She is also an amazing business woman who TOTALLY knows her stuff when it comes to starting, running, and monetizing an online business.
She is currently offering her "3 Steps to Start a Blog" course completely free!
She also has many other courses on branding, growing your email lists, Facebook Live strategies, and more — all for very reasonable prices!
3. YouTube:
Seriously, if you want to learn how to make money working online from home, you will find more information than you can even fathom by doing a quick YouTube search.
And everything on YouTube is FREE!
While you're there, head on over to my newbie YouTube channel and subscribe! 🙂
My Top 3 Tips to Make Money Working Online from Home:
I am far from an expert in monetizing the online world — but I've been around long enough to know a few things!
Before I wrap up this monstrous post, I want to share my personal top 3 tips for building an online business you're proud of — one that serves as a helpful resource for your readers, and (most importantly) one you can earn a living from!
TIP 1. Find your own voice.
Don't try to write or talk or cook or decorate like your favorite blogger.
Just do your own thing and do it with passion. Eventually, people with the same passion will find you, and you'll build your own community of people who are all interested in the same thing.
This is SO much easier and more enjoyable than trying to act a certain way online just because you think that's what people want.
Find your own voice and be yourself!
TIP 2. Act with integrity.
Making a quick buck is never as important is your integrity. Never!
Your audience WILL eventually see your true colors — and if your main goal is money, your audience will eventually find the information they want elsewhere.
TIP 3. Be consistent.
This single tip has been the MOST beneficial for me over the years.
For almost 10 years I shared a blog post at 6:01 every weekday morning… and my readers KNEW they could count on new content from me each morning.
Only recently did I switch to 2 or 3 posts per week — but my email still goes out daily just after 6 am.
No matter what type of online business you create, no matter what platform or medium you choose, BE CONSISTENT so your audience knows what to expect from you.
The online world definitely is not for everyone. It's also NOT the easiest or fastest way to make a living. However, it can be very rewarding and very lucrative if you're willing to put in the time and effort.
If you're interested in making money working online from home, I hope some of the ideas and resources in this post are helpful for you.
Feel free to leave any questions in the comment section — I'll do my best to answer them and link you up with helpful resources 🙂