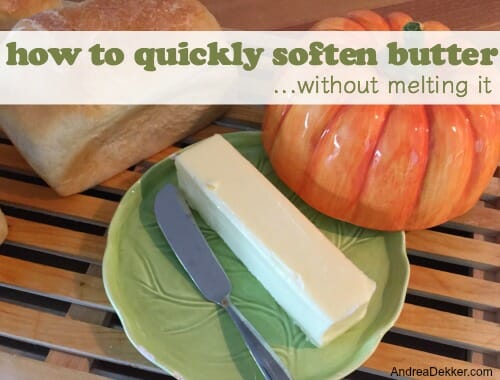 During the cooler fall and winter months, we eat a lot of soups, stews, and casseroles… and one of my favorite (super simple) go-to side dishes is homemade bread and butter.
NOTE: Here is my "cheater" recipe for semi-homemade bread, and here's a fun way to make your own butter.
My kids LOOOOOOVE fresh bread and butter… and Dave and I do too!
However, there is nothing worse than slicing into a still-warm-from-the-oven loaf of bread, only to realize you don't have any soft butter.
Maybe you forgot to pull it out of your refrigerator or freezer, or maybe your house is cooler this time of year so the butter never gets soft enough for warm fresh bread.
I've had this problem MANY times — and up until a few months ago, it always ended in one of two ways:
1. Trying to put tiny slivers of stone cold butter all over my piece of bread
2. Microwaving the butter for "just a few seconds" and then "just a few more seconds" — resulting in liquid butter
Obviously, neither of these options are ideal for bread OR for all your favorite baking recipes that call for "softened but not melted butter".
Thankfully, a gracious reader shared today's tip with me a few months ago — and the Dekkers have enjoyed perfectly softened butter ever since!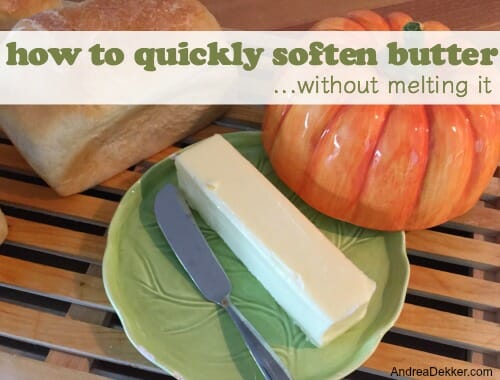 How to Quickly Soften Butter (without melting it)
INGREDIENTS:
1 stick of butter
tall glass of water
DIRECTIONS:
put the glass of water in the microwave for about 3 minutes, or until the water is boiling (or fill glass with boiling water)
pour out the water and place the warm glass over the stick of butter (keep the butter in the wrapper)
remove the glass after approximately 5 minutes and unwrap your perfectly softened butter
It might sound crazy — but it works every time for me! I've tried it with different brands of butter, salted and unsalted, long sticks of butter and short sticks. It always works.
This is probably not enough heat to soften your FROZEN butter, but as long as your butter isn't coming straight from the freezer, this method should work for you.
No more clumpy butter on your bread and no more liquid butter ruining your favorite cookie recipes ever again!
Oh, and since I know someone will ask, the cute pumpkin-shaped butter dish was a gift many years ago. The brand is Otagiri (made in Japan) and they make all sorts of fun butter dishes. I did a quick search last week and found this exact butter dish on eBay (search Otagiri Pumpkin Butter Dish if you're interested).
It holds 2 full sticks of butter and is one of the few fall decorative items I use each year. The kids think it's so cool, and I have to admit, it IS pretty fun! I'm always sad to pack it away when I get out the Christmas decorations after Thanksgiving — but I don't think it would be nearly as fun if I left it out year round!
Have you ever tried this tip to soften butter?