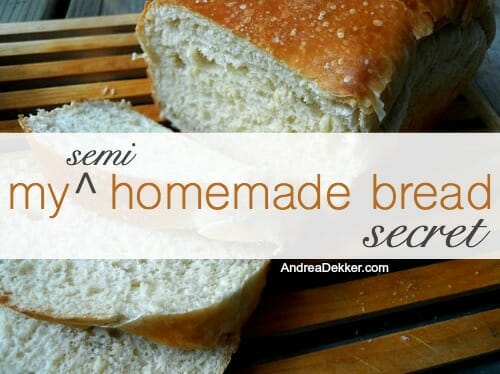 I've always LOVED making my own bread… I love the feel of the dough between my fingers, I love the smell wafting from the oven, and of course, I love the taste of it.
A few years ago, I really got into making homemade bread from scratch using the book Artisan Bread in 5 Minutes a Day. The main concept behind this book is making delicious, homemade artisan bread in your own kitchen with only a few minutes of "hands-on" work every day — because you make a big batch of "starter dough" ahead of time, then just rip off a chunk of it, let it rise, and bake. I talk more about the process in this post if you're interested.
I loved making this bread, and would often bake a couple loaves a week as we needed it. I also made it into rolls, pizza crust, and even cinnamon rolls at one point. It was DELICIOUS and much easier than any other type of bread I had made before — especially for someone who was already home most of the day anyway (to let the bread rise, bake, etc.)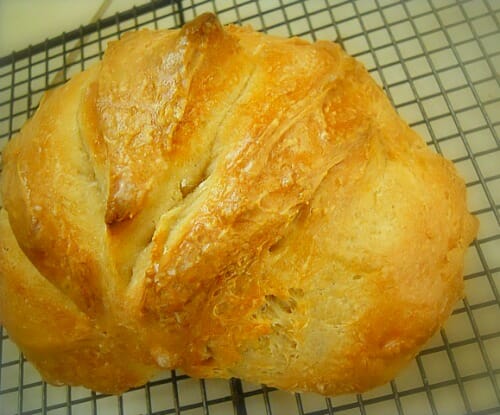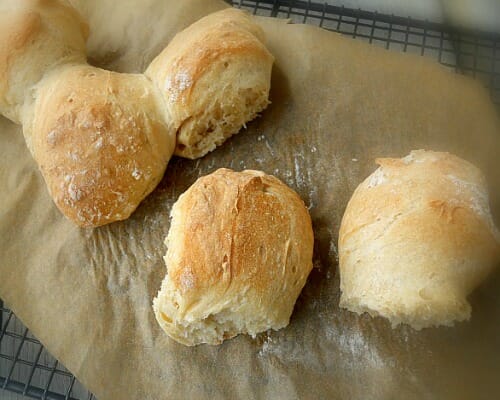 However, after Nora was born, I quickly stopped making the time for bread baking… and resorted to store bought bread and/or store bought frozen bread dough. I felt a little bad at first — especially because it really wasn't THAT difficult or time-consuming to bake my own bread, but it was just one more thing that I didn't feel like making time for at that point in my life.
I have since dabbled with making my own bread (from scratch, using the Artisan Bread method mentioned above) for special events and occasions — but for the most part, any "homemade bread" that comes out of my kitchen is made with store-bought frozen bread dough.
And you know what… I get a boatload of compliments on my "delicious homemade bread"!!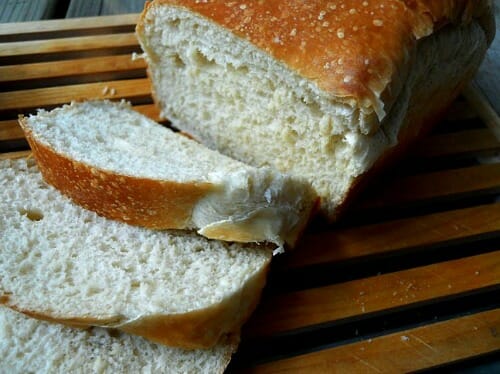 The packages of 5 frozen loaves run about $4 – $5 at my grocery store, so roughly $1 per loaf… and ALL I need to do is remove the frozen loaf from the bag, put it in a greased bread pan, cover it with plastic wrap, and let it rise.
If I'm really on top of things, I'll do this all the night before and let it rise in my refrigerator overnight. Most times, I let it rise on the counter during the day, and sometimes, if I'm running late, I'll do the speed method of letting it rise in the oven with a pan of hot water.
It doesn't matter how I let it rise, it ALWAYS turns out deliciously soft, fluffy, and so tasty.
Almost any time I bring a meal to someone, I include a loaf of my "homemade bread" and that's usually the item I get the most compliments on — although maybe that means the rest of my food isn't so good 🙂
You can also let the loaf defrost and then divide it up into 3 smaller chunks for the mini loaf pans, 8 "balls" for larger buns, or 12 "balls" for dinner rolls.
I defrost 1 loaf of frozen bread dough to make my delicious stromboli, and Dave's mom regularly uses this frozen bread dough to make homemade hamburger buns, hotdog buns, and her famous homemade cinnamon rolls (someday I'll post that recipe on my blog!)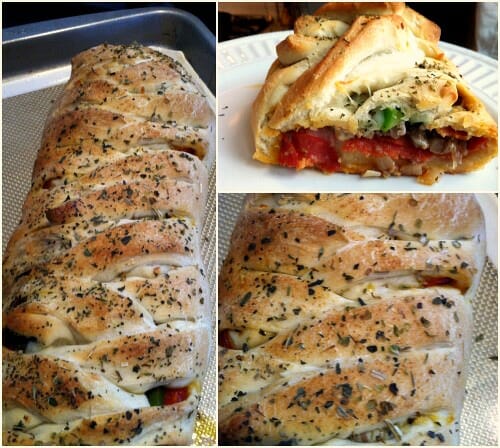 You would honestly NEVER guess that any of these recipes started with frozen store-bought dough — I promise!
.
Now, I fully realize that frozen store-bought bread dough is not nearly as healthy as making your own from scratch, and that it can't be adapted to fit necessary dietary restrictions. And no, I didn't forget that one of my simple goals for 2015 is to eat higher quality bread! However, I know for a fact that there are many of you reading this that would never EVER have the desire to make homemade bread from scratch — yes, I totally understand why!
But would you be willing to plop a loaf of frozen bread dough into a pan, let it rise overnight, and bake it for 20 minutes the next day if it meant your entire house would smell like delicious fresh bread and you'd get to enjoy fresh-from-the-oven bread with your meal?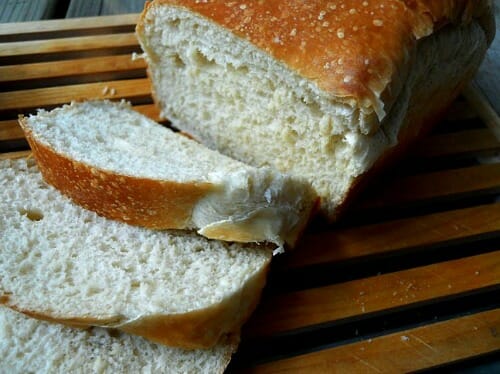 My goal is to eventually start using the Artisan Bread method again — who knows, maybe I'll do it sooner than expected. But for now, my frozen bread dough secret has proven quite effective in saving me boatloads of time and energy in the kitchen while still enjoying the smells and tastes of homemade bread with a special meal or to give as a gift.
Also, I just had to laugh that when I posted my recipe for Chicken Noodle Soup last week, I got 4 emails and a comment asking for my "delicious looking bread recipe" 🙂
Yes, it really is THAT good!
Do you have any "kitchen secrets" you're willing to share?