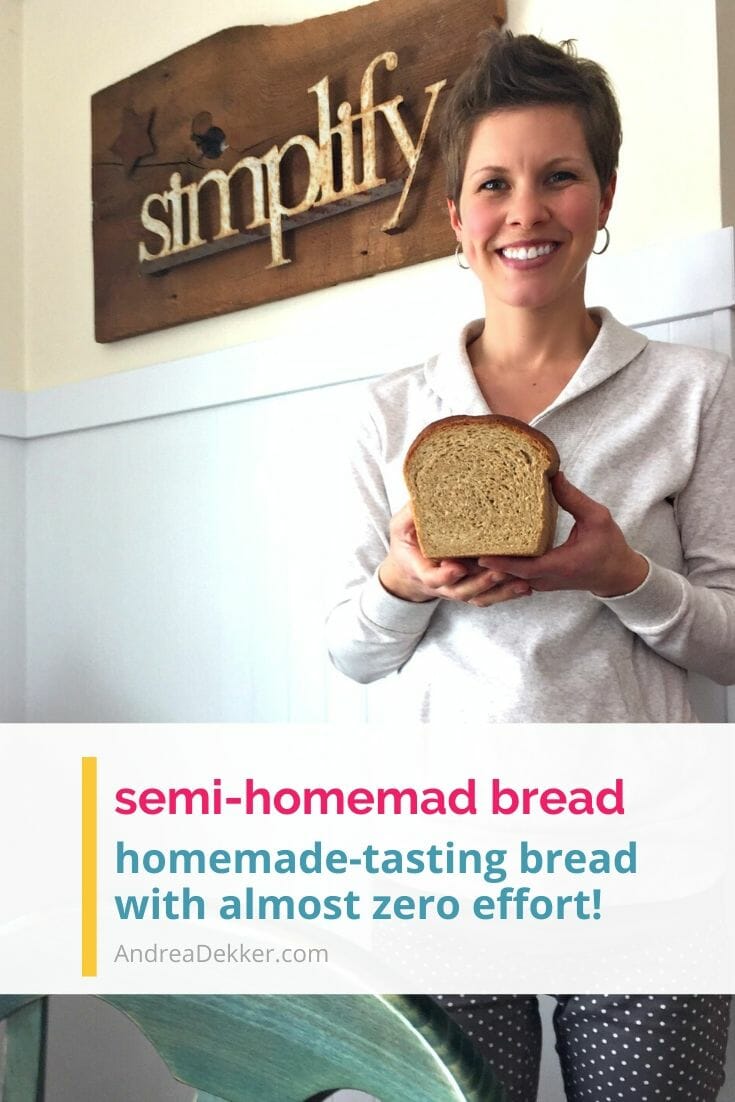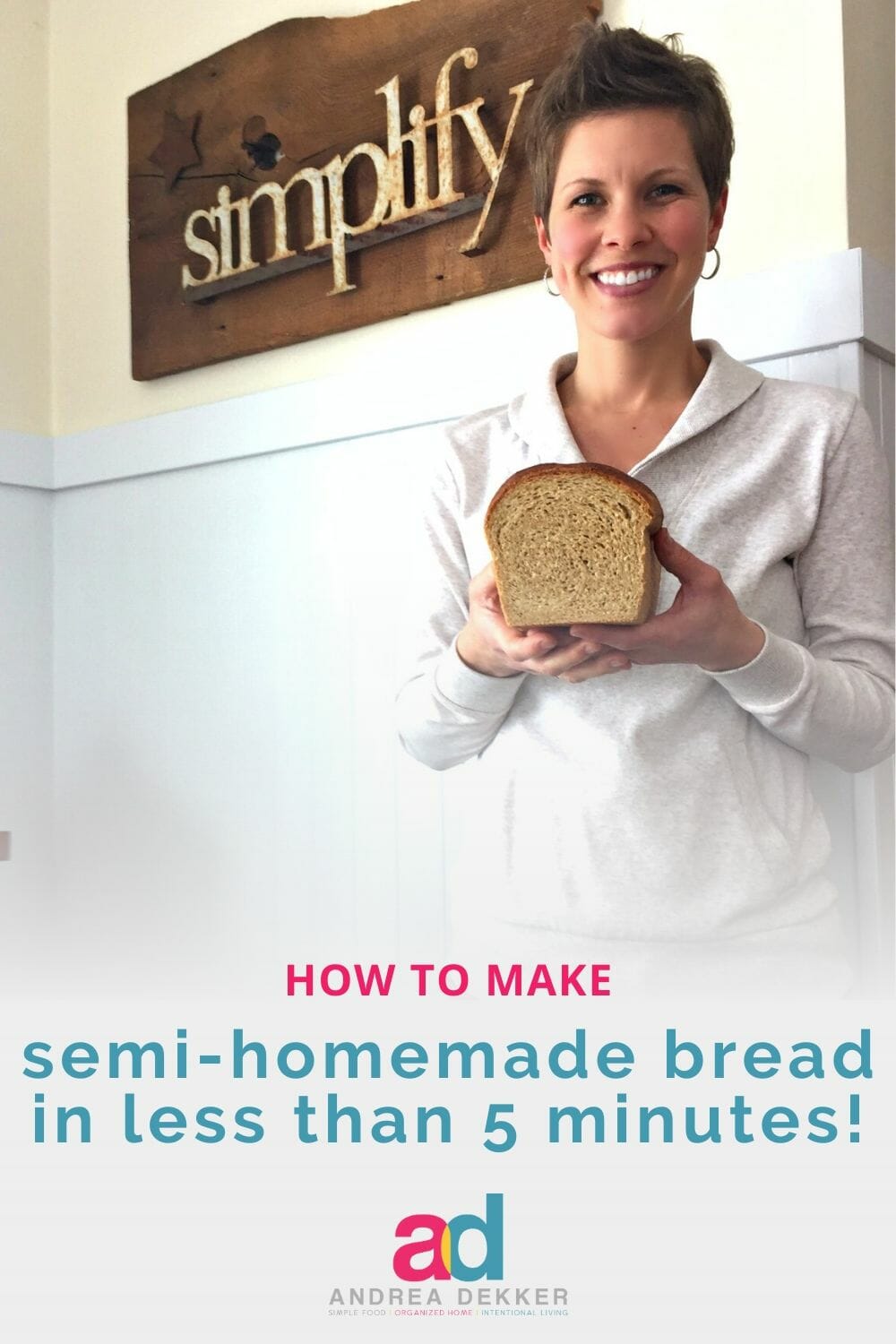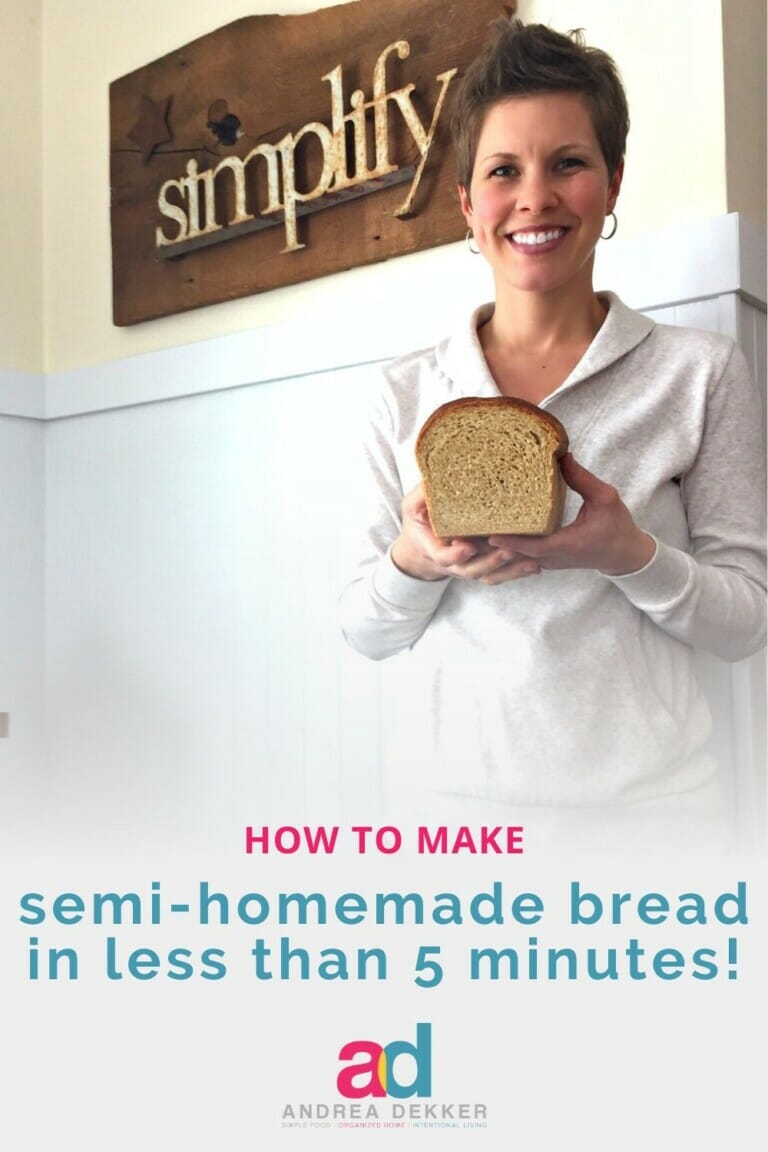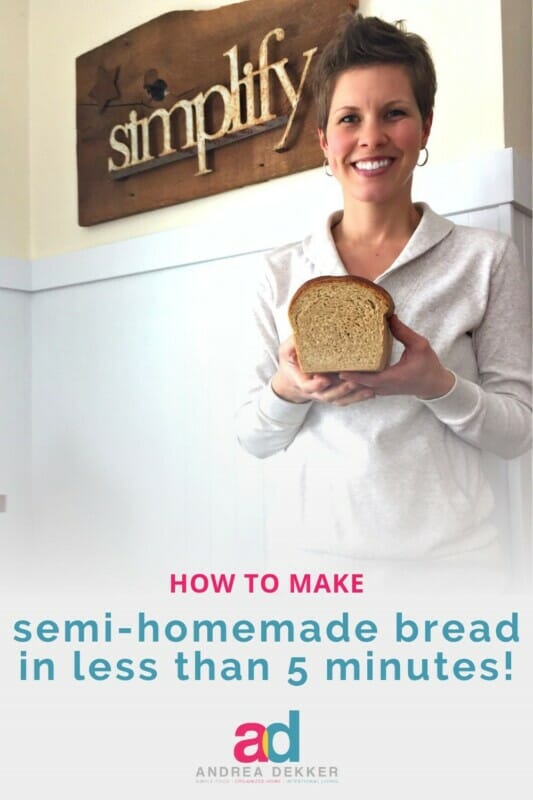 I've always loved the art of making my own homemade bread — truly, it really is a work of art!
I love the feel of the dough between my fingers, I love the smell wafting from the oven, and of course, I love the taste of freshly-baked bread.
For the last 18 months, I've poured myself into baking bread, rolls, tortillas, cinnamon rolls, cakes, pies, cookies, biscuits, and more from 100% whole grain that I grind fresh in my kitchen each day.
It's one of the most fun, most rewarding, and most maddening hobbies… I don't anticipate stopping any time soon!
RELATED READING: My recipe for 100% whole grain sandwich bread.
However, this hobby is NOT for everyone!
If you love the smell and the taste of homemade bread, but don't want to spend half your day in the kitchen with a pile of dirty dishes to wash, the semi-homemade bread secret I'm about to share with you will BLOW YOUR MIND!
NOTE: This is also an excellent alternative if you can't find flour or yeast in the stores!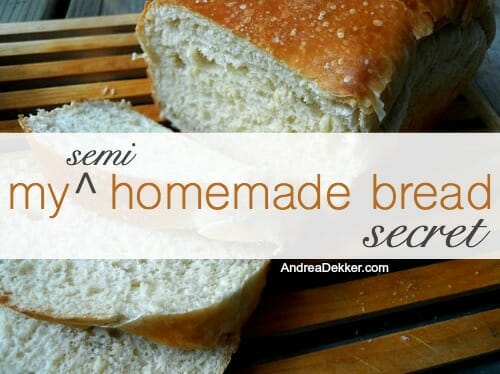 A Quick-ish Back-Story…
When Dave and I were first married, I made lots of homemade bread from scratch using the Artisan Bread in 5 Minutes a Day.
This book shares a simple step-by-step process to make homemade artisan bread with only a few minutes of "hands-on" work every day. I talk more about the process in this post if you're interested.
It's DELICIOUS and much easier than almost any other homemade bread recipe.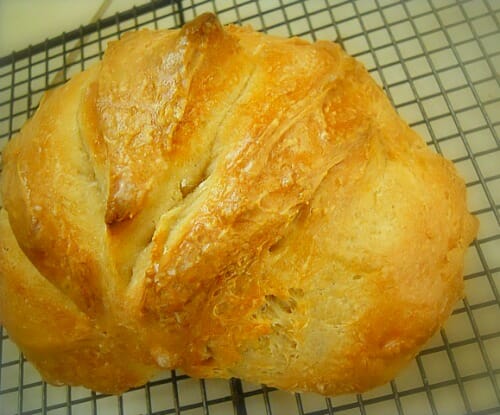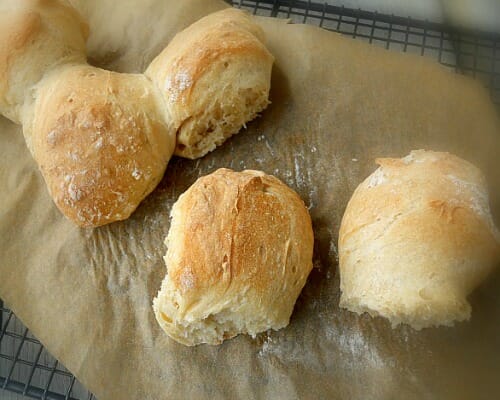 HOWEVER… after I started having children, I quickly realized I didn't have the mental energy to bake bread anymore.
We switched back to store-bought bread… but I missed the smell of fresh bread!
That's when I started using store-bought logs of frozen bread dough as my 5-minute semi-homemade bread secret!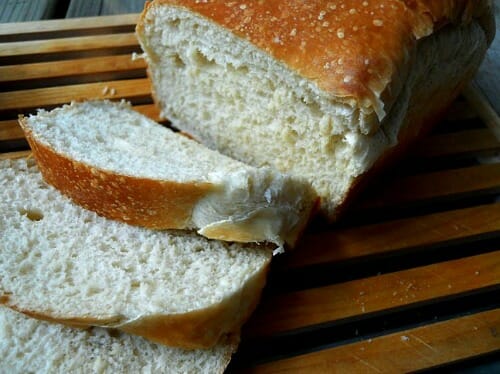 For years and years, I used logs of frozen bread dough as a time-saving, sanity-saving secret to enjoying fresh-from-the-oven bread!
I delivered countless loaves of my "homemade bread" whenever I brought meals to others, and I served it to friends and family at our own table.
Everyone raved about my homemade bread!
If only they knew my "secret"!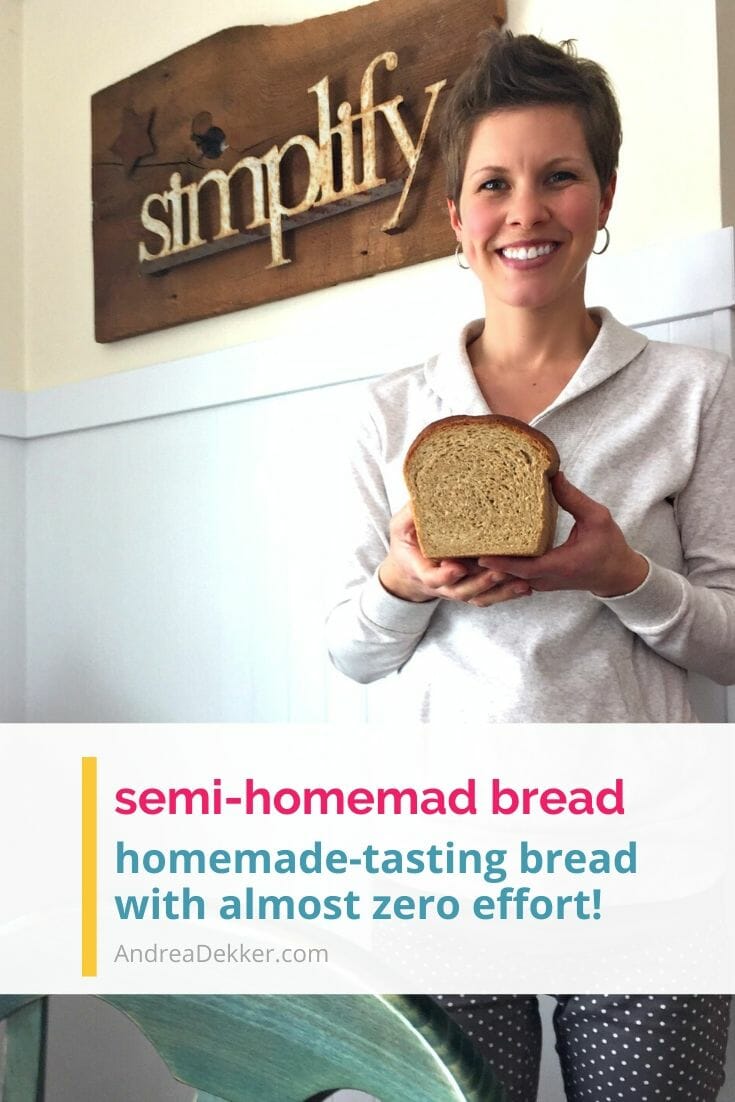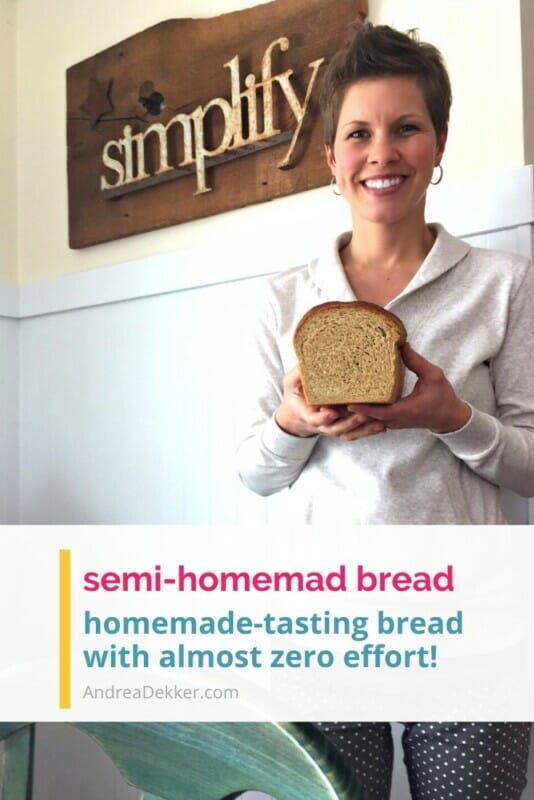 How to Make Semi-Homemade Bread from Frozen Bread Dough:
STEP 1: Pick up a package of frozen bread dough from the freezer section in your local grocery store (our stores carry the 5-pack for around $5.)
STEP 2: Remove one frozen log from the bag, put it in a greased bread pan, cover it with plastic wrap, and let it rise (in the fridge overnight or on the counter for several hours).
STEP 3: Bake for 20 minutes, or according to package directions!
DONE!
This bread ALWAYS turns out deliciously soft, fluffy, and so tasty.
Use this "recipe" for buns, rolls, cinnamon rolls, Stromboli, pizza and more!
Logs of frozen bread dough are an excellent way to make mini loaves of bread, buns, rolls, Stromboli, pizza, cinnamon rolls, and more!
Simply let the dough defrost in the refrigerator overnight, then use it however you'd use traditional bread dough.
Mini Loaves = 1 loaf makes 3 mini 4″ loaves
Hamburger or Hotdog buns = 1 loaf makes 8 – 12 buns
Dinner rolls = 1 loaf makes 12-15 dinner rolls
Slider Buns = 1 loaf makes 18 slider buns
Stromboli = 1 loaf makes 1 large Stromboli
Pizza Crust = 1 loaf makes 2 10″ pizza crusts (depending on how thick you want the crust)
Cinnamon Rolls = 1 loaf makes 12-15 cinnamon rolls
Whatever you can make with traditional homemade bread dough, you can make with frozen bread dough — as long as you defrost it ahead of time!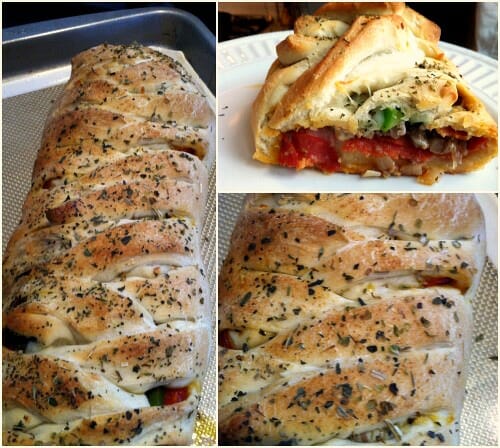 I'm confident the average person will NEVER guess that any of these recipes started with frozen store-bought dough!
What about Nutrition?
If you're baking homemade bread for the nutritional aspect of using whole grain flour, you will not necessarily get that with the frozen bread dough.
There are often additives in this dough… and while you can buy "whole wheat bread dough" MOST frozen bread dough is made with white all-purpose flour.
However, if you simply want the smell and taste of fresh-from-the-oven bread with almost zero hands-on work, frozen bread dough is the secret you need to know! 🙂
Of course, I plan to continue baking my own bread from scratch… but for those of you looking for a much simpler alternative (or for those who can't find flour or yeast at the grocery stores) head to the freezer section of your grocery store and pick up a bag of frozen bread dough.
It's amazingly delicious and nearly foolproof!
Do you have any "kitchen secrets" you're willing to share?