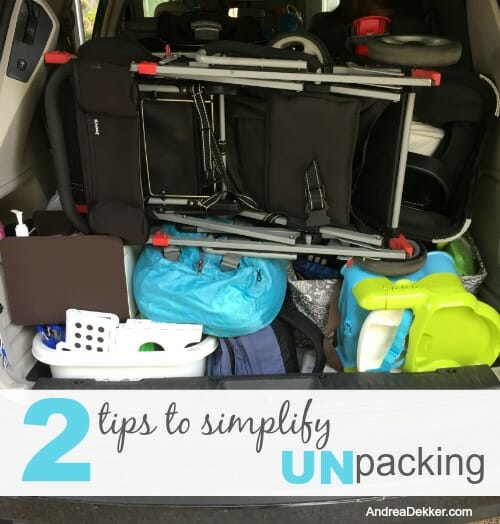 If you search the online world for "tips to simplify packing", you are likely to find hundreds of posts, articles, videos, and tutorials to help you streamline, simplify, and organize everything from a huge cross-country family move to a couples-only weekend getaway.
However, when I searched for "tips to simplify UNpacking" I found almost nothing.
In my opinion, the process of unpacking and "getting back to normal" is just as important for me. I hate living out of a suitcase so I cannot wait to get all my things put back where they belong — and I want to do it as quickly and as easily as possible because I'm usually tired from traveling when I get home.
Maybe I'm weird — but it just seems normal to want to get all my things put away ASAP.
Am I weird?
.
Anyway, Dave had his teacher convention last week… and the kids and I tagged along. My mom was also at the teacher convention so we got adjoining rooms with my parents and my dad hung out with me and the kids for 2 days.
It wasn't really relaxing or restful at all, but the kids had fun and it was a nice break from our normal routine. (Side note: Nora and Simon might be able to share a room at home but they can NOT share a bed!)
I was glad to be home again… and after getting home, Dave and I joked about the fact that within 1 hour of walking through the door, Simon and James were both napping, we had everything put away, AND I was moving the first load of laundry into the dryer.
Not too bad considering we took half our house along for a a 48-hour trip!
As I was shoving the first load of laundry into the dryer and immediately starting the second load, I thought about how quick and easy it was for me to unpack… mainly because of 2 things I always do whenever we are away from home.
1. I always take laundry bags along.
I actually take 2 laundry bags and a mesh garment bag along on all our vacations.
One laundry bag is for all our dirty clothing, the other laundry bag is for anything wet (usually swimsuits and towels), and the mesh garment bag is for tiny kid socks, gloves, mittens, etc.
I hang these 3 bags on the back of the bathroom door and when we get home, I just dump the bags into the washing machine almost immediately after I walk in the door. By the time we're finished unloading and unpacking, the first load is usually ready for the dryer.
Of course, if we're on a longer vacation and have access to a washer and dryer, I'll wash everything BEFORE we come home — but even still, it's nice to have the laundry bags on vacation as a holding place for all our dirty things.
If you like to sort your laundry, you could use the same concept but use one laundry bag for whites, one for lights, and one for darks.
2. I pack to come home in a way that makes it easy to unpack at home.
Depending on the type of vacation we're going on, I either pack by person (all Nora's things in one bag) or by the day (all Monday's things in one bag). On the way home, however, I pack so we can unpack in designated areas of our home.
All Nora and Simon's clean items and bathroom items go in one bag since they are upstairs, all the swimsuits and pool things go in one bag, Dave and my clean clothes go in one bag, all electronics go in one bag, all toiletries for the downstairs bathroom in one bag, etc. etc.
This way, I can simply bring one bag upstairs or to our bedroom and unpack the contents in a minute or two. And since I separate the dirty items before we come home, I know that everything in the bags is clean and ready to be put away.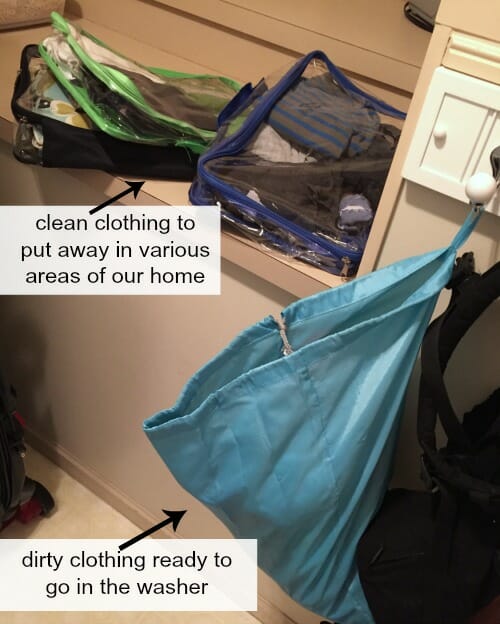 (I use EZ Packing cubes to keep our things neat and organized on the road!)
.
These two relatively simple tips make the unpacking process go SO much faster and smoother — which is such a nice thing to come home to.
Within 45 to 60 minutes of being home, I almost always have everything from our vacation unpacked and put away, and the washing machine humming along — usually on the second load!
Although coming home from any vacation is usually bittersweet, it's nice to have a simple unpacking system in place so we can get our things put away and get "back to normal" as soon as possible.
Do you have any other tips to simplify UNpacking?