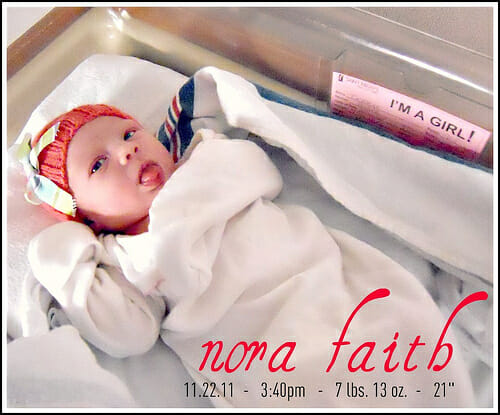 As I announced last week, Baby Dekker #2 is a boy!
Although Dave and I honestly didn't care either way, I'm just so excited to know the gender so we can nail down our name A.S.A.P. Crazy enough, this is probably my most favorite part of being pregnant — and if you ask Dave, he will definitely confirm my love / obsession with picking out the perfect name!
We don't use books, or the internet, or special Apps for our phones — we just throw out names until we find the one we both love. I have a whole bunch of boy and girl names that I really like — but of course, there's a laundry-list of "requirements" they need to meet to get both Dave and my approval.
Here are some of the things we think about when deciding on names for our children:
1. Dave is a teacher.
All of you teachers out there know Dave's predicament of negatively associating certain names with problem students. Even if it's been several years already, there are still some names I love that Dave just can't get excited over because of previous problem students.
I do understand this because my mom is a teacher and said she had the same issues with naming my sisters and me. So if a name I like is an issue for Dave, I'm totally cool with removing it from my list.
2. Our last name starts with "D".
I realize that crazy or weird initial combinations aren't the end of the world — but with a last name that starts with "D", there are a lot of really bad initial combinations we need to stay away from.
For example: OCD (obsessive compulsive disorder) — ADD (attention deficit disorder) — STD (sexually transmitted disease) — to name a few 🙂
So, as I'm sure you can understand, some of our first + middle name combos are totally out of the question based on super awkward and inappropriate initials!
3. Our last name ends with "er".
Several of the boys names I like end with "er" — and that sounds REALLY bad when paired with "Dekker".
For example, Copper Dekker… no thanks. Parker Dekker… nope.
The 'er' combination at the end of our last name eliminated several of my boy names when Dave proposed (yes, I've been thinking of baby names for that long!)
4. I don't like nicknames.
I realize this is weird — but if I'm going to name my child something, I want them to be called that. I don't want to name them something and then have them go by a completely different name for their entire lives.
For example (and I'm not trying to offend anyone here, just giving examples)…
If I name a child Elizabeth, I going to call her Elizabeth — not Beth, Ellie, or Liz.

If I name a child Katherine, I'm going to call her Katherine — not Kate, Katie, Kathy, or Kat.
I have NO issue when other people do this (and I love those two girl names) but I just want to name my child what I'm going to call them. So if I want to call them Liz or Kate then I will name them Liz or Kate on their birth certificates.
So basically, we will most likely pick a name that doesn't have a nickname or an obvious way to shorten it — kind of like "Nora".
5. We both want short names that are easy to spell and pronounce.
Neither Dave or I are fabulous at remembering names — and I am a horrible speller (as you might notice from some of the typos on my blog!) For this reason, I much prefer names that are short, easy to spell, and easy to pronounce. Plus, I always felt bad for the kids with 10+ letter names because they had to write them over and over and over again on every school paper and test.
I also don't like names that have 4 different spellings because I personally feel self-conscious that I will spell someone's name wrong (which I hate doing). I like names that can be easily sounded out and don't require you to spell them 4 times letter-by-letter to the person on the other end of the phone.
SIDE NOTE: I figured Nora would be a super easy name to say and spell, but I find that I often end up spelling "N.O.R.A." to people because they think it's "Lora", or "Dora," or "Mora", or even Norah – with the H.
6. We both like common names, but not fad or really popular names.
Growing up, I was the ONLY Andrea in my grade — and although our school was medium size, there was only one other Andrea in the whole school all the way through high school.
I loved that I was never confused with other Andreas, I loved that I didn't always need to use my last name or my middle initial, and I loved that although my name wasn't crazy weird, it was still somewhat unique.
Our goal is to choose common names that are easy to spell and pronounce. However, we try really hard to stay away from wildly popular names (although Nora is getting much more popular now) — and definitely no "fad" or celebrity baby names for us 🙂
7. We don't want gender neutral.
I actually DO like most gender neutral names — I just don't want to name my children a gender neutral name because I don't want their name to be confused for the opposite sex.
I realize this might sound totally crazy, but growing up, there was a girl named Jordan in our school and she would always get put on the boys list for things or confused as a male when her name was just listed on paper. I remember how embarrassed she was once, and for that reason, decided that I didn't want to name my kids gender neutral names.
8. We like names that have a special significance.
I never thought I would be big on naming my kids after special relatives, but when we found out Nora was a girl, I just knew I wanted to name her after someone in our family tree. We came up with Nora after my grandma Norene (4 generations on my mom's side). Nora's middle name is Faith, after my mom's middle name Faye.
I thought Nora Faith sounded more "modern" than Norene Faye — and I was thrilled that it met all our requirements above while still achieving my goal to name her after not one, but TWO special people in our lives.
.
For those of you who are more like Dave, you probably think I'm a crazy person after reading this post and having a tiny peek into the ridiculous amount of thought that I put into picking names for our kiddos.
However, for those of you who share my name-picking enthusiasm — you can appreciate the great lengths I go through in order to come up with the perfect name.
We still haven't nailed down our boy's name 100% — but we do have a very short list, and we already know the middle name. And in case you're wondering, we will not be sharing the name before he's born… that's our little secret 🙂
Do you have any silly or crazy name-games like us?