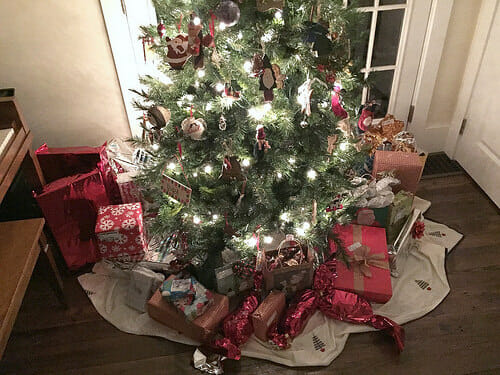 Last month, I asked my Facebook followers if there was anything specific they wanted me to write about… any post ideas, questions, suggestions, recipes, etc.
After only 15 minutes, 3 people had already requested more information about how we plan, budget, and shop for gifts (specifically Christmas gifts). And after a few hours, there were several more requests for a post about Christmas gifts.
So today, July 25, (exactly 5 months until Christmas Day) I thought it would be fitting to share a bit about what Dave and I do for Christmas gifts (and various other gift throughout the year).
I'd also love to have you chime in and share what works for you in the comments.
.
Who We Buy Christmas Gifts For:
First things first, I feel it's important to share WHO exactly we buy gifts for each holiday season…
Obviously, we buy gifts for our kids
Also, their cousins (they will have 5 cousins by next Christmas)
We buy gifts for both Dave's and my parents
We do something small for Nora's teacher(s)
That's it.
We do NOT do gifts for neighbors, our friends, the kids' friends, extended family members, Dave's or my siblings, Dave's or my grandparents, bus drivers, hair stylists, babysitters, people from church, etc. etc. etc.
I don't necessarily think it's bad or wrong to give gifts to any of these people — but it does cost money, it does take up time, and it often seems to cause a whole lot of extra stress and busyness during the holiday season.
Of course, this all might change as our children get older and want to give more gifts, but it's working well for us right now!
.
Who We Buy Birthday Gifts For:
In general, we don't go overboard for birthday gifts either.
We buy gifts for our kids and often do something REALLY small for Nora's teacher (see photo below)
We don't get gifts for cousins or friends unless they actually have a birthday party we are invited to (our cousins haven't had birthday parties because they live out of state and we've only had 1 invitation to a friend's birthday party so far.)
We also don't do gifts for grandparents unless it's something special (we got Dave's Dad a handful of gag gifts for his 60th birthday last year). The kids will just draw them pictures, make them a card, or I'll bake a special treat we can bring over to them on their special day. Otherwise, our parents really don't need or want anything for their birthday.
.
What Other Gifts We Buy:
Maybe Dave and I are just Scrooges, but we really don't buy or give many other tangible gifts for anyone throughout the year.
We don't do:
Valentines gifts
Easter baskets
half birthday gifts
anniversary gifts
"push presents" (gifts from the husband when the wife has a baby)
100 days of school left gifts
etc. etc.
We did put money in a pot for an end-of-year gift for Nora's 2 teachers, and we do little things for our kids all year long (surprise toys or special things on vacation, letting them pick out a free toy at the thrift store, buying something special at the dollar store, etc.)
Also, we will obviously buy an appropriate gift for any baby showers, bridal showers, or weddings we are invited to (always from the registry to make sure they can easily return it if necessary).
I think we operate more on "acts of service" gifts — like babysitting for a neighbor so she can go to the Dr. alone, bringing meals to someone who's sick, or helping to clean someone's house before they move.
.
How We Budget For Gifts:
Since we really don't do many gifts outside of birthday gifts for our kids and a handful of Christmas gifts (and we don't go crazy for any of these events), we really don't have a lot to budget for.
At this point, we do not have a "set amount" we spend for various gifts, nor do we worry about keeping things fair between children or even between our parents.
We might spend $50 on one child and get them 5 gifts they really wanted, and only $7 on another child — but still get them 5 gifts they really wanted.
Our kids definitely do not grasp the full concept of money yet, so as long as they get roughly the same number of gifts for Christmas and as long as we get them things they actually want, they are thrilled. They could care less how much money we spend on them. In fact, most of the gifts we give them are used — from thrift stores, Craigslist, etc.
I realize that as our children get older, there will be more expenses involved in their gifts, but for now, we can easily get away with very frugal gifts for our kids.
As for our parents, we often give them a variety of gift cards to some of their favorite places, family photos, yearly calendars with pictures of our kids, crafts the kids made for them, gourmet foods (nuts, cheese, wine, etc.), sometimes a few gag gifts like silly socks or a funny tie, and maybe a couple things they have mentioned over the course of the year.
Nothing extravagant at all — last year, one of my gifts for my mom was canning her 18 quarts of applesauce because she didn't have time to do it. She was thrilled 🙂
.
How we shop for gifts:
Once again, since we don't have that many gifts to buy, it's usually pretty easy for me to buy them in advance OR wait until closer to the birthday/Christmas party.
I have a gift wrapping cabinet in one of our upstairs closets and I use that to store any gifts I buy or find in advance. This is especially helpful when I find a great item at the thrift store and can't wait to buy it later.
Here's a picture of the cabinet — we don't have the TV inside anymore, so the top area is all for future gifts.
As for keeping lists of items I might want to buy, I have a page in the back of my planner to record ideas whenever I hear someone mention, "I'd like _________". Then I sort of keep an eye out for that item as I shop Craigslist, thrift stores, or Amazon. If I find a great deal, I'll probably buy it and save it for Christmas. Otherwise, I'll buy it online or from a store once we're closer to the date I need to give the gift.
I also keep an Amazon wish list for every person in our family — so if someone wants to buy US a gift, I can simply direct them to that list and they can choose from a variety of items they know we actually want!
As for gift cards, I wait to buy those until after Thanksgiving (if possible) since so many restaurants have special bonuses and extra offers for buying gift cards during the holiday season. In fact, I usually buy a bunch of gift cards for our own family during the holiday season too!
.
In general, I try to plan ahead with gift giving — even if it's just buying something a few weeks in advance. Also, we don't usually spend all that much on gifts, which alleviates the need for a strict budget (one year we spent about $20 total on all 3 kids for Christmas and it's not uncommon for us to spend less than $10 on a variety of birthday gifts for each child!)
Of course, none of this is set-in-stone — we don't have one specific way we always or never do gifts. We just sort of do whatever seems to work best for us at that time and for that person.
Sometimes that means buying a gift way in advance, sometimes that means running to the store for a gift card on our way to the party 🙂
We don't start Christmas shopping at a specific time of the year and we certainly are not out shopping on Black Friday!
If possible, I like to buy most of my gifts online, and if I know of a local small business I can buy from, I'll try that option first over a bigbox store.
Also, I do really enjoy taking a little extra time to wrap my gifts nicely!
Still Looking for MORE? Here's a link to ALL the posts I've write about gifts — there are LOTS of them!)
So that's a little more about how WE handle gifts.
I'd love to know… how do YOU handle gift-giving?
Happy Christmas in July! 🙂