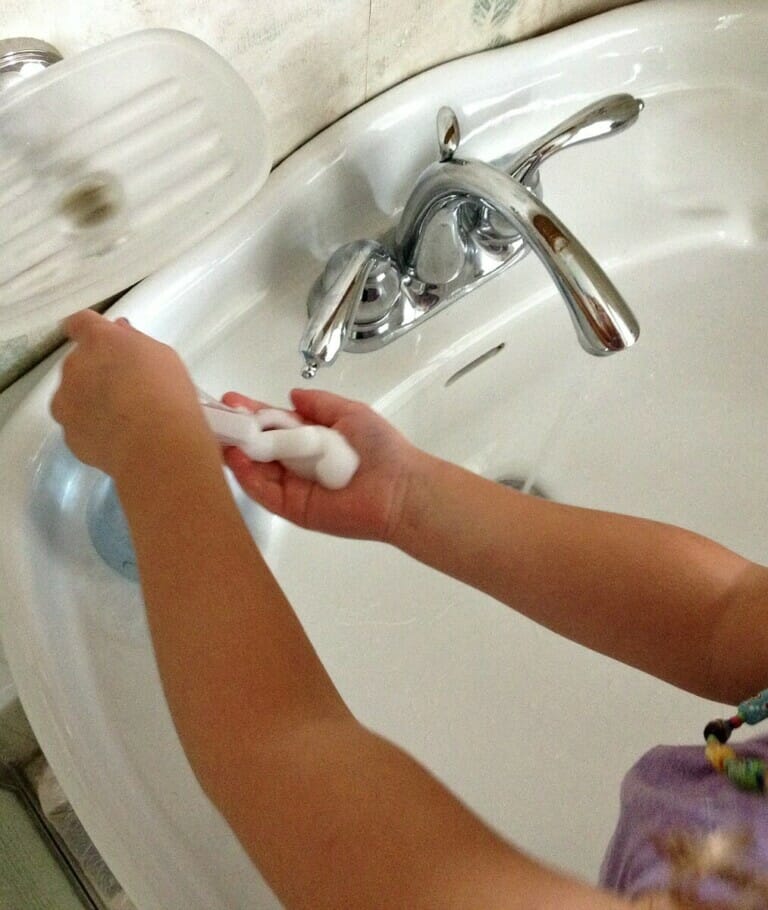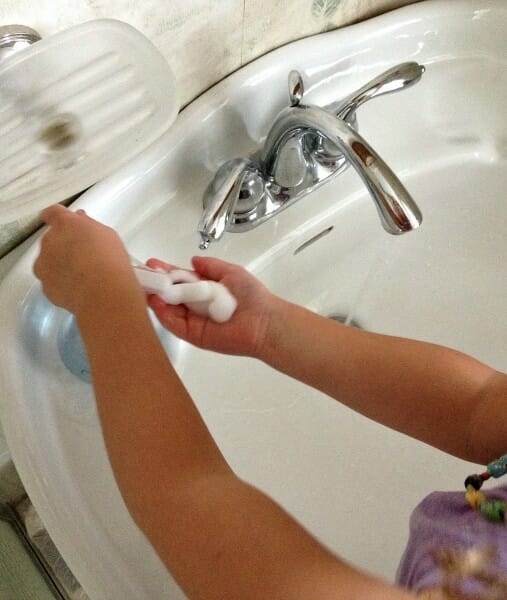 I am certainly not a health or nutrition expert in any way (nor do I want to be one). However, I am pretty good at simplifying almost everything 🙂
So as we approach cold and flu season, I thought I'd share one of the simplest things we do around our house to keep the germs away.
WE WASH OUR HANDS ALL THE TIME!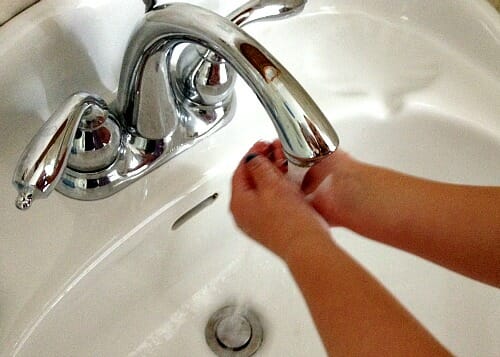 I'll be honest, I was never really a huge stickler for hand washing until I met Dave. In fact, for as neat and clean as I am, I was never a huge germaphobe either.
However, Dave is always washing his hands and would get annoyed if I wouldn't. And after having kids, I realized how dirty and gross their hands got… as well as how awful it is when they get sick.
So I started washing my own hands a lot more and insisting that the kids wash their hands very regularly as well.
We all wash our hands before and after we eat anything, when we come inside, when we finish playing with friends, when we come home from any public place, and of course, after we go to the bathroom or change diapers.
We use soap and water when we're at home, and I carry baby wipes and sanitizer in my purse and diaper bag.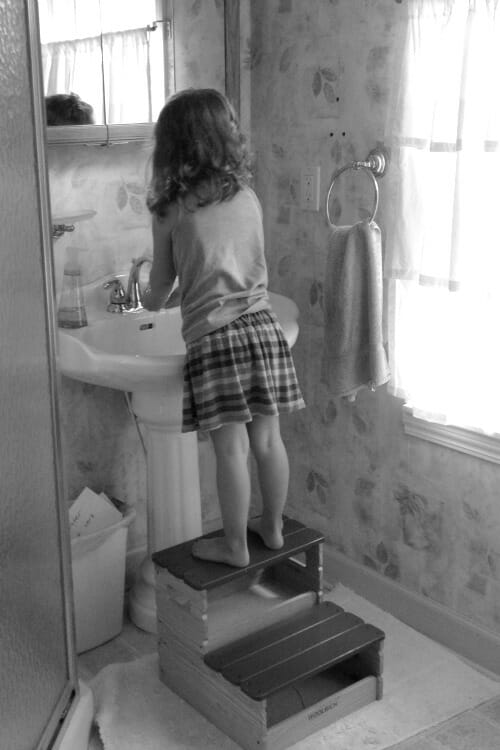 Initially, as you can probably imagine, the kids weren't super excited about our frequent hand washing requests. But over the past couple of years, I've made a few changes to get them a bit more excited.
1. We use foaming soap.
This might sound really insignificant, but my kids love the foaming hand soap, so hand washing has almost become a fun, game-like activity for them.
Also, a frugal tip — you can make your own foaming hand soap for pennies. Then it doesn't matter how much they use 🙂
2. I have step stools by every sink.
Again, this might not sound like a big deal, but by having step stools at every sink, they can wash their hands themselves — which they like.
I do realize that by letting them wash their own hands, they are potentially not doing a fabulous job. However, right now, I think it's a good skill for them to develop, and honestly, it's one less thing I need to do for them which is fabulous!
3. I stopped caring if my bathrooms were super clean.
I clean the bathrooms every weekend, and if people are coming over, I'll do a quick clean right before they arrive. However, for the rest of the week, I've given up caring if my bathrooms have water drips all over the counter and the floors — and you better believe they have water drips all over the place.
4. I always keep sanitizer and wipes with me.
I promise you, I'm not one of those people who is wiping down the shopping carts, or disinfecting the swings before my kids touch anything. However, if we are going to eat and there isn't a sink around, I will at least going to wipe their hands with a baby wipe or use hand sanitizer.
Before anyone says anything about how using hand sanitizer isn't good for kids, let me just say that I DO realize that it's important for kids to build up a good immune system, but I also don't want to be in and out of the Dr. office and pharmacy all winter long with sick kids.
5. I model good behavior.
Last, but certainly not least, I wash my hands very regularly throughout the day — not only so that I don't get sick, but so my kids see me washing them.
Washing your hands regularly is such a simple thing to do, and it might just save you loads of time waiting in your Dr. office, loads of money on prescriptions and co-payments… and best of all, loads of laundry (ever have a sick kid in the middle of the night?) Not fun!
Of course, by writing this, I'm almost guaranteeing that someone in our family will get sick next week — but for the most part, our family has been very healthy the last few years.
We've had a few stuffy noses and one ear infection last year, but no stomach bugs for a long LONG time!
Do you have any other quick tips for keeping germs away?