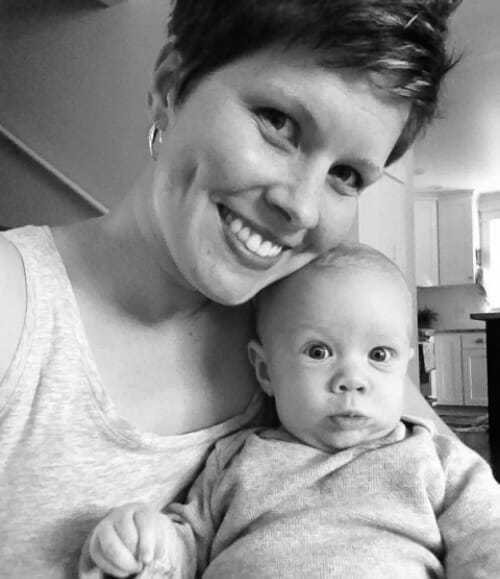 Several of you have asked me to share more posts about our weekly menu plans, little organizing projects I do around the house, and various other more menial day-to-day happenings.
I've been thinking about how to do this without "watering down" my posts, and without boring those who aren't interested with constant short posts about little things going on around our house.
My current idea is to do regular "Peek into Our Week" posts and share everything I mentioned above. From our meal plans, new recipes we're trying, various little projects I tackle each week, fun family activities, and other "Dekker news".
I'm not necessarily planning to do a Peek into Our Week post every single week — but for sure a couple times a month. Eventually, I'm thinking these posts will take the place of my monthly update posts.
Here's what we had going on last week 🙂
.
For starters, Simon eye teeth are coming in — and I can't even begin to tell you how miserable he is (the amber teething bracelet apparently doesn't work for eye teeth)!
He has been SO drooly, snotty, and crabby. And worst of all, he's not sleeping well, so he's TIRED.
My nap-loving, sleeps-all-night boy refused a nap for the first time in his entire life and he woke up crying in the middle of the night several different times. Dave had to take him for a drive the other day (so he would fall asleep in his carseat) and Dave actually slept with Simon for part of one night (there is a twin bed in Simon's room).
Thankfully, we can see signs that he is feeling better… we're hoping to have our smiley Simon back soon!
.
Nora had a big week last week as she got to be the snack girl at school.
On Tuesday, her class was having 'circle day' so everyone had to bring something circle shaped (she brought some of our cherry tomatoes). We also got slightly creative and brought a circle snack on Tuesday. We cut out Rice Krispie treats in the shape of circles, along with little circle crackers with cheese.
Apparently it was a big hit according to Nora 🙂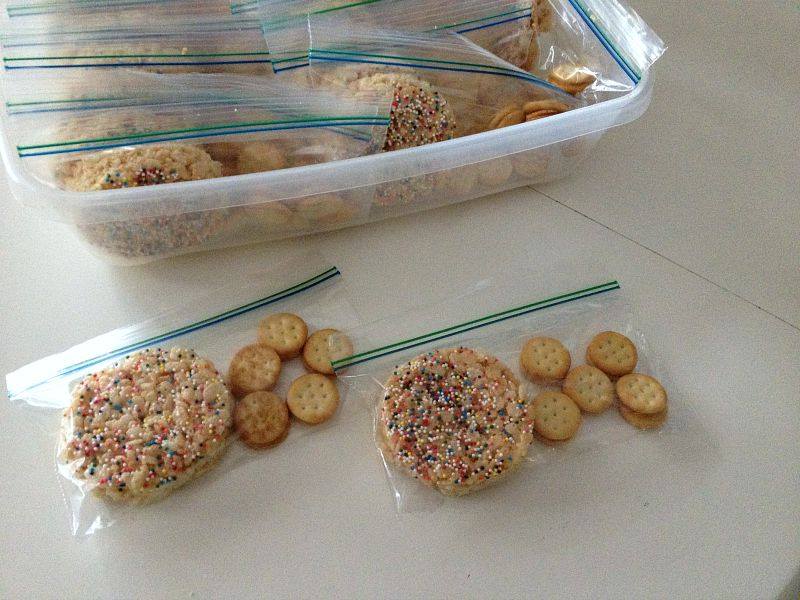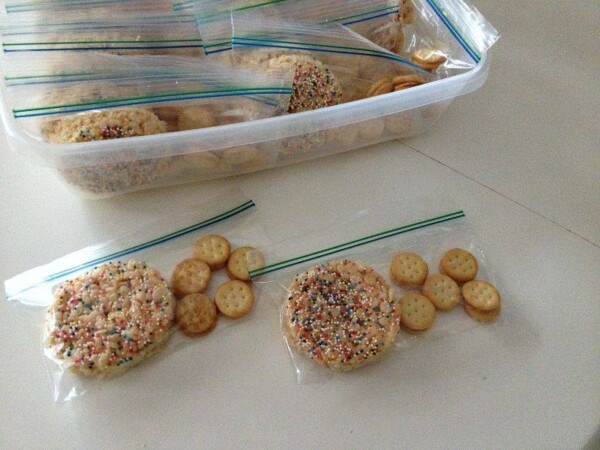 Nora helped me make mini Banana and Blueberry Muffins for the snack on Thursday — coinciding with their learning the letter "B".
We put the muffins in baggies and popped a clothespin with pipe cleaners on it to make it into a butterfly — also keeping with the "B" theme.
My out-of-town sister had to travel to our area for work on Wednesday, so instead of waking up early on Wednesday morning, she opted to come Tuesday night and had a sleepover in Nora's room. Nora was so excited!
On Thursday, Nora and I had a "Mommy and Me" night at her school.
I also taught Nora the right way to play Memory (we used to play it with the cards facing up when she was younger) and she's been having lots of fun playing with me during the boys' naps.
.
There are no big updates for James — except that he start sucking his thumb 🙂
He has been SUPER happy and laid-back the past few days, and is content to be held, content to be in his bouncy seat, content to be on the floor, in his crib, in the carseat, etc. etc.
Also… it's SO easy to get a big smile out of him!
.
Dave finished a big organizing project last weekend — one that he had wanted to do for a few years now. He finally got out ALL his childhood LEGOs and instructions, and then put every single model back together. (The picture below is not everything)
He worked on it on and off many nights this summer after our kids went to bed. He had everything set up in our outbuilding so he didn't have to pack up every night or worry about kids grabbing things!
Once he finished putting all the models together, he then disassembled everything and put each model + instructions into individual containers. I think he's planning to give some of the LEGOs to his brother, but we'll eventually give the rest to our kids — probably not for a few years though.
Since Dave has been planning to do this project for a while, he has been saving the rectangular boxes that our fence screws came in. We put up over 1000 feet of fencing the past 3 summers and had MANY screw boxes, which are apparently a great size for organizing LEGOs.
I believe you can print the instruction manual for any LEGO model ever made via this website — just in case any of you are thinking of taking on a project like this!
.
I tackled a few little organizing projects last week as well — one of which was going through all of Nora's hair things. I weeded out the clips and barrettes that are too small, and sorted everything else. Since Nora loves playing with her hair things, this drawer gets pretty messy — but I don't really care. I'll go through it every few weeks to straighten it out, but then it just gets messy once again (I'm sure none of you can relate!)
It only takes me 5 minutes to clean up this drawer, and it was a great project to do in preparation for my upcoming blog post on Our Favorite Little Girl Hairstyles. I'm sharing several relatively quick and simple hairstyles that Nora and I both love (with lots of pictures) Look for it later this week!
A few other projects I worked on last week were:
Creating the September pages for our digital photo albums
Washing our couch slipcovers
Washing all the bathing suits and beach towels — and then packing the summer things away in the mudroom closet
Going through the kids' closets and pulling out anything that no longer fits (see below for more on that)
Cleaning up the garage and outbuilding and packing up most of the outdoor summer things
Hauling out the snow pants, gloves, hats, and boots and making sure everything fits
Thanks to a recent second-hand sale, I purchased "new" snow pants, gloves, hats, and boots for Nora and Simon, and we're borrowing a really nice snowsuit for James… so I think we're all set for winter!
.
Our Menu for the Week:
I've linked to any recipes I have on my blog (or found on the internet).
MONDAY:
Brats on the grill
Green beans
Fresh fruit
Chips
Cookies
TUESDAY:
Since my sister was in town, we also had my parents over for dinner this night.
Lettuce salad (with lots of veggies from our garden!)
Cookies
WEDNESDAY:
Rice
Broccoli and Cauliflower
Ice cream
THURSDAY:
Fresh Fruit
Leftover mini muffins from Nora's school snack
FRIDAY:
Chips and Salsa
Brownie Sundaes
SATURDAY:
Leftovers for lunch
Pizza and Dutch Apple Pie for dinner (apple pie recipe coming later this week!)
SUNDAY:
.
On Monday, we had a big diaper delivery from ePantry.com — we're all set for another month or more!
Then on Tuesday, the Fall and Winter clothes I ordered from ThredUp arrived. We had fun trying on all the new-to-us clothes to make sure they all fit.
Getting a few new items of clothing turned out to be a good incentive for me to weed through the kid's drawers and pull out all their too-small clothing. We gave 2 bags of Nora's clothes to Dave's cousin, I moved a big pile from Simon's drawers down to James' closet, and packed up James' tiny newborn clothes.
I also finally packed away (or returned) all my maternity clothing and excitedly wore a few of my sweaters again (remember, I love Fall!) As I was trying on my sweaters, I realized that I've been pregnant from November – March for the past TWO winters, so this will be the first time in 3 years that I'll be able to wear all my normal fall and winter clothes.
Yup, I'm excited!
We had a relatively relaxing weekend. Dave didn't have much school work to do for a change. Instead, he took the kids on a few adventures so I could plug away at some of my work.
And now here we are in the first full week of October!